The Sigma Metalytics Precious Metal Verifier
Product Spotlight
Detect Counterfeits Quickly! The Sigma Metalytics Precious Metal Verifier (PMV) uses the known resistivity of popular precious metals coins and bars to test beneath the surface of the target to defeat counterfeiting measures such as plating. Simply place the target on the PMV's platform, or use one of the sensor wands to test multiple coins quickly.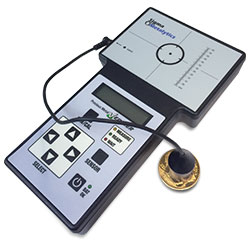 FAST:

Readings in less than one second!

EASY:

Place item on the PMV or use the wand

EFFECTIVE:

Reads up to 2mm deep to spot fakes!

VERSATILE:

Test gold, silver, platinum, and palladium

PORTABLE:

15-hour battery life means you can test anywhere

NON-DESTRUCTIVE:

No chemicals or scratching coins

CONVENIENT:

No need to remove coins from slabs/flips

INEXPENSIVE:

Buy ten PMVs for the cost of one XRF analyzer!
The PMV can read coins inside flips, albums, and even certified coin slabs. (Fractional coins in "slabs" may be too far from the surface of the slab for the PMV to register.) With the included wand, testing pages of coins in albums is a snap - simply run the wand across each coin without removing them from the page. As a distributor for Sigma Metalytics, Gainesville Coins is offering the deluxe Bullion version of the PMV, which can penetrate up to 2mm or more into large bars to see past any plating to reveal what really lies beneath*.
What's Included:
Sigma Metalytics Precious Metal Verifier
Small wand for fractional coins and large wand for standard size coins
Bullion wand for deep penetration testing of bars
Charger
Carrying case
Instruction booklet.
*Please note that no testing technique is 100% infallible. When used correctly, the PMV can greatly speed up testing of precious metal coins and bars. The PMV will verify the purity of the item tested, but will not detect counterfeit rare coins which are made of the proper purity metal.Digital copies of the PMV technical guide and user manual are available at www.sigmametalytics.com.