Great Britain Gold Coins
Showing 1 - 2 of 2 products.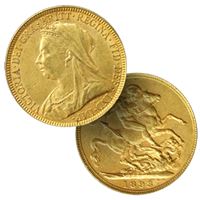 Great Britain Gold Coins
The United Kingdom Royal Mint has been in operation for over 1,100 years, and during that time has designed some of the world's best known gold coins. The Gold Sovereign, the Gold Britannia, and the gold Lunar Series coins are each produced by the British Royal Mint.
The British Gold Sovereign
The Gold British Sovereign was initially minted in 1489 during the reign of Henry VII. It was then reintroduced in 1817, during the reign of George III, to 1917, 1925, and in 1957. The sovereign is 22 karat and contains .2354 troy ounces of gold. The sovereign's design changes occasionally. The first design of the sovereign, in 1489, showed King Henry VII sitting on a throne. This ceremonious depiction of the king led to the coin to be called the sovereign. Initially, the design featured a crowned shield on its reverse and a portrait of Elizabeth I on the obverse. Subsequently, the reverse was changed to a portrait of Saint George on horseback defeating a dragon and the obverse showed a portrait of Elizabeth II. Today the coins remain with the portrait of Elizabeth II and Saint George defeating a dragon.
The Gold Britannia
Britannia, the majestic, yet untamed female personification of Britain, has long been a Roman idea. While Britannia's figure did begin on Roman coinage, it transferred to British coinage after the fall of the Roman empire.
Britannia is typically depicted as a maritime goddess. She wears flowing robes, a cape, a Corinthian helmet, and carries a shield and trident. Much of her look is based on the Roman goddess Minerva, or in Greek, Athena. She is often compared to the Roman and Greek goddess in that she is a powerful and astute warrior.
The image of Britannia was first used in 1672, on a British farthing. Britannia had always been a personified visage of Britain, but had never been based upon the image of a real, living person. That is, it had never been based on a real person until the reign of Queen Anne in 1702. It is rumored that the image of Britannia was based on the appearance of Queen Anne. The Gold Britannia is also 22 karats, or .917 fine, contains 1 troy ounce of gold, and was reintroduced in 1987 by Queen Elizabeth II.
Gainesville Coins carries a large inventory of gold coins from the United Kingdom including the ubiquitous British Gold Sovereign and the Gold Britannia, among others.