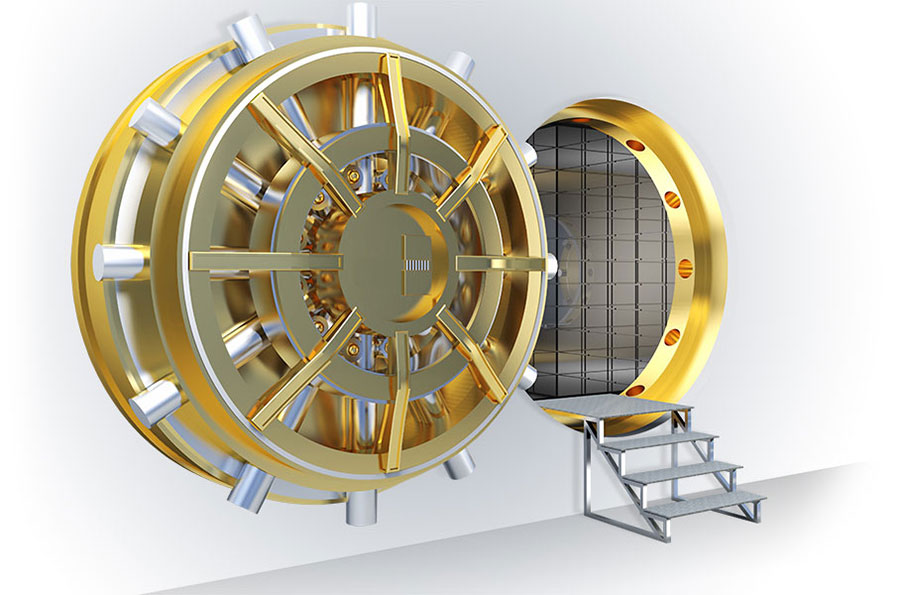 Safe, Private, Secure Storage Solution
Secure Storage for your Precious Metals
Watch the Introduction Video
Getting Started
When you're investing in precious metals, one of the primary concerns is how to safely store them. Gainesville Coins provides storage solutions for our customers, making it easy for you to keep your precious metals safe, take delivery of them when you want, or even liquidate them. You will not find this range of options with most vaults or depositories.
Gainesville Coins storage uses fully segregated storage, meaning that different clients' assets are not pooled together. When you store your metals in our vault, those are the exact items you receive when you take delivery of your metals.
Your stored assets are fully liquid in the event that you would rather sell them to us than take delivery when the time comes. These funds can be mailed to you as a business check, sent to you via wire transfer, or held in an account toward future purchases. Everything stored in our vault is also backed by comprehensive insurance for the full replacement value of the items.
Get Help With Storage
Have questions about storing your precious metals?
Speak to our Secure Storage specialists.
Call (813) 482-9300
Fill out these documents
to start your Secure Storage: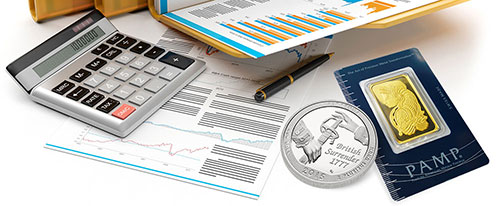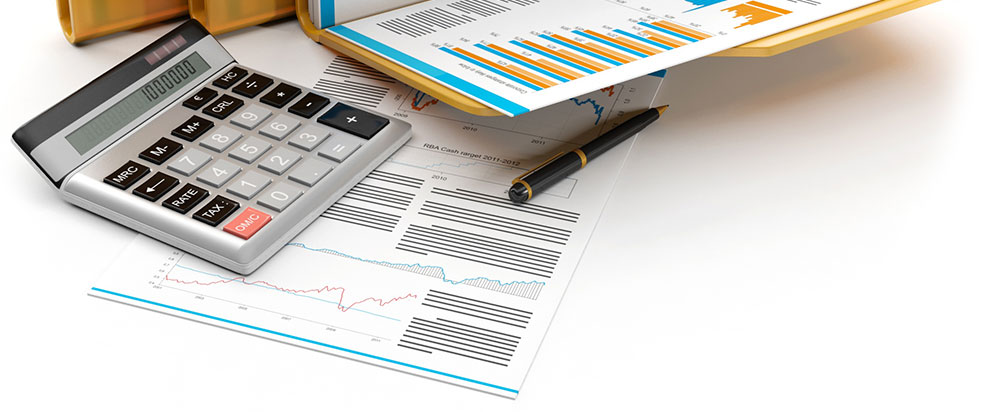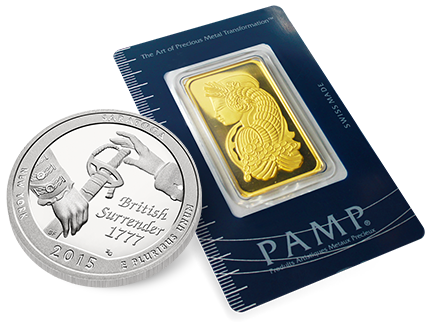 Gold, Silver and Precious Metal Storage Rates
Annual Charges
| Market Value of Assets | Fee for gold | Fee for silver |
| --- | --- | --- |
| $-0- to $99,999 | 0.65% | 0.65% |
| $100,000 to $499,999 | 0.58% | 0.60% |
| $500,000 to $999,999 | 0.50% | 0.52% |
| $1,000,000 to $2,999,999 | 0.48% | 0.50% |
| $3,000,000 to $4,999,999 | 0.45% | 0.45% |
| $5,000,000 and over | 0.42% | 0.42% |
Storage Charge Calculation
The rates listed are annual charges; however, storage fees will be billed quarterly. Your quarterly storage charge will be determined by multiplying the Average Market Value of all the Assets held in Your Account during the appropriate quarter by the applicable storage charge, and the result is then divided by 4 to yield the quarterly Secure Storage Charge.
The Average Market Value of the Assets held in your Account during a billing period (whether for a quarter or less than a quarter) shall be equal to the total daily value of all precious metal bullion (determined by multiplying by the number of ounces of each metal type by the daily AM London spot price for that metal each day), and dividing that sum by the number of days in the billing period. Asset value for weekends and holidays will be the value calculated for the preceding business day.
A minimum storage charge of $15.00 will be charged for every month, or any portion thereof, in which Assets of any value are held in Your account. The minimum quarterly storage charge is therefore $45.00 per quarter.
Frequently Asked Questions
What types of precious metals can be stored with Gainesville Coins Storage?
Gainesville Coins Storage can be used for only bullion coins and bullion bars, not for graded coins, certified coins, collectible coins, or rare coins. In other words, coins that are valued on their numismatic value are not permitted for storage with Gainesville Coins Storage. 90% silver, also known as "junk silver" is also permitted as long as it has been purchased from Gainesville Coins and remains sealed. 90% silver not purchased from Gainesville Coins, or which was purchased from Gainesville Coins but is no longer sealed is not permitted in Gainesville Coins Storage.
Will my precious metals holdings ever be co-mingled, or pooled, with other customer assets?
No. Gainesville Coins Storage is fully segregated. The assets delivered for storage, or purchased for storage at Gainesville Coins will never be pooled or co-mingled with other customer assets. When you elect to take possession of your precious metals held at Gainesville Coins Storage, you will receive exactly what was sent to Gainesville Coins Storage, or purchased for Storage at Gainesville Coins.
How safe is Gainesville Coins Storage?
Gainesville Coins Storage uses a UL rated vault facility. In addition, client precious metal assets are covered by a comprehensive insurance policy that fully protect against physical loss, damage, and theft.
How can I take possession of assets held at Gainesville Coins Storage?
A $25.00 handling/processing fee will apply for each withdrawal from storage. Upon written notification, Gainesville Coins will ship your precious metal assets stored to an address on file. The cost of shipping will be in addition to the $25.00 handling/processing fee.
Can I sell the precious metals in Gainesville Coins Storage to Gainesville Coins?
Yes. You can sell items held in Gainesville Coins Storage to Gainesville Coins. When you wish to sell, just call a Gainesville Coins trader at (813) 482-9300 and say you wish to sell your gold and silver held in storage. Based on the prevailing spot price, and any applicable premium or discount, you will be able to lock in at that price. Cash from any transaction can be held on account, mailed via business check, or wired to a designated account (clients that wish to wire will incur a $35 bankwire fee).
How do I start storing my precious metals with Gainesville Coins Storage?
Storing your precious metals is simple. Just send us your precious metals (please use our
Packing Slip
) and fill out our
Storage Agreement
. When your package arrives, Gainesville Coins will inventory the contents, and confirm the contents with you via e-mail. Once the items to be stored have been confirmed, and a signed copy of the Storage Agreement received, you will receive a storage account number.
The value of the precious metals mailed or brought in for storage MUST total at least $2,000.00 to be stored in Gainesville Coins Storage. If precious metal worth less than $2,000.00 worth is mailed in for storage, it will be mailed back to the sender at their expense.
I have questions about Gainesville Coins Storage. Who should I call?
Call 813-482-9300, ext 338 to speak with our representative about Gainesville Coins Storage.
How much does Gainesville Coins Storage cost?
Gainesville Coins Storage has a minimum cost of $180 per annum for assets under $27,700. For assets over $27,700, costs will range from 65 basis points to 42 basis points per annum based on the market value of assets held. A fee schedule, and an example of costs is provided in the storage section on our website. In the example provided, the quarterly cost for gold and silver valued at around $60,000 would cost about $103.08 per quarter. Please look at our
Storage Agreement
for examples of storage pricing calculations.
Can I transfer precious metals held at a separate vault or depository to Gainesville Coins Storage?
Yes. If you are a Gainesville Coins Storage account holder, you would only need to direct the vault or depository to ship the precious metal to Gainesville Coins Storage facility. Mail your coins and bullion to:
GC 17860 N. US Hwy 41 Lutz, FL. 33549
. Any precious metals transferred to Gainesville Coins must have a market value at the time of transfer of at least $2,000.00
If you aren't a Gainesville Coins Storage account holder, you would need to fill our
Storage Agreement
within 2 business days of receipt of your precious metals from the other vault or depository.
Can I inspect Gainesville Coins' vault facilities?
No. For insurance reasons, you will be not allowed in the vault facility.
Can I inspect the Insurance Policy for Gainesville Coins Storage?
No. However, once you have signed the storage agreement, you can request an insurance ceritificate.
How will I be billed?
At the end of each quarter, Gainesville Coins Storage account holders will be sent a bill for the previous quarter's storage. You can pay by check.
You will also have the option of leaving funds on account with Gainesville Coins Storage, and have the quarterly cost drawn on these funds. You will be required to fill out and sign the Prepay Agreement.
Are there any taxes associated with Gainesville Coins Storage?
Yes. Gainesville Coins Storage quarterly fees are subject to a 7.5% sales tax. This will be reflected on your bill.