Awards and Accolades
Gainesville Coins enjoys partnerships with several highly-respected professional societies and holds membership in some of the most exclusive online commerce organizations.
Trust The Best Precious Metals Dealer In The Country With A Reputation For The Lowest Prices And Friendly Customer Service.
Winner of the NIA 2010 Best Bullion Award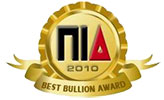 We were proud to be selected for National Inflation Association's Best Bullion Award for 2010. The NIA awarded us its highest rating in all five categories during their evaluation and noted significant improvements to our website. The NIA found that Gainesville Coins consistently offered the lowest prices, setting the standard for other online gold and silver dealers.
Professional Memberships And Affiliations: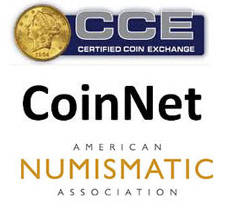 Industry Council for Tangible Assets (ICTA), a national trade association for rare coins, currency, and precious metals since 1983.
The American Numismatic Association (ANA), a nonprofit educational organization that encourages people to study and collect money and related items through educational outreach programs.
Florida United Numismatists (FUN) organizes trade shows for coin collectors throughout the state of Florida since 1955.
Certified Coin Exchange (CCE) is a network for major coin dealers to come together and participate in online trading.