Gainesville Coins - Your Trusted Online Source For Precious Metals
Satisfaction Guarantee
Gainesville Coins is dedicated to providing exceptional customer service and offering a wide range of bullion products to match every taste or portfolio. Finding the right precious metal item to meet your needs is our primary goal. Your order will always ship in secure, discreet packaging, or you can make a trip to our luxury showroom to pick up your metals in person. Feel free to call us with any questions or comments during our normal business hours at (813) 482-9300 or drop us an email anytime at sales@gainesvillecoins.com.
Our company is built on a foundation of honesty, trust and integrity.
Even as one of the nation's largest and most trusted precious metals dealers, we are constantly taking additional steps to improve our services and reach out to our client base.
Is Gainesville Coins Trustworthy?
Gainesville Coins makes trust, transparency, and security its highest priorities. These principles are especially important in the context of buying and selling precious metals. The company has a proven track record of trusted service for more than a decade.


Industry Leader

The National Inflation Association (NIA) awarded us with their 5-star rating, the highest mark any gold or silver seller can receive. This prestigious distinction is based on the following categories: Pricing, Selection, Shipping, Processing, Customer Experience and Overall Satisfaction. After assessing their reviews, the NIA exclusively awarded Gainesville Coins with the "NIA 2010 Best Bullion Award."
Industry Involvement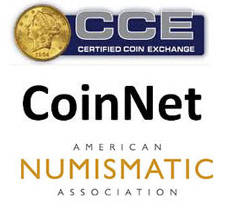 We are diligently involved in the numismatic community and are a proud member of the Industry Council for Tangible Assets. ICTA is the national trade association for all who have an interest in precious metals, rare coins, U.S. and foreign currency, other numismatic collectibles and tangible assets. On behalf of its members, ICTA works to prevent laws and regulations that may interfere with or burden the member businesses. It is also proactive in lobbying for legislation that would benefit the hobby as a whole.
Gainesville Coins is also an active member of a number of numismatic and coin dealer networks, including the Certified Coin Exchange, Coin Net, and the American Numismatic Association. Moreover, we recognize the importance of third party grading services, and are an authorized dealer for Numismatic Guaranty Corporation (NGC) and Professional Coin Grading Service (PCGS). NGC and PCGS have formed the backbone of the numismatic industry for over two decades by offering the indispensable service of objective coin grading and authentication.
Authorized Distributor for Major Mints

Gainesville Coins is an authorized distributor for many of the world's most well-known and prolific government mints: the Perth Mint (Australia), Royal Mint (Britain), Monnaie de Paris, Royal Australian Mint, New Zealand Mint, and the U.S. Mint.
The Perth Mint, perhaps the most active of all the world mints (private or otherwise), officially entrusts Gainesville Coins with distributing their coins. We carry an extensive inventory of precious metal products from the Perth Mint, and are the exclusive distributor of its Great Warrior series silver Proof coins. Our selection of regular issue and limited mintage collectible coins from the Perth Mint includes popular annual releases such as the Gold Kangaroo, Silver Koala and Silver Kookaburra series, as well as numerous other specialty coins. With such a wide array of products, it's no wonder that the Perth Mint is a favorite source among collectors and investors alike. Gainesville Coins is honored to bring you first-rate numismatic and bullion coins from the Perth Mint.
Exceptional Pricing
We take pride in offering low, wholesale prices to our customers. You don't have to dig through page after to page to get a straight answer on how much any of our products cost. We have clear pricing displayed directly next to each item on our site, including the different payment methods available. You will never encounter any hidden shipping costs or unnecessary fees at Gainesville Coins.
Tiered pricing is also available on a variety of items, allowing you to take advantage of increasing discounts when you purchase in larger quantities. We have taken added measures to make sure you are never in doubt as to the price of a potential order.
Competitive Buy Prices
Due to our large inventory, Gainesville Coins has the luxury of selling our products in large volumes and for exceptional wholesale prices. It's very difficult for smaller dealers to beat our low prices. Further, unlike most other dealers, we have no minimum order requirements when you buy from us. The same applies to when you sell to us! We believe that every order deserves the same attention and respect.
Selling your coins to us is remarkably quick and easy, too. We offer industry competitive buy prices on all of your precious metal items--gold, silver, platinum and palladium. We'll gladly buy your coins, bars, medals, commeorative coins, or rounds for a great price. For more deails about selling your coins.
Large Inventory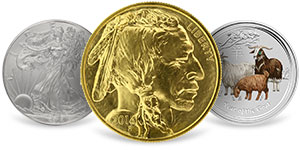 Our extensive inventory in stock allows us to provide our clients with an extraordinary selection of products, so you can choose the exact item you've been searching for, not merely what happens to be available. With a reputation for offering some of the lowest prices in the industry and catering to our customer's specific needs, no wonder our motto is, "The Right Coin, At the Right Price."
There are three principal types of products that we carry: bullion, numismatic items, and modern collectibles. Bullion products include government-issued coins, as well as bars and rounds. Bars and rounds come from either major mints or smaller private refineries, and can be purchased in bulk or on a wholesale basis.
Numismatic coins come not only from the U.S. Mint but also from around the world, and can be very old or of modern mintage. They are often professionally graded, and may have low mintages or be considered rare.
Modern collectibles are produced by various world mints and often commemorate events, places, people or other themes. No matter what subject you're intrigued by, there is undoubtedly a modern collectible to fit your interest.
In order to stay on top of new releases and trends within the industry, we are constantly adding new products on our website. These can be found in the New Arrivals section, or you can subscribe to our RSS feeds to get constant updates on what's new at Gainesville Coins. Though we are constantly updating our inventory, from time to time, we may run out of certain products. Don't worry: the Notify Me tool lets you set a reminder that those items that are out of stock, so that the next time they become available, you're the first person to know.
Trusted Dealer
Transparency is one of our abiding principles here at Gainesville Coins. Maintaining an open and direct relationship with our customers is paramount for the ongoing vitality of our business, as well as for engendering our clients' confidence in us.
High Quality Customer Service
Providing quality customer service is a mission that permeates throughout this company. Our overarching goal is to achieve a superior level of customer satisfaction. This means that none of our employees will ever send you spam, place cold calls, nor engage in any predatory sales practices; our representatives uniformly follow a zero-pressure sales policy.
Our experienced sales representatives do not make commission on any transactions, either. Nonetheless, they are always here to help you, whether over the phone, online, or in the showroom. If you have additional questions about a specific product, our staff of senior numismatists can answer any questions or concerns you may have.
Ensuring your orders are accurate and shipped in a timely manner is also a huge part of customer service. We use an automated system to record each order placement, verify the chosen method of payment, and keep you updated with shipping notifications about the status of your package in transit. At every step in the process, you are kept informed of the standing of your order.
Secure Online Ordering

We take our customers' online security seriously. Due to this commitment, we have taken numerous steps to safeguard our site from any sort of malfeasance. When visiting our pages, check for the gray padlock icon to the left of the web address in the search bar of your browser when you place an order or log into your account. This gray padlock indicates that the connection is secure.
Our website security is verified by Network Solutions, LLC. We only use a high-grade encrypted connection, featuring 128-bit encryption and SSL encryption. Daily security checks on our site are run by McAfee Secure to ensure our overall website security. McAfee lives up to their slogan, "No Malware, No Malicious Javascript, No Spam, No Suspicious Redirections, Not Blacklisted, No Malicious iFrames."
Superior Quality Control
Quality control measures are intended to protect the customer, as well as Gainesville Coins, from fraud, tampering, or even innocent errors. Our shipping department uses only the highest quality packaging materials in order to uphold our intensive quality control standards. Prior to shipment, every order undergoes multiple checks to ensure the contents of your package arrive safely and securely. Each product is photographed prior to shipping, and we retain detailed tracking information for every package we ship. What's more, the entire packing and shipping process is continuously videotaped by state-of-the-art video surveillance for maximum quality assurance.
Fully Insured Shipping
Although other companies may advertise "free" or "discounted" shipping prices, their coins can often end up costing more due to unlisted fees and commissions on sales. Our shipping rates are not an enigma; they're based on the location, weight, and value of the package, and can be calculated prior to checkout with our Shipping Calculator tool. This eliminates any mysteries about the total cost of your order. Every package we ship, both domestic and international, is fully insured. In lieu of having their items shipped, customers also have the option to Pick Up their orders themselves at our showroom in Lutz, Florida.
Free Resources
At Gainesville Coins, we believe the customer ought to be armed with the best information possible before they make a purchasing decision. The Precious Metals Blog is available for customers to learn about coin collecting and history, and to stay up-to-date on market news. In line with our commitment to remaining transparent and best serving our customers, we have made a vast wealth of knowledge, full of industry insights, available on our Learning Center.
Learning Center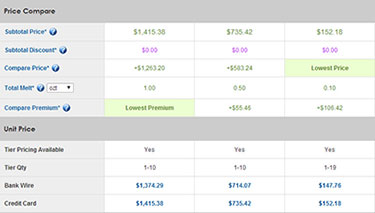 The Learning Center at Gainesville Coins is FREE, and provides a bevy of information and educational resources for people to find out more about precious metals and coin collecting. Browse our user-friendly Buying Guides and easy-to-read Infographics to read interesting facts and historical background about different coins, mints, engravers, and much more! There are also a number of How-To Guides that offer useful tips for the beginner who may be unfamiliar with the hobby. Best of all, our Learning Center is entirely FREE of charge to access, and no log-in is required to view these articles.
Comparison Tool
"I'm trying to buy American Gold Eagle Coins but there are different sizes available. Is there a way to compare the premiums that can help me make a decision?"
In response to frequent inquiries of this kind, we suggest our customers try our Compare Tool. This allows you to view up to five products side-by-side for easy price comparison. You'll never be in the dark about whether or not you're getting the best possible deal again.
Further, right on the homepage of our website, spot prices for the various precious metals are live updated, allowing you to watch the markets move up-to-the-moment before locking in the price of an order. You can also find historical charts about precious metal prices on our Finance page. We are committed not only to making Gainesville Coins' prices clear and uncomplicated, but also to keeping you in-the-know about movements on the global precious metals exchange.
More Free Tools
We have even more helpful tools on our Customer Tools Page to make your shopping experience as easy as possible—and, once again, all of them are completely free to use! It's as simple as signing up for a free account with our website. Once you have created an account, you can take advantage of all of our cool extras. Our RSS feeds will keep you informed on Special Offers and Gainesville Coins News. You can track the different products that interest you with our Favorites feature, or keep tabs on discounts and price reductions with Price Level Alert. With Price Level Alerts, you tell us what you would prefer to pay for an item, and we alert you when the price reaches your desired level. Check out all of the Customer Tools and find out why buying from Gainesville Coins is a unique experience from our competitors.
Additional Services
Providing you with high quality customer service is our primary goal at Gainesville Coins. We are always striving to improve our services any way possible so that you get the ideal customer experience.
Precious Metal IRA

Gainesville Coins makes it easy to get started with self-directed precious metal IRAs. There are an array of IRA-approved bullion products available at Gainesville Coins. This includes certain bullion coins, gold and silver bars, and silver bullion rounds. Additionally, you can use our vault as the depository for your precious metals IRA, depending on your Custodian. We work closely in conjunction with several of the industry's most well-known and trusted IRA Custodians. Read more about including precious metals in your IRA here.
Secure Vault Storage

We understand that keeping your tangible assets safe is a source of anxiety for many investors. You have the option of storing your precious metals in the Gainesville Coins Storage vault for a low cost. All of the items in our vault are fully insured against potential damage, physical loss or theft. We provide completely segregated storage, meaning your assets never co-mingle or mix with another client's. You can be sure that you will receive the same items that you deposited when you take possession of your assets from storage. Once your precious metals are securely placed in our vault, you can easily access them at any time. Storing your assets with us comes with added liquidity, as we will happily buy your precious metals kept in our vault with one simple phone call at (813) 482-9300.
Investment Tracker

Adding precious metals to your investment portfolio is an option that appeals to many investors, both large and small. Along with adding diversity to your portfolio, gold and silver can offer a safe haven for storing your wealth, helping protect your investments from the ravages of inflation. Whatever your investment goals are, our free investment tracker makes it easy to follow both your precious metal and stock holdings.