South African Gold Krugerrands
South African Gold Krugerrands
Showing 1 - 3 of 3 products.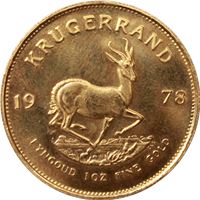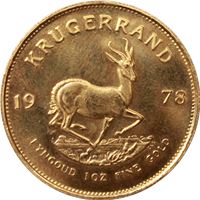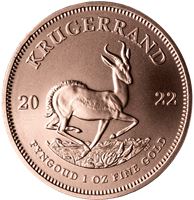 Show results for:
South African Gold Krugerrands
South African Gold Krugerrands
The largest gold reserves in the world were discovered in 1886 in what is now the Republic of South Africa. In order to expand their market to small investors, the South African Chamber of Mines designed the world's first modern bullion coin: the Krugerrand.
The South African Krugerrand was the first coin in the world to have exactly 1 troy ounce of gold content, and the first gold bullion coin not intended for domestic commerce. The denomination "krugerrand", named for early statesman Paul Kruger, was invented especially for this new coin, to give it legal tender status. This meant that, unlike gold rounds, the weight and purity of the Krugerrand was guaranteed by the government of South Africa.
This new invention took the world by storm. No longer did people wanting to hedge against inflation have to buy coins with numismatic premiums, jewelry that was difficult to assay, or large gold bars. By 1974, the annual mintages had reached into the millions. By 1980, the Krugerrand accounted for an estimated 90% of the global gold coin market. This was the same year the fractional Krugerrands of 1/2 oz, 1/4 oz, and 1/10th ounce debuted.
The coin captured the imagination of the public. Christmas traditions grew in several cities, where anonymous donors would drop gold Krugerrands into the coin kettles of Salvation Army volunteers.
The Krugerrand is made from 22K (.917 fine) gold, alloyed with 8.33% copper. Known as "crown gold", this traditional alloy was used to reduce wear and scratching. the Actual Gold Weight (AGW) is the weight stated on the coin itself- 1, 1/2, 1/4 or 1/10th troy oz. The imposition of economic sanctions against South Afirca in the late 1970s and early 1980s gave other nations the chance to get into the gold bullion coin market. The Gold Maple Leaf, Gold Nugget, and American Gold Eagle soon appeared. After apartheid was abolished, the Krugerrand was freely traded in the West again, and remains the favorite option of many people for hedging against inflation or diversifying their portfolios.