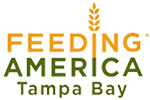 Gainesville Coins has the pleasure of being a member of the Tampa area community, and looks forward to opportunities to give back to our friends and neighbors. Through sponsorships of organizations such as the Hernando Soccer Club, we are able to give area youths the chance to participate in athletics. The ability to provide children with the opportunity to learn the value of teamwork is an accomplishment Gainesville Coins is extremely proud of.
We also had a hand in the Garcia Pass It On Foundation and America's Second Harvest of Tampa Bay. Gainesville Coins was honored to start the "Collect for a Cause" program, through which proceeds from select coin purchases were donated to both charities. As a result, those in need received meals from food banks, shelter and after school educational programs. Donations also went toward the Special Olympics, Cancer research and the recovery of missing persons.
The goal of Gainesville Coins' involvement in the community is to enrich the lives of those within the Tampa Bay area. We are proud to be residents of such a fruitful and giving community, and are honored when given the opportunity to give back.