$20 Saint Gaudens Gold Double Eagle (Extremely Fine) Varied Year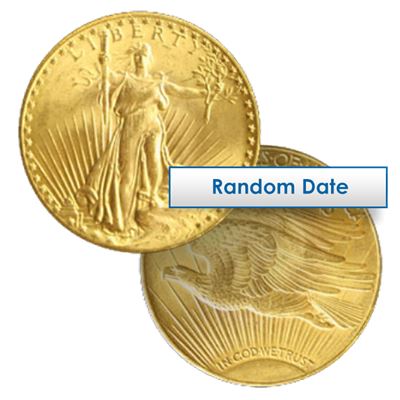 Click image for larger picture.
As low as
*Price changes every 5 seconds. The price added to cart will reflect the current spot price. Discount is calculated savings compared to credit card pricing for one unit quantity.
$2,175.00
Qty
Check / Bank Wire
Crypto

We are now accepting Bitcoin (BTC), Bitcoin Cash (BCH), Ethereum (ETH), Litecoin (LTC), Dai (DAI), and USD Coin (USDC) as a payment method on our website!

Credit Card
1+
$2,175.00
$2,218.50
$2,251.12

Shop With Confidence
100% satisfaction guarantee, A+ BBB, safe shopping.
Fully Insured
All packages are fully insured from our vault to your door.
Secure IRA & Storage
Safe, private, secure storage solution for your precious metals.
Get Help Buying
Have questions about a product? Contact our trading floor.
Call (813) 482-9300
Buy $20 Saint Gaudens Gold Double Eagle (Extremely Fine) Varied Year
The Saint-Gaudens Double Eagle was the last $20 gold piece design in U.S. coinage, and is considered by many to be the most beautiful coin ever produced in America. Gainesville Coins offers raw Random Date Saint-Gaudens Double Eagles in XF (extremely fine) condition at very competitive prices.
Each coin is .900 fine gold and contains 0.9765 troy ounce of actual gold weight (AGW). These common date coins have not been professionally graded, but rather have been sorted "by eye" into their respective categories. (Stock photo is for reference only.)
The Extremely Fine (abbreviate XF or sometimes EF) grade determination made by our numismatic staff means these random date coins show very little wear to the most important relief elements.
Background About the Saint-Gaudens Double Eagle
President Theodore Roosevelt was the "godfather" of this gorgeous coin, when he personally commissioned famed sculptor Augustus Saint-Gaudens to rejuvenate the "moribund" coinage of the United States. After much resistance from the Chief Engraver of the U.S. Mint, Charles Barber, and several revisions to the original high-relief design, the Saint-Gaudens double eagle gold coin began production in 1907.
The Saint-Gaudens design was used until 1933, when the U.S. stopped producing gold coinage altogether (and even began confiscating privately owned gold). This has made double eagles much more desirable now that they haven't been minted in over 80 years.
The design went through functional changes after the artist's death. The year-date, once expressed in cumbersome Roman numerals, was switched to the more familiar Arabic notation. The coin's original wire rim and high relief were adjusted, and the motto "IN GOD WE TRUST" was added permanently in 1908.
More recently, the iconic Saint-Gaudens motif has been slightly modified and restruck for the American Gold Eagle coin.
Coin Design by Saint-Gaudens
The design features a confident Lady Liberty striding toward the viewer, the olive branch of Peace in one hand, and the torch of Freedom in the other. Behind her are the rays of a new day breaking over the mountains and over the U.S. Capitol in the background. The year of issue is placed in the bottom right corner while the legend "LIBERTY" is placed at the top rim.
On the reverse, an American Bald Eagle is shown in flight, soaring high above a dawning sun. The motto "In God We Trust" found near the bottom rim was added in 1908 after public outcry over its exclusion. The face value of "Twenty Dollars" and the legend "United States of America" appear above the eagle's wings.
Keep in mind that the stock photo shown is not necessarily the actual coin you will receive.
Buying Gold from Gainesville Coins
The selection of gold bullion you will find for sale at Gainesville Coins is full of different options to suit the needs of any investor or coin collector.
We carry all of the most popular modern gold and silver bullion coins from around the world. In addition, GC is also consistently stocked with classic precious metal coins like the gold double eagle.
Add the Random Date $20 Saint-Gaudens Gold Double Eagle, graded Extremely Fine, to your portfolio today!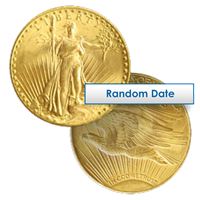 Specification
Mint Name
United States Mint
Customer Ratings & Review
5 out of 5 stars
Review This Product
Share your thoughts with other customers.
Showing 1 reviews.
Kelvin
Friday, April 19, 2019
Really fast service and delivery. I am really pleased on how quick the turnaround time was from the date I ordered to delivery. One of the best companies I have every dealt with.
0
of
0
people found this helpful