Gold Swiss 20 Franc Helvetia - (.1867 oz of Gold)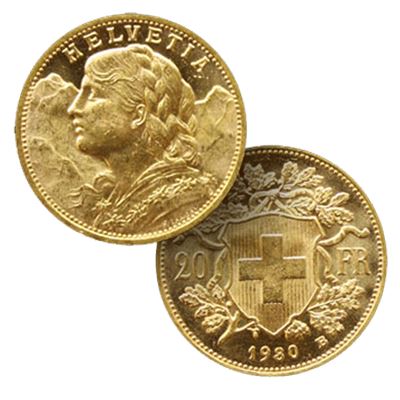 Click image for larger picture.

Shop With Confidence
100% satisfaction guarantee, safe shopping.
Fully Insured
All packages are fully insured from our vault to your door.
Secure IRA & Storage
Safe, private, secure storage solution for your precious metals.
Get Help Buying
Have questions about a product? Contact our trading floor.
Call (813) 482-9300
Buy Gold Swiss 20 Franc Helvetia - (.1867 oz of Gold)
The Swiss 20 Franc Helvetia Gold Coin was minted from 1897-1935. Swiss Helvetias are .900 pure gold, and features .1867 troy oz of gold content. It is commonly referred to at the "Vreneli" coin, deriving from the word "Verena," an early Christian Saint that was later associated with Helvetia, the female personification of Switzerland, much like Lady Liberty represents the United States.
The coin's obverse portrays a likeness of Verena designed by Francoise Engli. Above her image "HELVETIA" is inscribed. During the Roman conquest of Gaul in the second century BC, the tribe known as the Helvetii were the predominant tribe of Switzerland. The Romans named the area Helvetia, which is still the name the Swiss use for their nation today. One will often see the initials "CH", which stand for "Confederation Helvetica" used on Swiss items.
On the reverse is the Swiss cross centered on a shield, which is surrounded by an oak branch. The coin's denomination, "20 FR" and the mint year are also featured.
*This is a stock photo for reference. Coins are various dates.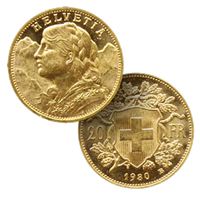 Specification
Actual Metal Weight
0.1867 ozt
Customer Ratings & Review
5 out of 5 stars
Review This Product
Share your thoughts with other customers.
Showing 2 reviews.
Glenn
A wonderful fractional gold coin
Saturday, March 19, 2016
I have a special regard for the well designed 'Swiss Miss' coin, it just exudes confidence and substance. Remember that there are many terrific fractional bullion coins, no matter where they're from thanks to the standardization of the Latin Monetary Union of the nineteenth century. Every one is a 22mm, .900 fine gold piece with 0.1867 ozt. actual gold weight. All are pretty, there's just something about the phrase 'Gold Swiss 20 Franc' that inspires solidity. Still, the 8 Florin, 20 Lire and of course French 20 franc gold coins, especially the Rooster and Angel can make for a lovely collection. BTW, even though they're bullion coins, why let them accrue any more wear wnen an inexpensive capsule will freeze them in time and let you handle them safely. ALL of these fractionals are a drop-in fit for the A21 size capsules that cost only a few cents if you buy a quantity.
3
of
3
people found this helpful
kevinH
a very nice small gold coin
Wednesday, December 18, 2013
I like older European gold coins because they usually have very pretty designs. This coin definitely does not disappoint. They even have a pretty small premium which is nice
6
of
6
people found this helpful