1 oz Silver Round | Peace Dollar Design (.999 Pure) - Mason Mint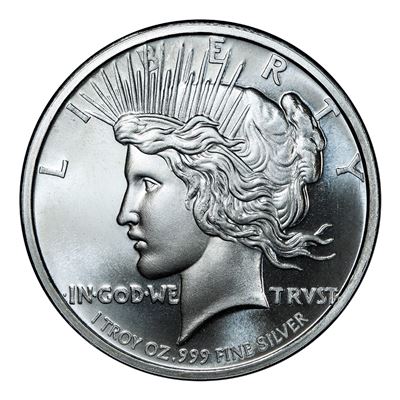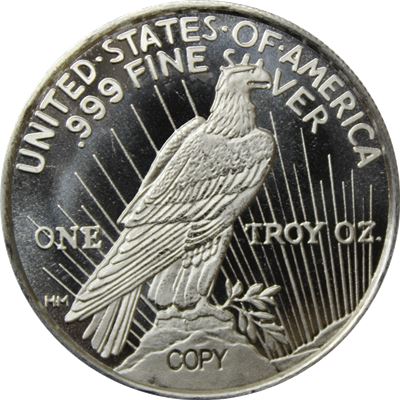 Click image for larger picture.

Shop With Confidence
Fully Insured
All packages are fully insured from our vault to your door.
Secure IRA & Storage
Safe, private, secure storage solution for your precious metals.
Get Help Buying
Have questions about a product? Contact our trading floor.
Call (813) 482-9300
Buy 1 oz Silver Round | Peace Dollar Design (.999 Pure) - Mason Mint
Inspired by the American Peace Dollar, the 1 oz Silver Peace Dollar Design Round carries the same imagery but not the same denomination as the original US coin. The Peace Dollar Design Silver Round does not carry a face value. Silver rounds are generally sold for a lower premium over spot compared to government issued coins, making them a popular choice for any collector's portfolio. Please note this is not an official government issue coin. It is a privately minted silver round containing one troy ounce of .999 fine silver.
The design, originally intended for the 1921 Peace Dollar, was the result of a competition to create an image indicative of peace. The winner, Anthony De Francisci, illustrated a stylized drawing of his wife, Teresa, depicted as Lady Liberty. With the conclusion of World War I, the coin was a commemorative piece of a time of resolution and calm.
These one ounce rounds are a great way to acquire silver at an affordable price. They also make a practical silver gift on holidays and special occasions. So the next time your looking to buy silver consider the patriotic design of the 1 oz Peace Dollar Silver Round from Gainesville Coins.
Please note: This round is not an official government issue, but still contains 1 oz of .999 Fine Silver.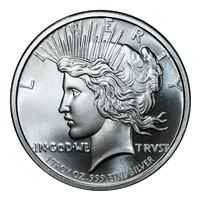 Specification
Actual Metal Weight
1 ozt
Additional Info
Orders of 20 rounds come packaged in tubes.
Customer Ratings & Review
4.8 out of 5 stars
Review This Product
Share your thoughts with other customers.
Showing 5 reviews.
zlfskywalker
Friday, November 17, 2017
nice coin , fast shipping.
1
of
1
people found this helpful
jennie
Thursday, October 16, 2014
i have been buying these for a long time and they seem to have improved a lot in the past couple of months. They actually look a lot nicer in person than they do in the picture. They have a shinny background and crisp more defined details than the picture shows.
3
of
3
people found this helpful
Grace
Just as good as the coins
Thursday, December 19, 2013
To me these are just as good as the regular Peace dollars. I get a few every so often since the premium is so low and they also come in great condition.
5
of
7
people found this helpful
TonyL
Friday, November 1, 2013
I believe in staying as close to spot price as possible when it comes to buying silver. the peace dollar rounds are perfect because they share the design with the real peace dollars but have a higher silver content and lower price!
11
of
11
people found this helpful
Morgan lover
Wednesday, April 10, 2013
This Peace dollar generic round is a good buy. Picked up 2. Will get more. The edges are rough. A small bit of the reverse on mine did not stamp as well as the rest...but you know what...my US coin looks the same, in the same spot. This .999 fine silver coin is not only recognizable but this one you can feel and touch and not keep hidden in an air-tite. A good buy.
12
of
14
people found this helpful