5 oz Trident Silver Bar (.999 Fine)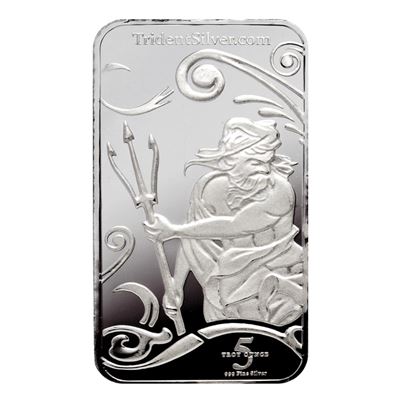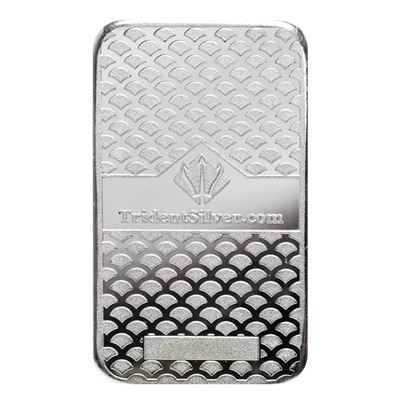 Click image for larger picture.

Product Highlight:
Five Troy Ounces .999 Fine Silver
Name-Brand For Generic Price
Poseidon Design of God Calling Forth A Storm
Shop With Confidence
Fully Insured
All packages are fully insured from our vault to your door.
Secure IRA & Storage
Safe, private, secure storage solution for your precious metals.
Get Help Buying
Have questions about a product? Contact our trading floor.
Call (813) 482-9300
Buy 5 oz Trident Silver Bar (.999 Fine)
Neptune, the powerful Roman God of water and sea, is featured on this beautiful 5 oz Trident Silver Bar comprised of .999 fine silver.
The Trident Silver 5 oz silver bullion bars feature a beautiful stylized image of the Roman sea god Neptune, on a mirror-like background. The scene shows the mighty deity is stirring up a fierce storm with the power of his trident. The back of the bar has a repeating pattern evoking waves, along with the serial number and the Trident Silver logo.
Stock photo for reference only.
Customer Ratings & Review
4.6 out of 5 stars
Review This Product
Share your thoughts with other customers.
Showing 7 reviews.
Reemon
Great Transaction and Quality Beautiful 5oz Bars and 1oz American Eagle
Tuesday, June 14, 2016
This transaction is my first experience (Order) with Gainesville Coins, wanted to see how this deal would go down and how long it will take to deliver the package or product to me. However, I ordered bars and coins on May 28th, 2016 and was shipped out on June 8th, 2016 and received it on June 11th, 2016 with signature confirmation delivery. So, it took about two weeks in total to get the product which is great taking in the consideration the verification process which depends on the buyer and how fast he interacts or responds to the emails or these steps. I want to add here that these are quality and beautiful bars and coins and the bars come with certificates of authenticity that includes the bars' number printed on the certificate which is great thing to ensure quality and source. Overall, I'm very happy with Gainesville Coins and would buy more when I can. I highly recommend Gainesville Coins!
1
of
1
people found this helpful
andythai
Saturday, January 2, 2016
This is beautiful silver bar but the plastic sealed is too thin that make the bars less valuable. I wish it will be sealed with the thicker plastic for keeping long time.
0
of
0
people found this helpful
Dr.jess
Friday, January 9, 2015
the serial number is very hard to read on some of them, otherwise they are nice bars and come sealed in plastic.
0
of
1
people found this helpful
smitherz
Thursday, December 11, 2014
i ordered 10 of these bars and on a couple of them , the stamped serial number is very hard to read. otherwise they are very nice bars.
0
of
1
people found this helpful
Jcook
Thursday, October 31, 2013
I am a big fan of the trident 10oz bars because of the price, design and certificate. These are just as good and are great for buying smaller quantities of silver!
3
of
3
people found this helpful
AuburnFootball
Tuesday, August 6, 2013
These are quality bars and come with certificates of authenticity. They look good and the Gainesville Coins pricing is very good. Thanks for another great order!
3
of
3
people found this helpful
winea
Monday, July 29, 2013
I am so happy Trident Silver Co. started minting bars in 5oz I have bought a few of the 10 oz ones but the 5 oz works perfect when i do not want to buy as much silver.
7
of
7
people found this helpful