1 oz Trident Silver Bar (.999 Fine)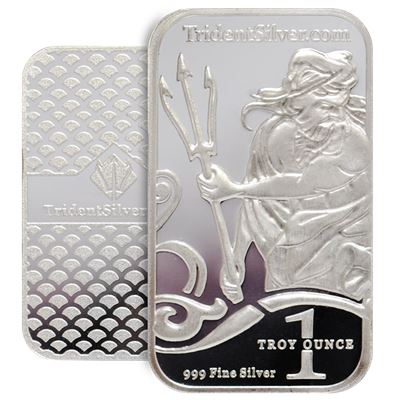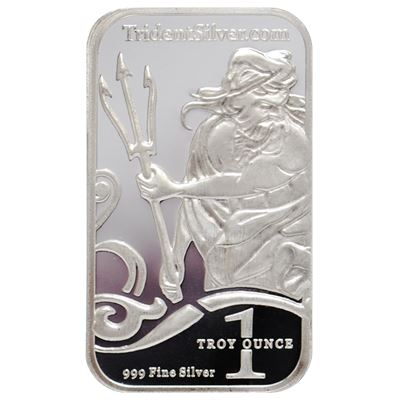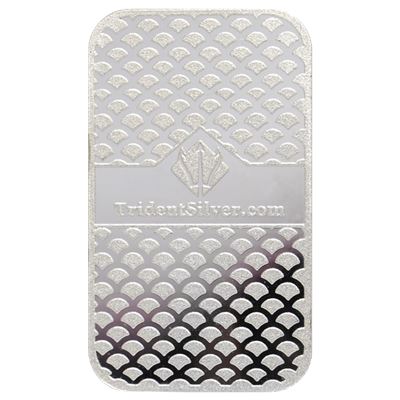 Click image for larger picture.

Product Highlight:
Name Brand Silver For The Cost Of Generic
One Troy Ounce .999 Silver
Made in the USA
Custom Neptune/Poseidon Design
Shop With Confidence
100% satisfaction guarantee, safe shopping.
Fully Insured
All packages are fully insured from our vault to your door.
Secure IRA & Storage
Safe, private, secure storage solution for your precious metals.
Get Help Buying
Have questions about a product? Contact our trading floor.
Call (813) 482-9300
Buy 1 oz Trident Silver Bar (.999 Fine)
The stylishly designed 1oz Trident Silver Bar is comprised of .999 fine silver. One ounce Silver bars are among the most popular silver traded world wide due to their low spot price and small standard size. Each Trident 1oz Silver Bar has a purity and weight that are guaranteed by the mint to be one troy ounce of 99.9% pure silver bullion. Gainesville Coins works directly with Trident Silver to offer their 1 troy ounce silver bars at a low premiums over spot. The popularity of Trident Bars continues to grow with their reputation for producing high quality silver bullion bars.
Trident Silver is an up-and-coming refinery and is making huge strides in improving the standard of Silver Bullion Bars. At Trident Silver, a silver bar is not a lump of bullion that sits in a corner collecting dust. A Silver Bar is a work of art, refined and powerful in its own right. With the Roman God Neptune on the face of every Trident Silver bar, who could argue? The face design shows Neptune holding his trident, which controls the waters and the seas, and the weight, "1 Troy Ounce," and silver content, "999 Fine Silver," are located underneath. The reverse of the Silver Trident Bar displays a scaled design, that brings to mind visions of the sea and its creatures, along with the Trident logo and name located in the center. Each and every Trident Silver Bar is Made in the USA at ISO:9001 certified mints.
Trident 1 oz Silver Bars are marked with their weight and and fineness. Let Neptune with his silver trident help protect your precious metals holdings and purchase your very own 1 oz Trident Silver Bars at Gainesville Coins today!
Customer Ratings & Review
4.9 out of 5 stars
Review This Product
Share your thoughts with other customers.
Showing 9 reviews.
reklessbill
Thursday, July 23, 2015
I recently received my order of 1oz. Bars of trident silver.They arrived promptly and are of great quality.I will definately be buying from GC again.Im am very pleased with both the price and service Gainesville Coins provides!
0
of
1
people found this helpful
Ag noob
Monday, January 26, 2015
Super fast shipping. Really nice product. Can't wait to buy more.
1
of
1
people found this helpful
Carl815
Monday, January 20, 2014
These bars are nice, but not exceptional. Upon close inspection I saw that some of the ones I received had a few scuffs on them. At least they were cheap. All that really matters is the purity anyway.
4
of
5
people found this helpful
Marcello
Great Place to Visit and do Business wtih
Thursday, January 9, 2014
Super Friendly Stuff, Easy going and well informed. looking forward in coming back and making future purchases.
5
of
5
people found this helpful
alejandro
Thursday, November 21, 2013
i personally bought three trident silver bars. They look way nicer in person. What best part was my silver arrived in 5 days. Florida to California. That's quick
7
of
7
people found this helpful
Leon
Friday, November 1, 2013
The Trident is a great looking bar. It was the 1st purchase from Gainesville. I received it very fast and now I order often. So glad I found them while poking around on the net. Fastest delivery of th six other mints I purchase from. Great customer service. Leon
7
of
7
people found this helpful
ackman
Friday, November 1, 2013
i have been purchasing 1oz silver bars from here for a while. It is nice to see a nice looking bar that doesn't carry a high premium like the European bars. They look very good and come individually wrapped in plastic.
9
of
9
people found this helpful
landan
Friday, October 25, 2013
Tested when I received it is pure and wt. Was right on. Shiping was quick and inconspicuous.
10
of
10
people found this helpful
Max
Monday, October 14, 2013
Great silver. I recommend these bars and this company to everyone.
11
of
12
people found this helpful