2014 1 oz Silver Year of the Horse Round (.999 Pure Silver)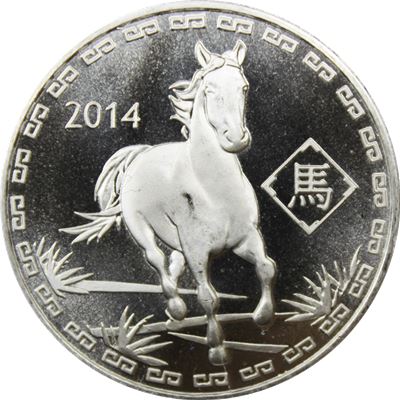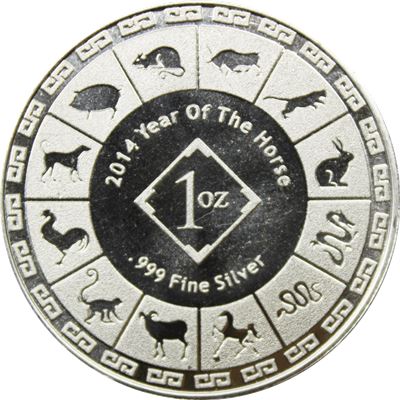 Click image for larger picture.

Shop With Confidence
100% satisfaction guarantee, safe shopping.
Fully Insured
All packages are fully insured from our vault to your door.
Secure IRA & Storage
Safe, private, secure storage solution for your precious metals.
Get Help Buying
Have questions about a product? Contact our trading floor.
Call (813) 482-9300
Buy 2014 1 oz Silver Year of the Horse Round (.999 Pure Silver)
The 2014 Year of the Horse 1 Oz Silver Round is designed by yours truly, Gainesville Coins, and is becoming very popular with its low premium over spot price. This exclusive offering by Gainesville Coins is quickly becoming one of our most popular selling silver bullion products, especially since our 1oz Silver Year of the Horse Round is 100% American born and bred. The one ounce silver horse round is .999 pure silver and weighs one troy once. Perfect for birthday presents, holiday, graduation, or commemorative gifts, or just as a trendy way to buy silver bullion.
Our Silver Horse Rounds symbolize the lunar Year of the Horse from the Chinese Zodiac with its unique design. People born in the Year of the Horse are talented, clever, and extremely kind to everyone they meet, but be warned, Horses have a stubborn streak that won't quit. The obverse of the 1 troy ounce Silver Horse features a beautiful stallion galloping across the plains with style and grace.
The reverse of the one ounce silver horse presents the Chinese lunar calender, from the rat to the pig, and reads, "2014 Year Of The Horse," and features a diamond shape with 1 oz in the center.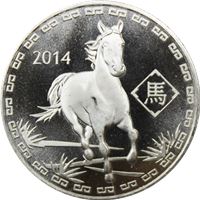 Specification
Actual Metal Weight
1 ozt
Customer Ratings & Review
4.7 out of 5 stars
Review This Product
Share your thoughts with other customers.
Showing 11 reviews.
RussK
Thursday, June 18, 2015
These are very striking rounds, as everyone else has already said. Compared to other generics they are unique and easy to look at. If you're going to buy generic, it really doesn't matter monitarily, but why not buy the better looking ones? But I bought several hundred silver oz bars, and found that they are much harder to store. They do not stack, like coins, being in individually sealed plastic sleeves, these come in plastic tubes if you buy in groups of 20, making them much easier to store, take up much less room in the safe. If you plan on stockpiling some silver, generic rounds have a distinct advantage over bars. Maybe I'm strange but silver or gold, I like to feel the metal in my hand, I do not like sealed coins or bars.
2
of
2
people found this helpful
Keoni
Definitely a Unique and Quality Round!
Saturday, June 7, 2014
This is definitely a unique and quality round. Both sides of the coin are exquisitely detailed and beutiful to look at. Even the obverse requires your attention! The charting of the different lunar characters was informative and so detailed. I would recommend this coin over many of the other more typical rounds as this is one you would like to display somewhere. And you get all of that along with a low, low premium. So much nicer than the typical coin-look-alike rounds.
3
of
4
people found this helpful
BarkingCat
Monday, June 2, 2014
These are very nice and I would have given them 5 stars but the smooth finish on the front is not perfect. It looks as if it had little oil or something left on it from handling but I washed the round and it's still there. On the other hand Gainesville is not claiming that these are proof quality, and the quality is really very nice. It is one of the more attractive rounds out there I like the design very much. The back of the coin reminds me of a casino chip and I think it would be awesome if there was a place that used these for that purpose. I will definitely be getting more of these.
2
of
3
people found this helpful
Sirdukes
Sunday, February 16, 2014
The picture does not do the lunar rounds justice. I just bought the horse ,snake and dragon. They are beautiful and my wife LOVES THEM. I got them for silver investment but they are way beyond "generic" In fact I plan on getting more asap.
4
of
5
people found this helpful
Robb
Wednesday, January 8, 2014
I like the Gainesville Coins Lunar Round series a lot. They are a great alternative to Perth Mint Lunar coins, which can be expensive. I have all their Lunar Rounds and will definitely buy any future releases. They are always in great condition when I receive them!
4
of
4
people found this helpful
jmesher
Friday, December 13, 2013
These coins have a mirror like finish, minor imperfections. I was really blown away by the quality of these for them being a generic round. Very pleased.
3
of
4
people found this helpful
john P
Wednesday, October 30, 2013
they arrived in a very secure package with a discreet label. My 4 rounds came in protective flips. They are just as advertised and i feel the price is right. all my transaction with gainsville have always been very smooth. Will continue to purchase from you guys
3
of
5
people found this helpful
JamesB
Hope they continue making these
Wednesday, October 30, 2013
I bought the previous dragon and snake rounds and while they look good for the price, these are just awesome. The front looks very nice and was free of any major dings. The back has a very cool design with all the animals. i really hope they keep making these in the future.
5
of
6
people found this helpful
Wes D
Wednesday, October 30, 2013
this was my first purchase from GC, and it could not have gone any better. my order of 20 arrived in a tube which was a nice bonus as i plan to hold onto them for a long time.
3
of
4
people found this helpful
jane
Wednesday, October 30, 2013
bought 3 of them, and they got to me in about a week which i think is very good. The rounds look even better when you are holding them. very impressed, i will continue to use this site should i want to buy more silver
3
of
4
people found this helpful
Brenda
Wednesday, October 2, 2013
These are nicer than the picture.The horses face and body has more definition than in the photo shows. I would like to get more when they offer a shipping deal again. I wish I knew what mint they came from. I ordered three by credit card with some other things on Wed and they shipped out Monday. That left only 2 business days between ordering and shipping notice. I got them today (Wed) in the mail. These three coins weigh 30.75g, 31.12g and 31.02g on my freshly calibrated scale so 2 of the three are sort of on the light side of a troy ounce. When weighing by ozt one of them comes up at 0.99.
8
of
9
people found this helpful