The Hunter 1 oz Silver Round (.999 Pure) - Mason Mint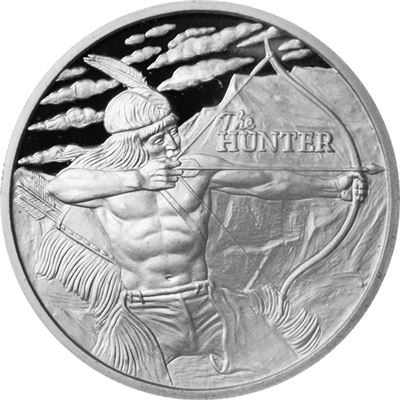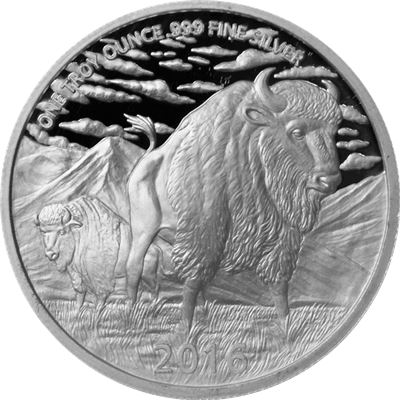 Click image for larger picture.
As low as
*Price changes every 5 seconds. The price added to cart will reflect the current spot price. Discount is calculated savings compared to credit card pricing for one unit quantity.
$27.07
As low as $1.79 over spot!
| Qty | Check / Bank Wire | Credit Card |
| --- | --- | --- |
| 1+ | $27.07 | $28.02 |

Product Highlight:
Fantastic original design concept
Exclusive item -- only available at Gainesville Coins
Competitive pricing over spot
IRA-eligible silver bullion product
Shop With Confidence
100% satisfaction guarantee, safe shopping.
Fully Insured
All packages are fully insured from our vault to your door.
Secure IRA & Storage
Safe, private, secure storage solution for your precious metals.
Get Help Buying
Have questions about a product? Contact our trading floor.
Call (813) 482-9300
Buy The Hunter 1 oz Silver Round (.999 Pure) - Mason Mint
There are a handful of classic images and designs in numismatics that tend to reappear on privately minted silver bullion, especially silver rounds.
Silver rounds have always shared a close connection to silver coins due to their circular shape and similar appearance. This makes it not altogether surprising that certain coin designs (in slightly modified forms) crop up on popular private silver bullion products.
Noteworthy among these classic designs are the Walking Liberty half dollar design, the Morgan dollar design, and the Buffalo nickel (or Indian Head) design. By using these well-known and highly regarded designs, silver bullion products from private mints can quickly attract buyers who are familiar with these images. It can also lend greater visibility and credibility to the refiner or mint that strikes these rounds.
Above anything else, recognizable silver bullion designs are what many customers are interested in. Demand from the public drives private mints to continue producing these popular bullion items.
The Impact of the Collectible Coin Protection Act
However, amendments to the 1973 Hobby Protection Act passed in 2014 under the name Collectible Coin Protection Act changed how "imitation numismatic items" (like rounds or other coin-like forms of silver bullion) that use designs similar to obsolete coins are regulated under the law.
These kinds of rules already applied to current American coin designs, and were simply extended to any past designs that may be considered collectible.
Thus the new law requires the word "COPY" in substantially-sized lettering to be stamped on all classic design silver rounds. The measure is intended to make absolutely clear the difference between a privately-minted silver round and a legal tender silver coin issued by the United States Mint. In this sense, it's a measure taken against potential counterfeiting or misleading of consumers.
This means that any silver rounds that resemble Saint-Gaudens, Walking Liberty, Mercury dime, or any other retired U.S. coin designs fell under the purview of the regulation.
It was also effective retroactively, requiring that all existing silver bullion rounds with such designs must be stamped (either incuse or raised above the coin) with "COPY" or they would have to be melted down.
The Hunter Silver Round: Modern Twist on the Buffalo Nickel
For some dealers and sellers on the secondary market, the amendments to numismatic law caught them unprepared. They (literally) liquidated their Silver Buffalo rounds rather than bothering to bring them into compliance with the new laws. Nevermind that stamping such rounds with "COPY" was already a common practice among major dealers for years before the legislation was enacted.
As a result, less silver bullion pieces bearing classic designs are now available on the market, and fewer new ones with "COPY" are being produced. Dealers and the private mints that are often among their main suppliers of bullion have both been reluctant to put new classic rounds into production.
That's why The Hunter design silver round is an original take on this well-received concept. The artwork was created in-house and shows how creativity and the latest minting technology can transform a beloved classic like the Buffalo design into something entirely new.
Because it only uses the theme of this historic design, and offers its own unique interpretation that makes it a truly original work, The Hunter Silver Round is not restricted by the aforementioned Collectible Coin Protection Act. It's therefore unnecessary for it to be stamped with "COPY," which would partly obscure the impressive beauty of the design.
Silver Hunter Round Front Design
In addition to avoiding the use of this stamp, The Hunter design offers a fresh, up-to-date, and artistically pleasing revitalization of the otherwise popular Silver Buffalo round. There is no need for any extra marker to distinguish The Hunter from the original Buffalo nickel or any other U.S. coin bearing a familiar Native American design. It is already an original work of medallic art!
Rather than using a static image of a bust or stationary figure, "The Hunter" design captures a much more dynamic scene of a Native American warrior pulling into place a nocked arrow, preparing to fire his bow across the plains. Presumably, he is hunting a buffalo (also known as the American bison).
The detail of the design is incredibly realistic. This is especially true of how these details are rendered in relief on the surface of the round in three dimensions.
An inscription across the center of the design reads, "The HUNTER" between the top of the bow and the arrow. A scene of sloping mountains fills the background.
This same design has been offered on GC-exclusive 10 oz silver bars before as well, so make sure you check back when this item is back in inventory if you are interested!
Hunter Silver Round Back Design
Again, the design on the back of the round is more dynamic than its predecessors that inspired the buffalo theme. It presents an alternative vision of this common motif.
A pair of buffaloes appears on the reverse side of the round. Great attention to detail is given to their fur and the surrounding Great Plains environment. The year-date of either "2016" or "2017" appears at the bottom rim, surrounded by detailed blades of grass gently swaying in the wind.
The proof-like finish of the round, which imparts a mirrored effect to the field, dramatically brings out the relief details of the cloud-filled sky against this reflective backdrop.
Inscriptions indicating the weight and purity are placed along the top rim, reading, "ONE TROY OUNCE .999 FINE SILVER."
Where Did the Silver Buffalo Design Come From?
If you are a collector of U.S. coins, you have probably heard of the Buffalo nickel. Although it was certainly not the first coin to depict a Native American, it became the best-known American coin to do so.
In fact, following the gradual end (mainly through attrition) of the infamous Indian Wars in the American West during the 1800s, the U.S. Mint began featuring images of Native American figures or cultural markers on coins (such as the Indian Head cent and Indian Princess gold dollar) and especially on paper money.
President Theodore Roosevelt felt that there was something "uniquely American" about our continent's indigenous cultures, and saw it fitting to use the designs on our currency to more frequently celebrate traditional Native American imagery, dress, and heritage. Similarly, portrayals of American Indians were used to promote large national and international events during the early 20th century, such as posters and road signs advertising the Olympic Games held in St. Louis in 1904.
The buffalo itself was a logical choice to pair with an Indian Head design. Many tribes survived by hunting buffalo. Not only is the American bison one of the distinctive large animals that has made its home on the landscapes across the heart of the country, but it has also recovered from the point of near-extinction at the turn of the 20th century.
Unlike the action scene that appears in The Hunter design, these historical depictions of Native Americans on coins were in the style of 19th-century bust profiles, an imitation of classical Greek and Roman artwork.
Although this positive presentation of the United States push for Manifest Destiny has been challenged as time has passed, the promotion of Native American images undoubtedly helped Americans to emotionally connect with, and reconcile, the hunter-gatherer past of this land with the rapid pace of urbanization, industrialization, and technological development seen during the 19th and 20th centuries.
This need to balance between traditional ways of life and modernity became especially pronounced in the decades after the end of the Civil War, when empathy and religiosity ran high among American families torn apart by the death and destruction of the country's bloodiest conflict.
Advantages of Owning Silver Bullion
The silver market has remained relatively steady over the past several years, trading in a range between $15 per ounce and $20 per ounce since 2014.
This is well below silver's all-time highs from the preceding few years, leading many investors to see the current price levels as a bargain.
A number of factors could lead to silver prices breaking out. This extends beyond investment demand (i.e. sales of silver bars and silver bullion coins) and must take into consideration the supply and demand dynamics for silver used in the technology sector and other industries.
Silver also provides a long-term hedge against inflation, which erodes the purchasing power of fiat currencies like the U.S. dollar. The relationship between silver and inflation is one of the reasons that investors both large and small often turn to physical precious metals as a safe haven during periods of economic uncertainty or outright financial crisis.
The argent metal's track record in this regard has been well-established. It was even evident during the time when 90% silver coins circulated in the United States. During periods of high inflation, people tended to hoard silver coins (and gold coins, for that matter).
Major Speculative Episodes in the History of Silver
In fact, throughout modern history, there have been numerous attempts by speculators to essentially "corner" the global silver market. One infamous episode involved the Hunt brothers, who accumulated an unprecedented stockpile of silver bullion (by any private citizen). Their speculative interest in silver grew over the course of the 1970s before their plan collapsed under the weight of new regulatory pressure imposed on the commodities trade in general.
Although the Hunt family maintained its immense wealth, which was largely made in the oil business, they were ultimately forced to liquidate their silver holdings when they failed to meet a wave of margin calls. At its height, the Hunt hoard is estimated to have accounted for a third of all privately-owned silver in the world!
Perhaps the largest present-day case of silver speculation comes from the enormous commercial and investment bank, JPMorgan Chase. In the years following the financial crisis of 2007-2008, the bank has built up a long position in silver futures that amounts to nearly 140 million ounces. Supposedly, this silver is sitting in the warehouses of the U.S. commodities exchange (COMEX).
Like the Hunt brothers, JPMorgan is actually carrying out its speculation through futures contracts. The bank has claims on this massive quantity of silver, but doesn't necessarily take possession of the physical silver at any time. This makes its position transparently speculative in nature.
Benefits of The Hunter 1 oz Silver Round
Put simply, the 1 oz Silver The Hunter round offers an option for buying affordable silver bullion priced at a very low premium over spot.
This means that despite its fantastic original design, you won't pay much more than melt value for these silver rounds! You can't beat a deal like that in the bullion market.
As a high-quality product with such a low price point, The Hunter round offers investors a great way to stack silver bullion at whatever pace they choose. It also makes a fine addition to any collection of silver with its beautiful and highly artistic design.
Each The Hunter 1 oz silver round is IRA-approved, meaning it is eligible for inclusion in your individual retirement account. This is due to the rounds being struck from .999 fine silver and being produced at an ISO-compliant minting facility.
Moreover, these rounds do not replicate or otherwise repurpose an actual U.S. coin design. The Hunter design stands as its own separate an original entity, and thus does not need to be marred by a stamp of the word "COPY."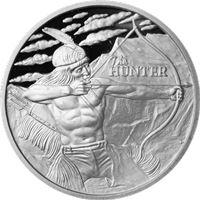 Specification
Actual Metal Weight
1 ozt
Customer Ratings & Review
5 out of 5 stars
Review This Product
Share your thoughts with other customers.
Showing 6 reviews.
MartinG
Thursday, April 25, 2019
Nice luster!
0
of
0
people found this helpful
RP
Saturday, February 3, 2018
The artwork is very beautiful. Buffalo is very much like the Fraser nickel. Price is always good for this round and this makes for a nice stacking coin and/or as a gift. Gave one to my son-in-law for Christmas and he thought it weighed more than an ounce due to the coin having a "heavy" feel. I will purchase more of these coins in the future.
2
of
2
people found this helpful
Amin
Wednesday, January 17, 2018
i love the quality of this round
2
of
2
people found this helpful
Paulrom
Tuesday, June 20, 2017
This hunter round in my opinion is a much better looking round than the over played buffalo round. I have been buying these mainly to re sell and they sell out every time. Too bad my abs are as nice as the Hunter's!
2
of
3
people found this helpful
R.E. Goodson
The Hunter 1 oz Silver Round
Thursday, December 31, 2015
Arrived ahead of schedule, well packaged,. Everybody That has looked at them has really liked them. Will be getting more of them before they run out of them.
5
of
5
people found this helpful
palatte
Thursday, December 24, 2015
These are great! received the ones i purchased as xmas presents and i am going to have to get some more for myself! Very nice to see an original design not the same classic coin designs over and over again
5
of
5
people found this helpful