The Art Of War Sun Tzu 2 oz Ultra High Relief Silver Round - With Antique Finish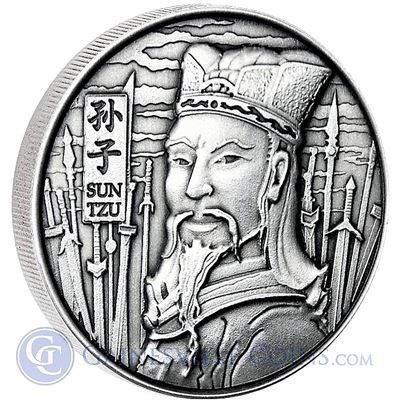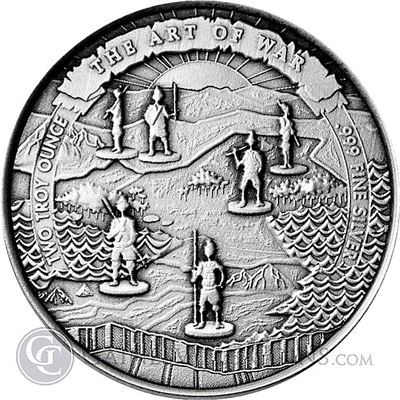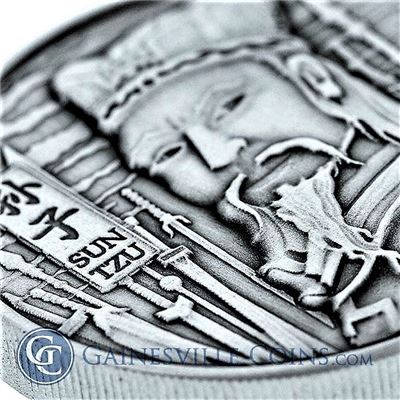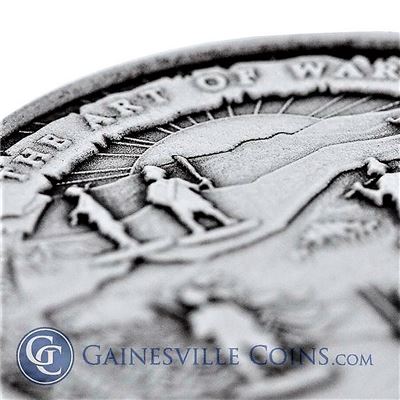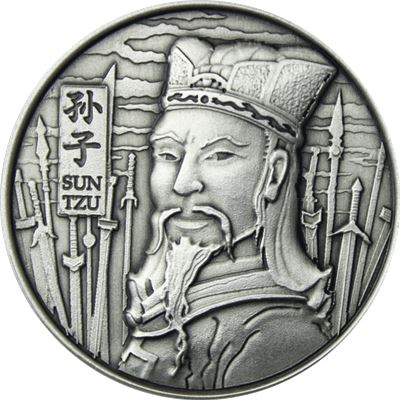 Click image for larger picture.

Shop With Confidence
100% satisfaction guarantee, safe shopping.
Fully Insured
All packages are fully insured from our vault to your door.
Secure IRA & Storage
Safe, private, secure storage solution for your precious metals.
Get Help Buying
Have questions about a product? Contact our trading floor.
Call (813) 482-9300
Buy The Art Of War Sun Tzu 2 oz Ultra High Relief Silver Round - With Antique Finish
This "Art of War" high relief 2 oz silver round honors the legendary military genius Sun Tzu and his magnum opus "The Art of War." This Gainesville Coins exclusive design has had an antique finish applied to bring out the high relief details and give a pleasing finish.
The front features a three-quarters bust of Sun Tzu ("Master Sun",) looking with raised eyebrow at the viewer His name appears on a battle flag in Chinese, then in English below. The smoke-filled background is crowded with swords and spears stuck into the ground.
The reverse shows a stylized battle map of China with the Great Wall, mountains, and seas. Ancient Chinese soldier figurines are placed as if planning a military campaign. The banner "The Art Of War" stretches over the scene, flanked by the weight and purity of silver.
Sun Tzu's book "Art of War" revolutionized the conduct of war, and is still considered one of the best treatises on military strategy and tactics ever written. His principles of "defeating the enemy before battle is joined" have not only inspired centuries of generals, they has been applied to everything from business and politics to sports and gaming.
The High Relief Antiqued Sun Tzu "Art of War" 2 oz silver round is perfect for that certain officer, corporate executive, or student of history. Follow Sun Tzu's teachings and strike when they don't expect it, by giving them this beautiful and inspiring work of art.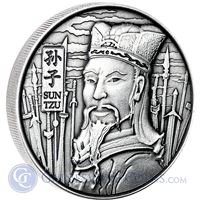 Specification
Actual Metal Weight
2 AVP oz
Additional Info
High Relief, Antiqued
Customer Ratings & Review
5 out of 5 stars
Review This Product
Share your thoughts with other customers.
Showing 1 reviews.
glimpseofglory
Sun Tzu would be proud of this casting
Friday, April 29, 2016
The 2 oz size is perfect....nice heft and feel. Loved the incredible level of detail and the antique finish. Bought four as gifts for friends.!
3
of
4
people found this helpful