1 oz Mason Mint Heritage Proof-Like Silver Round (.999 Pure)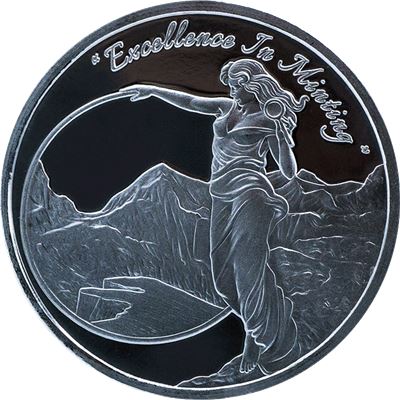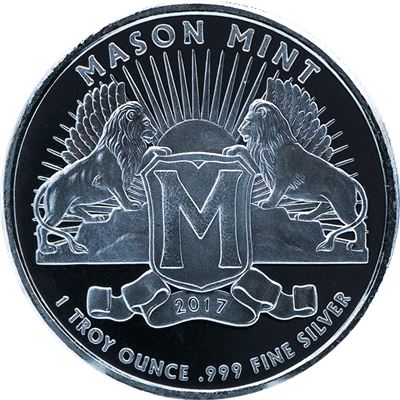 Click image for larger picture.

Product Highlight:
Classical symbolism and imagery in design
Features family crest of Mason Mint founders
Exclusive investment-grade silver product from Mason Mint
Demonstrates company motto "Excellence In Minting"
Shop With Confidence
Fully Insured
All packages are fully insured from our vault to your door.
Secure IRA & Storage
Safe, private, secure storage solution for your precious metals.
Get Help Buying
Have questions about a product? Contact our trading floor.
Call (813) 482-9300
Buy 1 oz Mason Mint Heritage Proof-Like Silver Round (.999 Pure)
The first release of the Mason Mint, this .999 fine Heritage 1 oz silver round features exceptional detail and quality for a generic silver product. Boasting a combined 40 years of experience in the precious metals industry, Mason Mint uses the latest in minting technology to produce a beautifully struck silver round.
The obverse of the Mason Mint Heritage silver round is inspired by the ancient Mason coat of arms. A pair of winged lions pose on either side of a heraldic shield emblazoned with an M, all set before the rays of a rising sun. The winged lion motif is featured as the crest on the coat of arms of several Masons. The name Mason Mint curves over the design, while the year date 2017 appears on a scroll supporting the shield. Below the scroll, the weight of 1 Troy Ounce and purity .999 Fine Silver are inscribed along the lower rim.
The reverse features a splendidly detailed scene honoring the Norwegian heritage of the owners of the Mason Mint. This design is focused on the goddess Aphrodite holding a mirror in one hand, and supporting a large ring with the other, though which can be seen the rugged terrain of Norway. The motto of the Mason Mint, "Excellence In Minting" is inscribed in script above the scene, along the upper right rim.
The mirror in the woman's hand is a reference to another crest used on Mason coats of arms, a mermaid holding a hand mirror.
Gainesville Coins is very pleased to offer this remarkable Mason Mint Heritage 1 oz .999 fine silver round. We think you will agree that the detail and sharp strike sets it above regular generic silver products.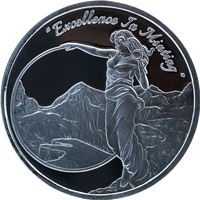 Specification
Actual Metal Weight
1 ozt
Customer Ratings & Review
5 out of 5 stars
Review This Product
Share your thoughts with other customers.
Showing 6 reviews.
Drew
Wednesday, January 17, 2018
most rounds are so very generic in design. Really appreciate Mason doing something very stunning.
5
of
5
people found this helpful
zlfskywalker
Friday, November 17, 2017
nice coin, will buy more like this
1
of
1
people found this helpful
zlfskywalker
Friday, November 17, 2017
nice coin, will buy more like this
1
of
1
people found this helpful
DonAZ
Saturday, October 7, 2017
My son's name is Mason so I started out buying some for him and love the design and quality. I will defiantly buy more and look forward to new designs by this great new mint.
2
of
3
people found this helpful
mattyman
new mint out of the northeast
Tuesday, June 20, 2017
I heard about the people from mason mint from a friend of mine who picked up a monster box of their rounds. They are a new mint based out of the northeast and I think this first release of theirs is going to be a hit. This is a very well struck round and the detail is really amazing. Im looking to forward to other designs they come out with.
9
of
9
people found this helpful
Grace
Thursday, June 1, 2017
I have been waiting for these coins even before they were made available. Love the design and so happy I got them??
6
of
7
people found this helpful