2021 Australia 1/2 oz Silver Ox Lunar Coin (BU in Capsule)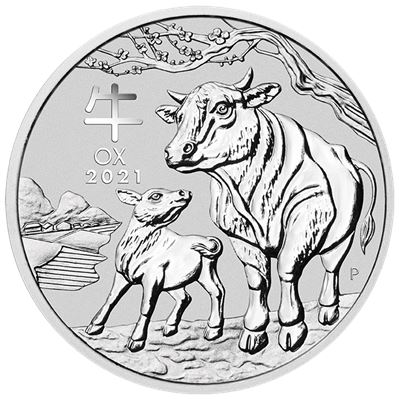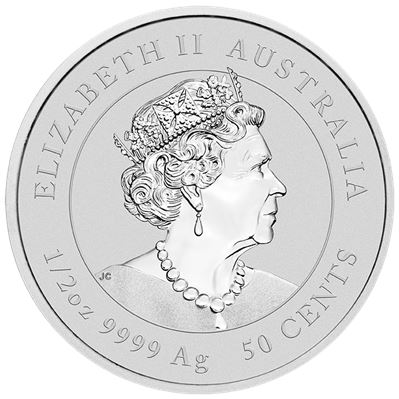 Click image for larger picture.

Shop With Confidence
100% satisfaction guarantee, safe shopping.
Fully Insured
All packages are fully insured from our vault to your door.
Secure IRA & Storage
Safe, private, secure storage solution for your precious metals.
Get Help Buying
Have questions about a product? Contact our trading floor.
Call (813) 482-9300
Buy 2021 Australia 1/2 oz Silver Ox Lunar Coin (BU in Capsule)
The 2021 Australia 1/2 oz Silver Ox Lunar Coin - Series 3 from the Perth Mint is the third time the Ox has been featured on silver and gold coins in this famous Chinese Zodiac program. Perth Mint produced Year of the Ox bullion coins in 2009 and 1997. Each of these Brilliant Uncirculated silver coins are struck on 1/2 troy oz of .9999 fine (99.99% pure) silver, and is encased in a clear protective capsule at the Perth Mint.
Reverse
The reverse of the 2021 Lunar Ox 1/2 oz silver coin shows a protective mother ox, with her adoring calf looking up at her. The two bovine are standing under a flowering cherry tree. A farming village can be seen in the left distance. The Chinese character for Ox is inscribed on the field of the coin, beneath a branch of the cherry tree. Below this is the English word for Ox and the date 2021.
This bucolic scene of the Chinese countryside was designed by Perth Mint artist Ing Jong. Her initials appear on the front hoof of the mother ox.
Obverse
The obverse of the 2021 Year of the Ox 1/2 oz silver coin features the profile of Queen Elizabeth II. As a former British Dominion, Australia has kept the British monarch as its symbolic leader. Elizabeth's image is surrounded (from upper left) ELIZABETH II, AUSTRALIA, 50 CENTS, 1/2 OZ .999 Ag.
Are You An Ox?
Persons born in the Year of the Ox are known to be hard working and honest. They approach work with diligence and logical thinking. Their preference is for set routines and long-term jobs, though their persistence and management skills also allow them to succeed in their own businesses.
People born in the Year of the Ox are persistent, and always keep their long-term goals and ambitions in mind. This is balanced by their strong sense of loyalty and ethics. They will not betray others or break trust just to get ahead. This makes them valued workers and managers.
Ox people are conservative and resistant to change. This can sometimes cause friction at work. They place great importance on their family's well-being.
2021 is the Year of the Metal Ox. Unlike other Oxen, a Metal Ox is more socially active. They find it easier to express themselves to friends than other types of Ox, who tend to have difficulty expressing themselves. Metal Oxen are always busy and active, working toward their long-term ambitions.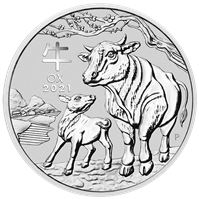 Specification
Actual Metal Weight
0.5 ozt
Obverse Designer
Jody Clark
Reverse Designer
Ing Ing Jong
Customer Ratings & Review
out of 5 stars
Review This Product
Share your thoughts with other customers.