10 oz Trident Silver Bar (.999 Fine) - Assay Certificate & Verification Serial Number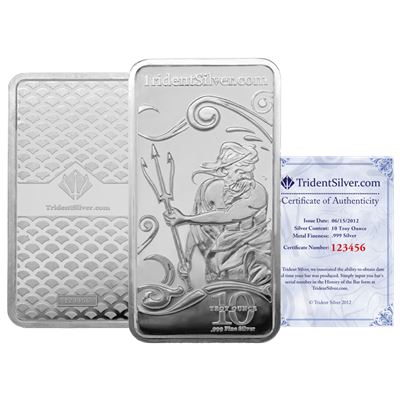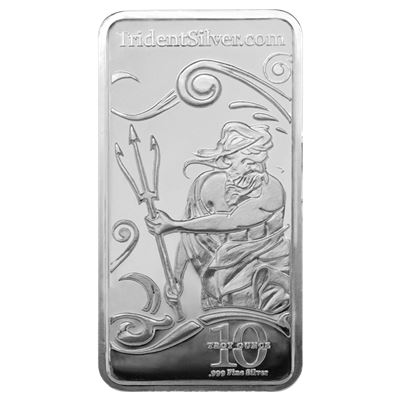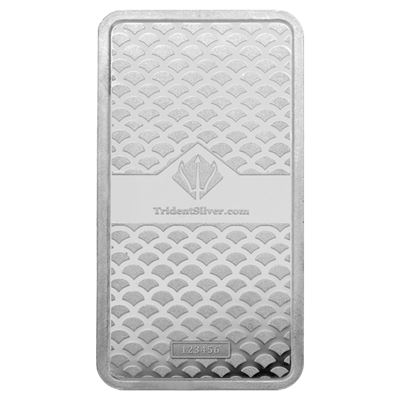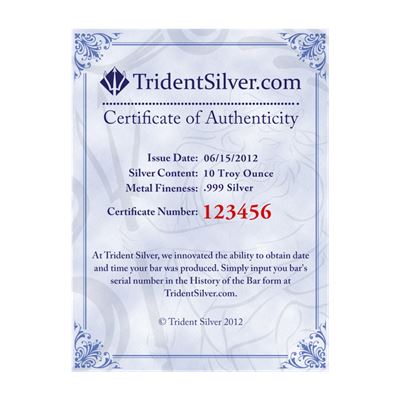 Click image for larger picture.

Shop With Confidence
100% satisfaction guarantee, safe shopping.
Fully Insured
All packages are fully insured from our vault to your door.
Secure IRA & Storage
Safe, private, secure storage solution for your precious metals.
Get Help Buying
Have questions about a product? Contact our trading floor.
Call (813) 482-9300
Buy 10 oz Trident Silver Bar (.999 Fine) - Assay Certificate & Verification Serial Number
Get name-brand quality at a generic price with the famous 10 oz Trident Silver Bar. Each beautiful bar contains 10 troy oz of .999 Fine Silver. Every Trident 10 oz silver bullion bar is stamped with a unique serial number, and comes with a matching assay certificate. Only Trident bars come with the option of online verification! just enter your serial number at www.tridentsilver.com, and you can see the time and day your bar was made.
The Trident Silver 10 oz bullion bar has soared in popularity since its introduction, and one look explains why. With workmanship over and above generic bars, Trident looks to redefine the generic silver bar market. The famous Trident design features the Roman sea god Neptune rising from the stormy seas, wielding his mighty trident. The reverse is covered in an alluring wave pattern, with the unique serial number stamped at the bottom. Both sides have a shiny background behind their features.
Stacking generic bars no longer has to be boring. Select the bars beautiful enough to use as art. Start your collection of Trident Silver today, from Gainesville Coins.
*Stock photo for reference only.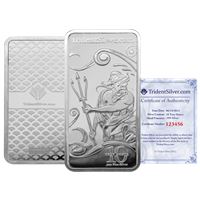 Customer Ratings & Review
5 out of 5 stars
Review This Product
Share your thoughts with other customers.
Showing 4 reviews.
jay16s4
Thursday, December 11, 2014
one of the only bars that comes with a cert. The design itself looks very nice on both sides i will try to buy some more when i can
3
of
3
people found this helpful
Silverfan
Friday, April 4, 2014
Beautiful looking bars that come with a serial number and certificate of authenticity when you buy 5oz or larger bars. Stack very well. As far as I know, Gainesville Coins is the only place where they can be purchased. Get them while you can! Arrived well packaged 7 days after placing my order. Im a happy satisfied customer!
9
of
9
people found this helpful
scottB
Thursday, October 31, 2013
I used to purchase other generic bars, i decided to give these a try and i was pleasantly surprised. The fact that they are individually numbered and come with matching cert is awesome. The price is really good too! i plan on picking up a couple more soon
15
of
15
people found this helpful
Silver Stackin E
Trident Silver Bars 10 oz. Way to go guys!!!
Wednesday, December 12, 2012
Trident makes a nice bar. Not to bad on the buyers premium. Bars stack. Bars are numbered. Bars come with a Certificate of Authenticity that you can reference online.(Note: Since some of the bars you might get are newly minted, it takes some time for their web-site to get it into their database...no biggie). Adds a nice touch that no one in the industry is doing now. I bought a bunch and they fit nice into my bank vault box. Best bang for your buck in my honest opinion.
111
of
114
people found this helpful