2015 Guy Harvey© Proof 1 oz Silver Round - Blue Marlin (Mintage of Only 1500!) .999 Pure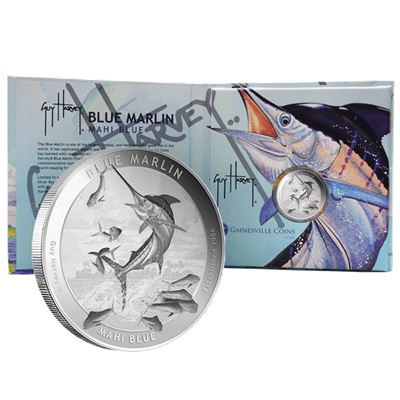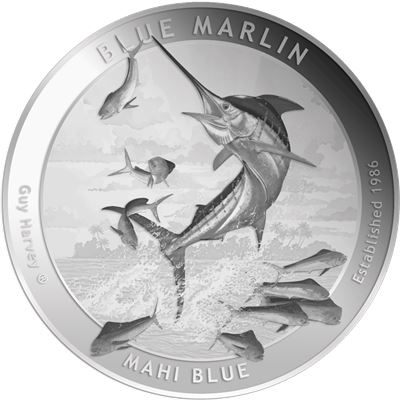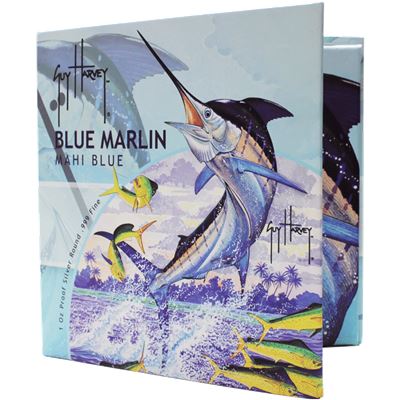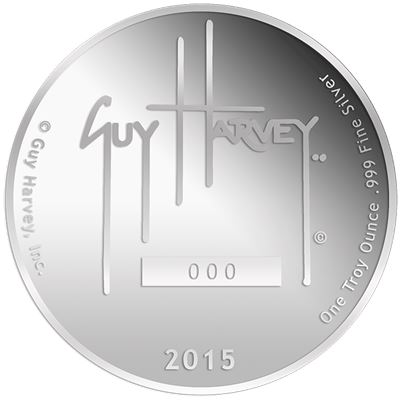 Click image for larger picture.

Shop With Confidence
100% satisfaction guarantee, safe shopping.
Fully Insured
All packages are fully insured from our vault to your door.
Secure IRA & Storage
Safe, private, secure storage solution for your precious metals.
Get Help Buying
Have questions about a product? Contact our trading floor.
Call (813) 482-9300
Buy 2015 Guy Harvey© Proof 1 oz Silver Round - Blue Marlin (Mintage of Only 1500!) .999 Pure
In partnership with famous marine wildlife artist and conservationist Guy Harvey, Gainesville Coins is proud to present the 2015 official Guy Harvey© Series 1 (Blue Marlin) 1oz proof silver round. Featuring original Guy Harvey artwork, this beautiful proof silver round is struck from 1 troy oz of .999 fine silver, and is limited to a mintage of 1,500 rounds. Each has a unique serial number struck on reverse, and comes in a full-color box with certificate of authenticity printed on back.
The obverse shows the calm of a Caribbean paradise shattered, as a magnificent Blue Marlin erupts from the water, slashing through a school of mahi mahi with its swordlike bill. The strength and size of the Blue Marlin makes it one of the most sought-after game fish by saltwater anglers. The reverse features the Guy Harvey© logo, the copyright date of the original artwork on obverse, the date 2015, and the weight and purity of the round.
This is the first of four series of exclusive silver rounds featuring the artwork of Guy Harvey©. Each series will focus on a different aquatic animal, and the proof versions of each series will be limited to 1,500 rounds with no restrikes!
Set your hook on a 2015 official Guy Harvey© Series 1 Blue Marlin 1oz proof silver round before they're all gone!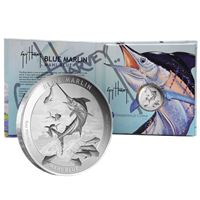 Specification
Actual Metal Weight
1 ozt
Obverse Designer
Guy Harvey
Customer Ratings & Review
5 out of 5 stars
Review This Product
Share your thoughts with other customers.
Showing 3 reviews.
Almostgem
Wednesday, November 18, 2015
I bought 2 of the 2015, 2 of the 2016 Proofs and a roll(20) of the unc 2015 Blue Marlins silver rounds. The packaging is excellent. Each proof coin comes in a booklet in a removable (so both sides can be viewed) plastic encapsulation. Each proof is serialized, and the maximum mintage is 1500. Well worth every penny they are asking. The proofs themselves are quite well struck. Not sure how PCGS handles silver rounds, but if they would grade these, then certainly would come back a PF69, or perfect PF70! The uncirculated were encased in a plastic silver round roll holder, and completely mint fresh. Packaging for these I'm sure depend on the quantity ordered. Thanks so much Guy Harvey, and Gainesville Coins !
3
of
3
people found this helpful
Chris Meyer
Monday, November 9, 2015
I own 5 of the Guy Harvey Proof Marlins and the design of the coin and its packaging are top notch. It is easily the best proof coin for the price especially since its was limited to 1500 coins. There's no doubt in my mind that these coins will be worth an extreme premium in the future. I also purchased a roll of the standard marlin silver rounds and they were also impressive and a great investment since they were slightly over spot prices.The coin design is phenomenal and intricate and I highly recommend these proof coins for gifts or for an investor.
1
of
1
people found this helpful
Daniel B.
Wednesday, January 21, 2015
Gainsville Coins has stepped up the generic round in a big, big way by actually licensing Guy Harvey's name & images for a silver round. This brings a great amount of class to the generic round world that is currently occupied (In my opinion) by kind of cheap looking basic silver with novelty images, series, etc. I ordered two of these proofs immediately after I received the promotional email a few weeks back, and I received them yesterday (January 20th). The coin and packaging are better looking in person than on the website, and I'm so excited to own two of these! It's just a beautiful coin and display booklet...A great amount of care went into this you can tell. These rounds are absolutely beautiful, and the detail is simply stunning! As good and detailed as any well done Government issue coin for certain. I'll likely order a few more of these proofs, and certainly some of the painted rounds when they are issued, and I'll be collecting multiples as the series is released. Thank you Gainsville Coins & Guy Harvey for a very classy & tasteful One of a Kind product! These are now my favorite coins in my collection bar none! Daniel B. Pennsylvania
3
of
3
people found this helpful