Buddha 5 Gram Gold Bar Pamp Suisse - Faith Series (24 Karat)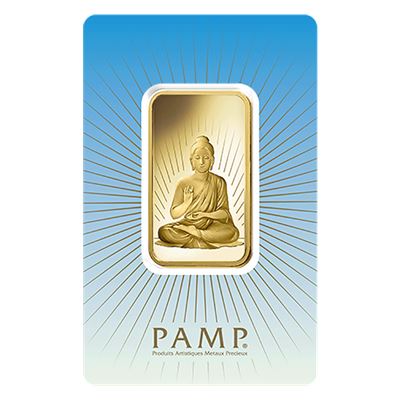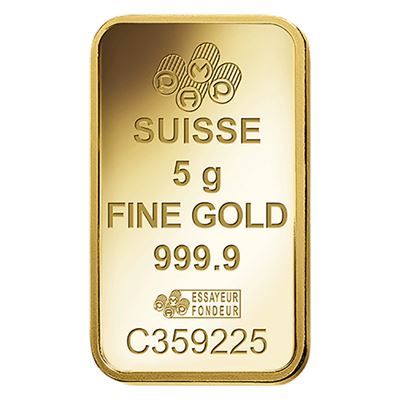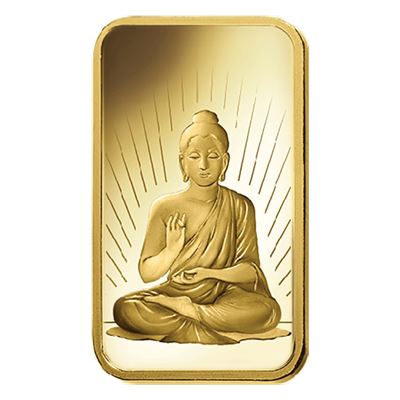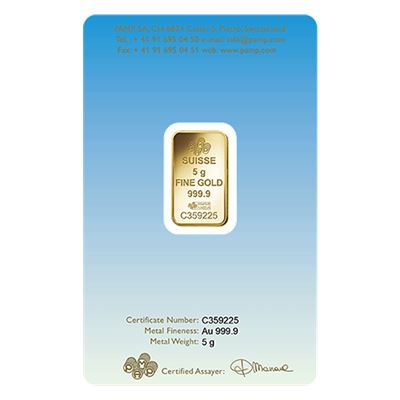 Click image for larger picture.

Shop With Confidence
100% satisfaction guarantee, safe shopping.
Fully Insured
All packages are fully insured from our vault to your door.
Secure IRA & Storage
Safe, private, secure storage solution for your precious metals.
Get Help Buying
Have questions about a product? Contact our trading floor.
Call (813) 482-9300
Buy Buddha 5 Gram Gold Bar Pamp Suisse - Faith Series (24 Karat)
Buddhism is one of the world's largest and most widespread religions, with over 360 million adherents across the globe. This prevalence alone makes Buddhism a universalizing religion, even if one considers that it is more of a lifestyle and philosophy than a belief in a deity. This is why many Buddhists are also followers of another religious faith such as Christianity, because the former does not see any conflict in its practitioners following another religion. To celebrate this venerable belief system, PAMP Suisse has issued these Buddha 5 gram gold bars as part of its Faith series! Each Buddha design gold art bar is minted from .9999 fine gold, and contains a total of 5 grams of pure gold content.
The front side of the bar shows a depiction of the Great Buddha sitting cross-legged in a meditative pose. Rays of light are shown emanating from the Buddha, The Enlightened One. There is considerable detail in the folds of his robe and the serene expression on his face. The bar has raised rims for convenient stacking. Each bar measures 13.1mm x 22.1mm, and is sealed within its own assay card.
The back side features the PAMP Suisse logo, a set of four cylinder with vertical ridges, each bearing one letter of "PAMP," with the word "SUISSE" in bold lettering just below. In the middle of the design, the weight "5 g" and the purity "FINE GOLD 999.9" are featured in the same lettering. The "ESSAYEUR FONDEUR" hallmark is found below, which is essentially an accreditation that the bar was assayed by a highly trusted Swiss refinery. The bar's serial number is found below.
PAMP Suisse has long been considered one of the major Swiss refiners, gaining global recognition for its refining capabilities and the high quality of its precious metal products. In recent years, the company has also ventured into using more artistic designs; in addition to the Faith series, PAMP has also made use of intricate designs of Lady Fortuna, and themes from the Chinese Lunar calendar. On top of their attractive design, these bars each contain 5 grams of fine gold content and are a remarkable 99.99% pure gold. Each bar comes sealed with its matching assay card from PAMP Suisse.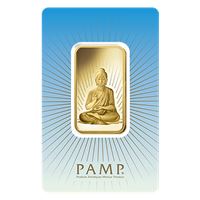 Specification
Actual Metal Weight
0.1607 ozt
Packaging
Sealed in Assay
Customer Ratings & Review
out of 5 stars
Review This Product
Share your thoughts with other customers.