1 oz PAMP Suisse Lady Fortuna Gold Bar Veriscan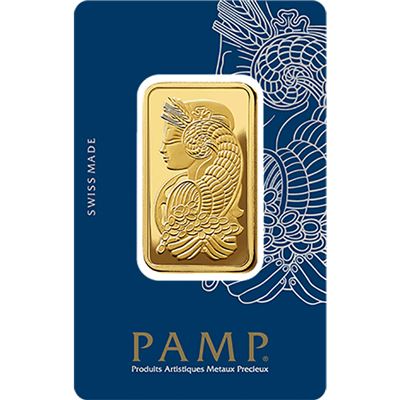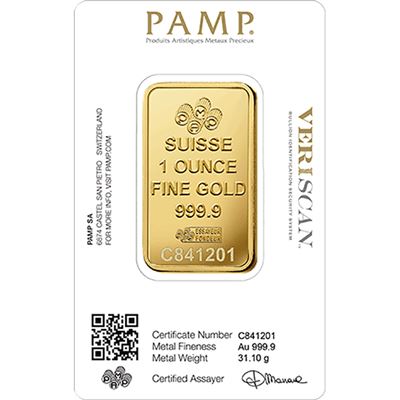 Click image for larger picture.
As low as
*Price changes every 5 seconds. The price added to cart will reflect the current spot price. Discount is calculated savings compared to credit card pricing for one unit quantity.
$2,100.80
As low as $85.00 over spot!
| Qty | Check / Bank Wire | Credit Card |
| --- | --- | --- |
| 1 - 10 | $2,110.80 | $2,184.68 |
| 11 - 24 | $2,105.80 | $2,179.50 |
| 25+ | $2,100.80 | $2,174.33 |

Product Highlight:
Trusted Swiss-made product from PAMP Suisse SA
Favorite of many bullion investors and traders
Popular Lady Fortuna design represents abundance and wealth
Bar comes securely packaged with its assay card
Shop With Confidence
100% satisfaction guarantee, safe shopping.
Fully Insured
All packages are fully insured from our vault to your door.
Secure IRA & Storage
Safe, private, secure storage solution for your precious metals.
Get Help Buying
Have questions about a product? Contact our trading floor.
Call (813) 482-9300
Buy 1 oz PAMP Suisse Lady Fortuna Gold Bar Veriscan
Invest in your future with the 1 oz PAMP Suisse Lady Fortuna Gold Bar. Each bar is crafted from 999.9 fine gold and features the iconic Lady Fortuna design. The front of the bar showcases Lady Fortuna holding a cornucopia of riches, while the reverse side features the PAMP Suisse logo, weight, and purity, as well as a unique serial number for added security.
Gold has long been a valuable and stable asset, and this gold bar offers a tangible way to own a piece of that value. The bar comes sealed in an assayer's card with VERISCAN technology for authenticity and protection, making it a secure addition to any investment portfolio.
Diversify your investments with the 1 oz PAMP Suisse Lady Fortuna Gold Bar. Order yours today.
Product Details
1 troy ounce of pure gold
Product of Produits Artistiques Metaux Precieux (PAMP)
Bar features Lady Fortuna design
Extra-pure .9999 fine gold
Veriscan Authentication, individually registered product
Eligible for precious metals IRAs
Secure packaging, each package insured
Tamper-evident assay card included
Weight and purity guaranteed by PAMP
Unique serial number
Swiss-made bullion product
World-class gold refiner recognized worldwide
In high demand among investors and traders
Easy stacking
Buy Gold and Silver Bullion Coins Online Fast, Easy, and Securely With Gainesville Coins
Gainesville Coins is your trusted source for purchasing precious metals at the lowest prices. Orders can be placed online 24/7 or by calling us Monday - Friday at (813) 482-9300 from 9am until 6pm EST.
We accept many different forms of payment including Visa, MasterCard, Discover, American Express, personal & business checks, money orders, cashier's checks, and bank wires.
All of our shipments are sent discreetly with fully insured shipping until the time of delivery. We do not offer free shipping, but our prices with shipping included are still lower than the competition.
Gainesville Coins customers enjoy no minimum orders, no cold calls and no commission sales people. Potential buyers pay a fair price for a variety of product types on the precious metals market.
There is no need to worry about the gold price or silver price moving as your prices are locked in at the time of your order.
With over $10 billion dollars in trusted transactions since 2006, Gainesville Coins is one of the most trusted gold and silver bullion dealers worldwide.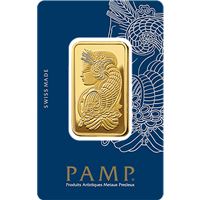 Specification
Actual Metal Weight
1 ozt
Customer Ratings & Review
4.8 out of 5 stars
Review This Product
Share your thoughts with other customers.
Showing 13 reviews.
TJRyder
Monday, October 15, 2018
nice quality 1 oz gold bar. Thanks Gainesville
4
of
5
people found this helpful
Griffen
Monday, January 15, 2018
nice quality bar
5
of
5
people found this helpful
Chip8
lowest price I could find
Thursday, November 16, 2017
Gainesville had the lowest price on these bars that I could find on the web. The bars will delivered in great condition packaged very nicely. I contacted them before purchasing and my customer service rep was very helpful in explaining how to pay using a bank wire.
5
of
5
people found this helpful
Stephan
Tuesday, June 20, 2017
Pamp Suisse do such a nice job with their products. The lady fortuna is classic bar and I really appreciate the assay card it comes in. Picked mine up off their daily deal special and am very pleased!
7
of
7
people found this helpful
JaxGirl
Lady Fortuna is a beautiful bar!
Saturday, May 30, 2015
I received my 1 ounce Lady Fortuna bar today - wow, what a beautiful gold bar. The packaging and ship/receive time were excellent - Gainesville Coins is the best! The only complaint I have is that there is some kind of smudge on the inside of the packaging on the reverse side of the bar - it doesn't detract from the value of the bar of course, it just doesn't look very attractive.
6
of
7
people found this helpful
vamsee
Sunday, November 16, 2014
The Pamp Susisse 1 oz Gold bar is very beautiful and very nicely designed, iam very happy that i buy it, and the gold bar is very securely packed and shipped to me. Very impressive.
8
of
8
people found this helpful
TBarber
Tuesday, January 21, 2014
PAMP Suisse makes the best gold bars, no question about it. I have ordered a few from Gainesville in the past and their service is excellent. My only issue this time around is that the packaging was bent around the edges, so it doesn't look as good as my others. I don't know if it was shipped that way or if it happened in transit. I suppose it doesn't alter the actual product at all, you're still getting 1 oz of the purest gold around, but it just doesn't look as nice on the outside.
11
of
19
people found this helpful
deejo
beautiful and internationally accepted
Thursday, June 27, 2013
Thank Gainesillve, for taking one ounce orders, as so many bullino dealers only take 10 oz minimums, making it very difficult to make large purchases.
22
of
22
people found this helpful
HighrollerVirginia
Very nice bar and cheaper than coins!
Thursday, June 6, 2013
I am very happy with the 7 bars I have ordered from GC over the years. They are good looking bars and they tend to be cheaper than coins. The europeans know what they are doing. Good product !
18
of
18
people found this helpful
Reddy luvs Gold
Wednesday, May 1, 2013
Just Beautiful& Perfect!!...Worth every $ spent! It looks & feels wonderful and I love love collecting these very beautiful Fortuna ladies! Gold typically signifies wealth, good-luck and a of course, makes for a great investment product ever. Gainesville has the best prices on their bars and I highly recommend doing business with them!
16
of
16
people found this helpful
aLcHeMiSt
Tuesday, March 26, 2013
Received 1oz today in perfect condition! Paid $1,613 BW! Now, I sit and wait.. ;)
11
of
21
people found this helpful
Silverboy
Saturday, May 5, 2012
The PAMP bar is easily the most beatiful gold bar on the market. The "lady Fortuna" imprint on the bar really makes the bar stand out. Fast shipping and a great price is what you can expect from Gainesville Coins.
29
of
31
people found this helpful
Ronald C
Monday, April 30, 2012
Excellent Gold bar.
20
of
30
people found this helpful