1 oz Trident Silver Round - Thalassa (.999 Fine) - Mason Mint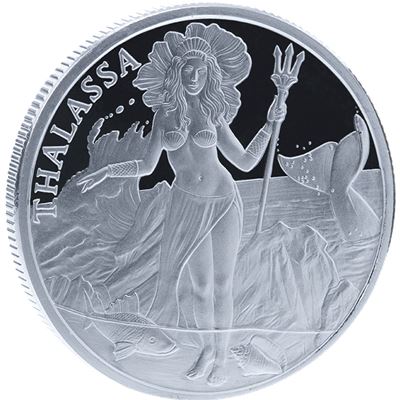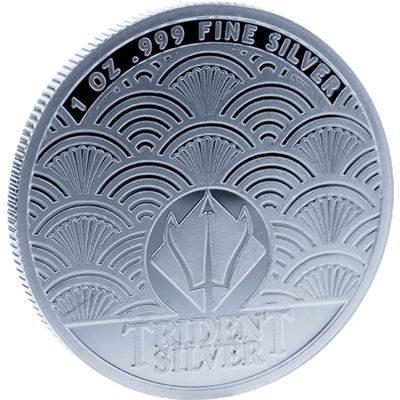 Click image for larger picture.

Product Highlight:
Gorgeous modernized design of primordial goddess
Exclusive product from Trident Silver
Original new custom design
Ancient theme with modern-day twist
Shop With Confidence
Fully Insured
All packages are fully insured from our vault to your door.
Secure IRA & Storage
Safe, private, secure storage solution for your precious metals.
Get Help Buying
Have questions about a product? Contact our trading floor.
Call (813) 482-9300
Buy 1 oz Trident Silver Round - Thalassa (.999 Fine) - Mason Mint
Trident Silver is an independent silver refiner that was founded on the principle that silver bullion doesn't have to be boring!
Many silver bars and rounds are largely blank in appearance or merely offer boilerplate designs that do nothing to differentiate them from the rest of the market. This kind of generic silver bullion is fine for making a low-cost investment, but many buyers are looking for something more exciting and artistically appealing, like the Thalassa 1 oz Trident Silver Round!
With Trident Silver, you don't have to sacrifice quality when making an affordable investment in silver.
Premium Silver Bullion at a Low Price
Each Thalassa silver round contains one troy ounce (1 troy oz) of pure silver by weight. The fineness, or purity, of each round is .999 fine silver, meaning 99.9% pure silver.
These weight and purity standards match those used for most of the investment-grade silver rounds and bars produced around the world. In addition, the round adheres to the highest standards of quality. It makes an excellent addition to any investor's portfolio, but it also has enough beauty and artistic merit to stand out in your silver bullion collection.
You can add some flair to your silver bullion without paying extra when you buy the Trident Silver 1 oz Thalassa Silver Round from Gainesville Coins!
Moreover, there are two more aspects that make these silver rounds unique. They are under the umbrella of the Trident Silver brand, one of the most intriguing precious metals producers in the current market. Trident focuses not only on high quality, but also has a commitment to bringing unparalleled beauty to its bullion products. Just because a piece of silver has aesthetic appeal doesn't mean you can't buy silver on a budget.
Second, the Thalassa silver rounds bring to a life a timeless theme that has long been a strong draw for collectors: ancient Greek and Roman mythology. This thematic area is fertile ground for telling interesting stories, capturing the natural human tendency to explain the mysteries of nature through allegory. Thalassa is both a mysterious enigma, subjecting the oceans to her divine whims, and a relatable figure that exhibits qualities we typically associate with characters drawn from our real lives.
We Are Trident's Exclusive Distributor
Gainesville Coins is proud to be the exclusive distributor for Trident Silver, and has carried its low-premium silver bullion products for years. Now, Trident Silver has introduced a brand new design for its silver art rounds that is squarely within the company's tradition of embodying the theme of sea mythology.
Struck from .999 fine silver, the fantastic new Thalassa 1 oz Trident Silver Round features the captivating Thalassa, the primordial goddess of the sea in Greek mythology. Each round contains 1 troy ounce of pure silver and, despite its beautiful and detailed design, is available for a low premium over spot!
You won't find Trident Silver bullion items at any other dealer. Gainesville Coins has an exclusive partnership with Trident to carry its silver bullion products in quantity, so be sure to check out the brand's other products such as the innovative Laser Cut Cleopatra 10 oz Silver Bar.
Trident Silver not only makes use of laser-cut minting technology, but also produces its own poured silver bars, which are hand-crafted and often feature creative shapes like hearts or crosses.
Named after Poseidon's son, Trident, from Greco-Roman mythology, the sea theme of Trident Silver is a perfect fit for the newest, addition, Thalassa!
Thalassa Silver Round Obverse Design
The front side of the round depicts Thalassa, the goddess of the sea who begat Aphrodite (among other gods) as well as populating the sea with all of the types of fish we know today.
As per tradition, she is shown partially submerged in the ocean and surrounded by crashing waves and aquatic life. However, this version of Thalassa has a modern twist, replacing the menacing figure of classical mythology with an attractive beauty. Her bikini top and crown are made of seashells while she holds a trident (three-pronged spear) in her hand.
The inscription "THALASSA" curls along the rim to the left, while the year-date is placed to the right of the goddess.
Thalassa Silver Round Reverse Design
On the back side of the round, the design is filled with a wave-and-seashell motif that surrounds the company logo, a trident spear in front of a diamond-shaped background. "TRIDENT SILVER" appears at the bottom of the design, while the top rim bears the round's weight and purity specifications, "1 OZ .999 FINE SILVER."
With a design that deftly combines mythological fantasy with artistic realism, the brand new Thalassa 1 oz Trident Silver Round continues the Trident Silver mission of providing beautiful, artistic silver bullion at exceptionally low prices. You will only find Trident Silver products available at Gainesville Coins, so don't miss out on this gorgeous addition to the company's line of silver bullion!
The Mythology of Thalassa
The story behind the goddess Thalassa is not necessarily familiar to the general public today. At least, not in the way that the Greek and Roman gods Zeus and Poseidon, or the demigod hero Hercules, are unquestionably part of mainstream Western culture.
For starters, Thalassa comes from a different "era" of deities than the more memorable examples of Zeus, Hades, Poseidon, and the rest. She is considered the primordial or primeval goddess of the sea. Whereas Poseidon was the ruler of the world's seas, Thalassa was its elemental backbone. Accordingly, she is a sibling of the gods Gaia, the Earth, and Uranus, the Heavens.
You can think of her as the more ancient predecessor of other better-known gods. She is the mother of Aphrodite and was also said to have birthed all of the fish in the ocean with her male counterpart, Pontos (or Pontus).
This is an important distinction. Rather than being seen as an essentially humanoid figure with godlike powers, Thalassa was really an embodiment or personification of the sea itself -- especially the Mediterranean Sea, which borders not just the lands that spawned great ancient civilizations like Greece, Italy, and Turkey, but all of southern Europe and North Africa.
Thalassa was traditionally represented with clothing made of seaweed, her body halfway submerged in the water. She is more of an element or force of nature in the mythology than she is a purely human-like character.
She became part of the stories and myths written during antiquity, such as Aesop's Fables. Thalassa and Pontos were also referenced in later classical works, but her origins likely stretch back into pre-history, before the recorded history of Ancient Greece.
Putting a New Spin on a Classic Theme
The revival of interest in ancient Greek and Roman mythology in popular culture has taken place across various fields and industries. In a number of ways, this is because many of the themes and lessons from these stories have a certain universal applicability that transcends generations and historical epochs.
In their original telling, the myths involving Thalassa, the ancient goddess of the sea, characterized her to some degree as a kind of monster. She wasn't so much the deity in charge of the sea, like Poseidon, as she was the sea itself. In general usage, the Greek word "thalassa" was used to refer to any sea.
Ancient mariners and fishermen in the myths often expressed anger at Thalassa for capsizing their boats or making the sea difficult to navigate. She invariably responded that their ridicule was misplaced: It was the fault of the winds, not the water itself. However, these stories of Thalassa interacting with human beings generally implied that she should not be blamed for the perils of traveling across the open sea.
Another myth about Thalassa relates to the salinity of the ocean water. When rivers complained that the salts in her water were making their local fresh waters undrinkable when the two sources of water mixed, the goddess simply told the rivers that they should know better and not come into contact with her if they didn't want to get salty.
These ancient portrayals of Thalassa have been reimagined and updated for a 21st-century audience on Trident's new silver rounds.
The new vision of Thalassa gives her a more attractive persona. She is younger than the matronly figure seen in many ancient paintings, and she is fittingly associated with the vibrant biodiversity of the ocean.
In modern science, in fact, one of the planet Neptune's moons is named after Thalassa. (Neptune was the Roman name for Poseidon.) This satellite is irregularly shaped and is following an orbit that will likely bring it crashing down into the Neptunian atmosphere some day.
Buy Silver Bullion With No High Premium
One thing that virtually every bullion investor hates is paying a high premium, or mark-up, for their gold and silver. In the case of jewelry made from precious metals, the high mark-up is explained in part by the costs of labor and fabrication, both of which are highly specialized.
Coins and bars that are made from gold or silver, however, are generally sold at a price much closer to their spot price (i.e. melt value). A variety of factors contribute to what kind of premium different bullion products might command.
In part, the premium depends on the visibility and name recognition of the brand (or mint) that manufactured the bullion. Prestigious mints can charge more for their products because they are well-known and highly trusted. This is true of both government mints and private refineries.
Moreover, if you think about it, this principle holds true for just about anything you can buy. People are willing to pay more for a "name brand" because it's a useful shorthand for judging credibility.
Another consideration is whether or not a piece of silver, gold, or platinum carries official legal tender status as a coin. It's often more expensive to mint coins rather than bars or rounds because of stringent legal requirements about the coin's size and design specifications. Legal tender status also has a similar effect to being a brand name: Many consumers are simply more familiar with the idea of something that has the status of "money."
Silver coins also usually have their exact mintage totals tracked. Depending on how many were produced of a certain coin variety in a given year, these coins can accrue a significant premium as collectibles.
Trident Silver's rounds and bars don't fall into any of these categories for a high premium. They are an affordable option for anyone interested in accumulating silver bullion!
Why Invest in Silver?
While most of us tend to think about investing as a way to grow wealth, plan for the future, or help the economy expand, another important aspect of making investments is as a form of risk management.
There is always risk involved in investing: A company can go out of business, a government could default on its debt (bonds), or any number of market forces could influence prices.
This reality helps explain the appeal of owning precious metals like gold and silver, especially in physical form. They are often purchased as a safe haven from bad economic times, particularly when the purchasing power of a given currency is volatile or in outright depreciation.
Similarly, buying bullion is a traditional way to hedge against the eroding impact of inflation in general. Gold and silver have a proven history of maintaining their purchasing power relative to fiat currencies. In other words, the amount of goods and services that a given weight of gold can "buy" has remained remarkably consistent for centuries -- and even millennia.
So add some diversity and long-term stability to your investment portfolio with the Trident Silver 1 oz Thalassa Silver Round. These gorgeous silver rounds are exclusively available at Gainesville Coins, so don't miss this opportunity while they're still in our inventory!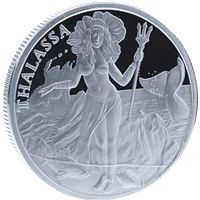 Specification
Actual Metal Weight
1 ozt
Customer Ratings & Review
4.5 out of 5 stars
Review This Product
Share your thoughts with other customers.
Showing 2 reviews.
ChristmasPresent
Tuesday, June 12, 2018
Beautiful coins... I would give 5 stars but have to deduct 1 star as no spec is given as to the diameter of the coins & number minted. I like to put the coins in the litehouse type capsule as the coins surrounded in the black matt backing looks SO good!
2
of
2
people found this helpful
Mr. Silver
Tuesday, June 20, 2017
I really love this new trident silver design. Very unique for a low priced silver round.
0
of
0
people found this helpful