Apollo 11 Moon Landing 1 oz Silver - Mason Mint (.999 Pure)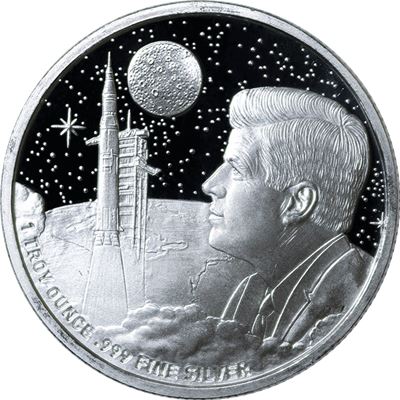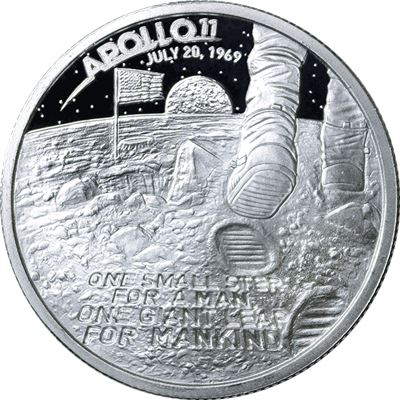 Click image for larger picture.

Product Highlight:
Original new design
Honors 50th anniversary of Apollo 11 mission
Exclusive product from Mason Mint
Beautiful proof-like finish
Shop With Confidence
Fully Insured
All packages are fully insured from our vault to your door.
Secure IRA & Storage
Safe, private, secure storage solution for your precious metals.
Get Help Buying
Have questions about a product? Contact our trading floor.
Call (813) 482-9300
Buy Apollo 11 Moon Landing 1 oz Silver - Mason Mint (.999 Pure)
Gainesville Coins has partnered with the Mason Mint to offer the gorgeous Apollo 11 Moon Landing proof silver round! This proof-quality silver round combines a beautiful design with 1 troy ounce of pure silver. It also commemorates one of the greatest accomplishments in the history of not just the United States but humanity as a whole: the first Moon landing. Each round is struck from .999 fine silver.
Design
The front side of the round provides a view from the Moon, with the Earth visible off in the distance. The stylized text at the top reads "APOLLO 11" with the date of the landing "JULY 20, 1969" just below. One of the astronaut's boots are shown walking across the lunar surface. Next to his footprints, the famous quote from Neil Armstrong reads, "ONE SMALL STEP FOR A MAN, ONE GIANT LEAP FOR MANKIND."
The back side of the round shows President John F. Kennedy, who very publicly announced the U.S. commitment to reach the moon before the end of the 1960s, gazing skyward on the right side of the design. The Moon and stars are shown behind him, while a shuttle is shown launching from the earth. The round's weight and purity specifications are found inscribed along the bottom rim, reading "1 TROY OUNCE .999 FINE SILVER."
Both sides of the design use an eye-appealing proof finish, meaning that the relief devices are lightly frosted to stand out against beautiful mirrored fields. Be sure to get your Apollo 11 Moon Landing 1 oz Proof Silver Round at Gainesville Coins!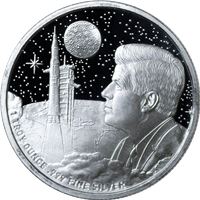 Specification
Actual Metal Weight
1 ozt
Customer Ratings & Review
4.8 out of 5 stars
Review This Product
Share your thoughts with other customers.
Showing 4 reviews.
Don70
Friday, January 14, 2022
Nicest of the Apollo 11 I have fou
1
of
1
people found this helpful
Paul P.
Monday, January 15, 2018
This is an extremely well done design. I remember this day and now I get to see it on a coin! I bought one originally just for myself but will be buying more.
5
of
5
people found this helpful
RP
Apollo 11 Moon Landing Silver Round
Friday, November 10, 2017
This is a high quality silver round. The artwork is very detailed especially the likeness of President Kennedy. The only reason I give 4 of 5 stars is the words by Armstrong, I find, to be difficult to read on the front at the bottom of this round. I will purchase this round again and highly suggest you consider purchasing this unique round.
7
of
7
people found this helpful
Barb
Wednesday, August 16, 2017
Just received the Apollo 11 Moon Landing silver rounds today and they are awesome, great quality rounds. Packaged very well and were shipped in a timely manner. I have used Gainesville several times and would recommend them. Mason Mint did a great job on these rounds. I am very pleased with my purchase.
5
of
5
people found this helpful