1969 Lincoln Penny Values, Errors, and Rarities

Published: November 06, 2023
Updated: November 29, 2023
Table Of Contents:
Table Of Contents:
Nearly 5.7 billion Lincoln cents were minted in 1969 between the Philadelphia, Denver, and San Francisco Mints. This was the first year in decades that Lincoln cents had been minted from fresh master hubs. The difference in quality between the 1968 Lincoln cent made from the worn hubs and the 1969 is striking.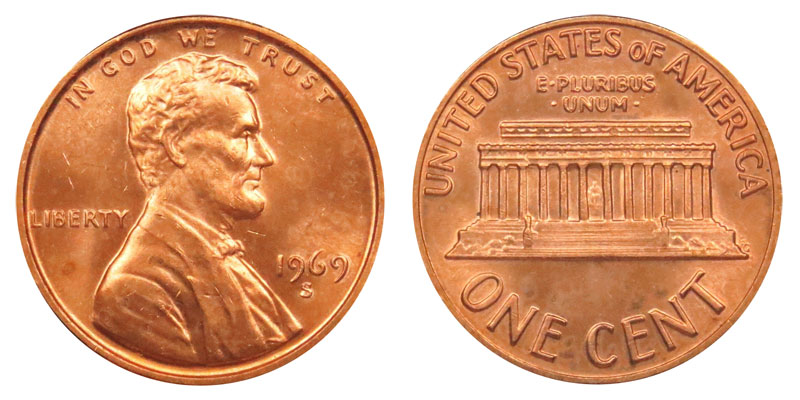 1969-S Lincoln Memorial cent
From the original 1909 Lincoln Wheat cent to 1982, all Lincoln cents were made from 95% copper and 5% zinc or zinc and tin. At current copper prices (October 2023), a 1969 Lincoln cent has a melt value of 2.3 cents. Note that Lincoln cents struck since 1982 have been made from zinc with a thin copper coating. These coins have a melt value of only 0.65 cent.
1969 Lincoln Penny Prices
Lincoln cents with the highest values are those with the highest "Mint State" ratings from certified coin grading services. The standard grading fee for modern coins is $17 at PCGS and $19 at NGC, the top two coin grading services. (Bulk submissions can bring down the per-coin cost.)
Even though there were approximately 900 million more 1969 Lincoln cents struck than in 1968, the 1969s fetch better prices across the spectrum.
Below are the prices as of November 2023 for high-quality "Mint State" 1969 Lincoln cents. Prices were obtained through PCGS Coinfacts.
---
DID YOU KNOW?
Coins are graded on a 70-point scale, where 1 is so worn as to be almost unidentifiable, and 70 is perfect, with no damage or blemishes visible even under magnification.
---
1969-P LINCOLN CENT VALUE
MINTAGE: 1,136,910,000
| Grade | Price |
| --- | --- |
| MS-63 RD | $6 |
| MS-64 RD | $12 |
| MS-65 RD | $20 |
| MS-66 RD | $44 |
| MS-67 RD | $575 |
1969-D LINCOLN CENT VALUE
MINTAGE: 4,002,832,200
| Grade | Price |
| --- | --- |
| MS-63 RD | $5 |
| MS-64 RD | $8 |
| MS-65 RD | $20 |
| MS-66 RD | $40 |
| MS-67 RD | $325 |
1969-S LINCOLN CENT VALUE
MINTAGE: 544,375,000
| Grade | Price |
| --- | --- |
| MS-63 RD | $8 |
| MS-64 RD | $15 |
| MS-65 RD | $20 |
| MS-66 RD | $34 |
| MS-67 RD | $350 |
1969-S PROOF LINCOLN CENT VALUE
MINTAGE: 2,934,631
| Grade | Price |
| --- | --- |
| PR-64 RD | $6 |
| PR-65 RD | $7 |
| PR-66 RD | $8 |
| PR-67 RD | $12 |
| PR-68 RD | $20 |
| PR-69 RD | $28 |
RD, RB, BN: What Do They Mean?
Lincoln cents are not only graded by condition but also by how much of their original color remains. There are three classifications: Red (RD), Red-Brown (RB), and Brown (BN).

1969 Lincoln cent graded BN, RB, and RD (PCGS)
The definitions of Red, Red-Brown, and Brown are more subjective than the physical grades laid out in the 1-70 coin grading scale.
Circulated cents and uncirculated ones exposed to air develop a brown, sometimes chocolatey color. All things being equal, cents graded BN are far less desirable to collectors than RB or RD coins. Red-brown cents have a good portion of their original luster remaining.
Some collectors find that certain RB cents can have more eye appeal than a "better" RD coin. Red coins have almost all their original luster present. For older cents, this is usually only possible for new coins kept in rolls or airtight containers or from unopened Mint Sets.
Most Valuable 1969 Lincoln Cents: Auction Records and Finest Known
This is a list of the finest-known examples of each 1969 Lincoln penny mintage. The auction records listed may or may not reflect the highest price ever paid since person-to-person private sales are not recorded.
The numbers in the PCGS and NGC entries are the number of coins at that grade that each service has graded. The year and auction house are also listed.
1969-P LINCOLN CENT VALUE
AUCTION RECORD: $5,750 for MS-67 RD (2010, Bowers & Morena)
FINEST KNOWN: MS-67+ RD (4, PCGS); MS-66 RD (1, NGC)
---
1969-D LINCOLN CENT VALUE
AUCTION RECORD: $7,475 for MS-67 RD (2010, Heritage)
FINEST KNOWN: MS-67+ RD (3, PCGS); MS-66 RD (3, NGC)
---
1969-S LINCOLN CENT VALUE
AUCTION RECORD: $4,406 for MS-67 RD (2014, Heritage)
FINEST KNOWN: MS-67+ RD (4, PCGS); MS-65 RD (1, NGC)
---
1969-S PROOF LINCOLN CENT VALUE
AUCTION RECORD: $230 for PR-69 (2007, Heritage)
FINEST KNOWN: PR-69 (94, PCGS); PF-69 (34, NGC)
1969 Lincoln Cent Varieties and Errors
Variety coins are coins that have had something happen to the die before the coin is struck. Common coin varieties include Doubled Die on Reverse (DDR), Doubled Die on Obverse (DDO), and Repunched Mint Mark (RPM.)
The difference between variety coins and error coins is that variety coins result from a mistake on the coin die. Many hundreds or even thousands of coins with the same defect can be minted before the mistake is noticed.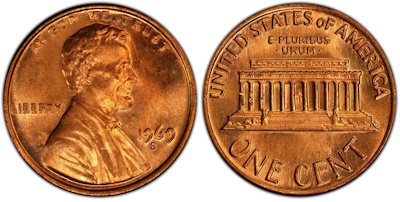 1969-S Lincoln cent DDO graded MS-66 RD (PCGS)
1969-S DDO Lincoln Penny
The most famous 1969 Lincoln cent variety coin is the 1969-S DDO. Only 15 have been graded at PCGS. This coin is much rarer than it otherwise would be because counterfeiters released thousands of fake 1969 DDO cents into the market. As the Secret Service worked to track down and destroy the counterfeit coins, authentic 1969-S DDO cents from the San Francisco Mint were swept up into the dragnet and destroyed as well.
The 1969-S DDO is an obvious doubled die, easily picked out with the naked eye. Note that careless counterfeits will have the S mint mark doubled as well. This is impossible because the mint marks were punched into the finished dies separately and could not have been doubled.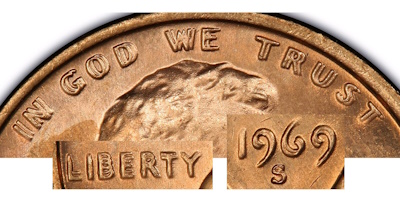 Details of the 1969-S DDO Lincoln penny
This coin is very rarely seen at auction.
1969-S DDO LINCOLN CENT VALUE
AUCTION RECORD: $126,500 for MS-64 RD (2008, Heritage)
| Grade | Price |
| --- | --- |
| MS-61 RD | $36,000 |
| MS-62 RD | $38,000 |
| MS-63 RD | $48,500 |
| MS-64 RD | $62,500 |
| MS-65 RD | $315,000 |
| MS-66 RD | $605,000 |
Error coins are a result of a mechanical malfunction of the coin press or a defect or mistake in the coin blank itself. (Anything that happens to them after they are ejected from the coining press is referred to as "post-mint damage.")
Common error coins are:
Cuds, where a piece of the die on the rim cracks and breaks off, letting the metal flow through to fill the gap.
Wrong Planchet errors, where the wrong coin blank is fed through the press. One example is a penny struck on a dime press. These errors can sometimes be worth far more than a variety coin.
Off-Center Strikes, where the coin blank is not completely fed into the press before it is stamped. Some off-center strikes can have deformed coin blanks and just a small portion of the coin design present. These drastic errors are the most popular and can be worth substantial money to the right collector.
1969-D "No FG" Lincoln Penny
Another major 1969 Lincoln cent error coin is the 1969-D "no FG." This coin is missing the tiny stacked initials "FG" that are supposed to touch the bottom right tip of the Lincoln Memorial on the coin's reverse, circled in red in the image below. (These initials can often look like a bush growing at the end of the shrubbery across the front of the Memorial.)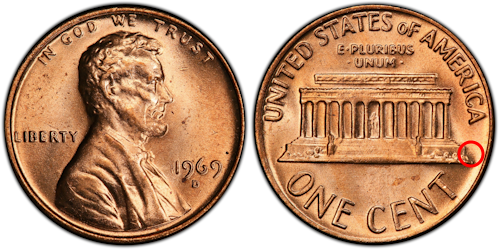 1969-D "No FG" Lincoln cent, graded MS-66 RD (PCGS)
These are the initials of US Mint engraver Frank Gasparro. He designed the Lincoln Memorial reverse for the Lincoln cent to replace the original "Wheat Ears" design. The obverse remained the original Lincoln portrait by Victor D. Brenner. Gasparro also created the Eisenhower dollar design, among other accomplishments as Chief Engraver of the mint.
This Lincoln cent error is not very rare, though it still commands prices far above regular 1969-D cents.
1969-D "NO FG" LINCOLN CENT VALUE
AUCTION RECORD: $505 for MS-65 RD (2017, Heritage)
| Grade | Price |
| --- | --- |
| MS-63 RD | $115 |
| MS-64 RD | $210 |
| MS-65 RD | $360 |
| MS-66 RD | $650 |