What's the Value of a 1970 Quarter?

Published: January 26, 2022
Updated: February 01, 2022
Table Of Contents:
Table Of Contents:
The Washington quarter had several mint errors in 1970. Some of these 1970 quarters are worth hundreds, or even thousands of dollars. But when it comes to normal 1970 quarters, only the best of the bunch are worth money.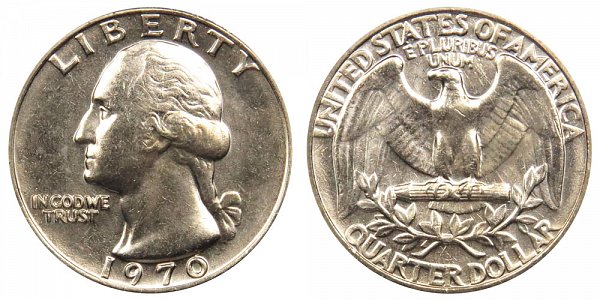 1970-P Washington quarter. Image: USA CoinBook
1970 Washington Quarter Mintages
The main US Mint in Philadelphia struck 136,420,000 Washington quarters in 1970.
The Denver Mint made the most quarters that year, with a total of 417,341,364.
The San Francisco Mint only minted proof 1970 quarters. It produced 2,632,810 quarters in 1970.
With more than 553 million quarters and more than 2.6 million proofs made in 1970, a quarter needs to have something special to stand out. Luckily, there were lots of mistakes made at all three US Mints that year.
The Most Valuable 1970 Washington Quarter: The $35,000 Quarter
The most famous and most expensive 1970 quarter is the 1970-S quarter struck on an 80% silver 1941 Canadian quarter. This unique coin has been appraised at a whopping $35,000!
This one-of-a-kind coin was graded PF65 by the Numismatic Guaranty Corporation (NGC), one of the world's top coin grading services. It is owned by error coin specialist and author Mike Byers. He describes the coin as "one of the most fascinating and intriguing proof mint errors ever discovered."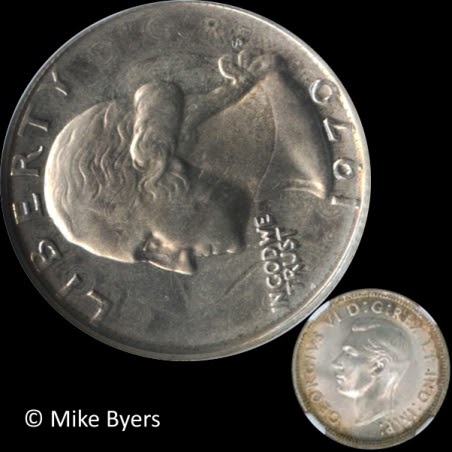 Showing the comparative orientation of the obverse of the original 1941 silver Canadian quarter to the clad proof 1970-S US quarter (coins not to scale)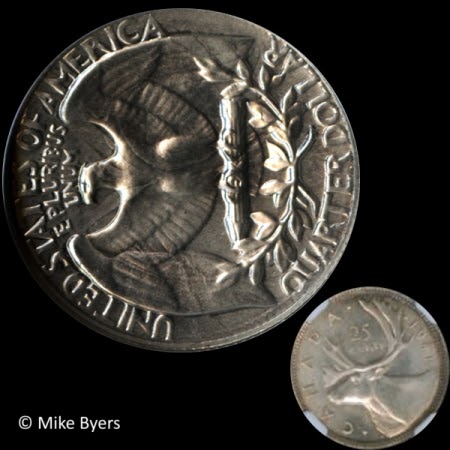 Showing the comparative orientation of the reverse of the original 1941 silver Canadian quarter to the clad proof 1970-S US quarter (coins not to scale)
Images ©Mike Byers. Used with permission.
There is a second famous overstrike of a 1970-S quarter on a Canadian coin. In this case, the quarter was struck over a silver George V Canadian quarter. Unfortunately, Washington's neck obscures the date, but the rest of the details shine through. This unique proof error coin was graded PF64 by NGC, and sold for $7,800 in August 2020.
Yet another unique 1970 error coin is the 1970-S quarter struck on a Philippines 25 centavos coin. This is one of the easiest proof error coins to spot, as it has what Heritage Auctions calls a "brassy" appearance. Rated a proof PR64, it sold for $4,600 in 2010.
Weird Is Valuable: 1970 Quarter Errors
Error coins can be some of the weirdest coins you will ever see. Off-center coins occur when the coin blank isn't completely inserted into the press. This causes the design to be shifted off-center, leaving part of the coin smooth. The more off-center the coin design is, the more valuable it is.
One extremely weird 1970-D quarter combines an off-center strike with a double strike. Graded MS64 "Double Struck - Second Strike 70% Off-Center," this coin sold for $1,020 in 2021. One has to wonder how this thing made it out of the Denver Mint. It certainly didn't fit in a coin roll!
Other weird 1970 error quarters are the 1970-D struck on a Lincoln cent planchet that sold for $1,260; a 1970-D quarter struck on a Jefferson nickel planchet ($216); a 1970-D quarter that is missing the copper-nickel cladding on the obverse ($540); and a 1970-S proof quarter that was double struck in the coin press collar for $1,175. The obverse die was loose when this quarter was made and rotated a little bit before making the second strike.
The "Thin" 1970-D Washington Quarter
Coins are made by stamping round blanks from sheets of metal that are the same thickness as the coin. The blanks are then fed into coining presses to make the actual coins. In 1970 at the Denver Mint, someone took a strip of metal intended for making dimes and fed it through the stamping machine that made blanks for quarters. When these blanks were fed into the quarter coining press, they made quarters with the same thickness as dimes!
Officially called "1970-D Quarter on Dime Stock," these error coins are known among collectors as "thin quarters." An estimated 100,000 1970-D thin quarters were made before the mistake was noticed. This is one 1970-D quarter error that you may actually have a chance at finding in your change!
The price of 1970-D quarters struck on dime stock run from $30 for moderately worn pieces to $350 for the nicest uncirculated examples. These coins are different from those struck on a dime planchet, which is when an actual dime blank is struck in a quarter coin press.
Grading 1970 Quarters: Appearances Are Everything
Coins are graded on a scale from 1 to 70. Mint State 70 represents a flawless coin, even under magnification. Coins made for circulation are stored in large bins and canvas bags after they are made, where they get scratched and dinged. This makes a grade of MS70 on a circulation-strike coin virtually impossible.
Proof coins, like the 1970-S quarter, are handled carefully and sealed into coin sets. These coins have the best chance to score that perfect 70. A few proof coins have almost reached that lofty perch, scoring a PR69.
These scores are important, as just one step down results in a far lower value. Here are some examples to show just how much. The top grade is the finest known of each mintage.
Prices for Highest Grade 1970 Quarters
1970 Washington Quarter
MS67+: $2,160
MS67: $264
MS66: $34
1970-D Washington Quarter
MS68: $2,160
MS67: $47
MS66: $11
1970-S Proof Washington Quarter
PR69: $14
PR68: $12
1970-S Proof Washington Quarter (Cameo finish)
PR69 CAM: $34
PR68 CAM: $16
1970-S Proof Washington Quarter (Deep Cameo finish)
PR69 DCAM: $455
PR68 DCAM: $88
What Is A Proof Coin?
Proof coins are struck multiple times, to give the field of the coin (the surface of the coin around the head and eagle) a mirror-like finish. A coin described as Cameo has a deeper mirrored look. Deep Cameo coins have an exceptional mirrored appearance and are the rarest type of proof coin.
Can You Find A 1970 Quarter Worth Money?
It is still possible to find 1970 Washington quarters worth money in your change. "Thin" quarters, double-strikes and even off-center coins may be lurking out there. If you do find one, don't clean it! Coins need to have the appearance that they have built up over the years. A cleaned coin is undesirable to collectors, and only worth a fraction of the value of an uncleaned coin. With that in mind, it only takes a couple of seconds to check your change for valuable coins.
Good luck in your hunt!
---
More expert articles about coin values from the authors at Gainesville Coins:
Buffalo Nickel Values and History (1913–1938)
1943 Steel Penny Value: How Much They Are Worth Now
What Is the Value of a 1943 Copper Penny?
Susan B. Anthony Dollars: Values and Series Background
American Silver Eagle Values - Complete Pricing Guide
What Is the Value of an 1878 Silver Dollar? (Price Charts)

Steven Cochran
Precious Metals Market Analyst
|
BS University of South Florida (2002)
A published writer, Steven's coverage of precious metals goes beyond the daily news to explain how ancillary factors affect the market.
Steven specializes in market analysis with an emphasis on stocks, corporate bonds, and government debt.
Latest Offers, Straight To Your Inbox
Don't be the last to know about the latest deals and new product arrivals. Join us today for FREE!