American Gold Eagle Values: How Much Are They Worth?
Published: June 16, 2020
Updated: March 17, 2021
American Gold Eagle coins have been issued every year since 1986. They are part of the larger American Eagle bullion coin program of the United States. President Reagan signed the law authorizing the American Eagle program in 1985. The first Gold Eagles were unveiled the following year.
Today, American Gold Eagles are widely sought by both collectors and investors, both in the U.S. and around the world.
P.S. -- Want to listen to this post?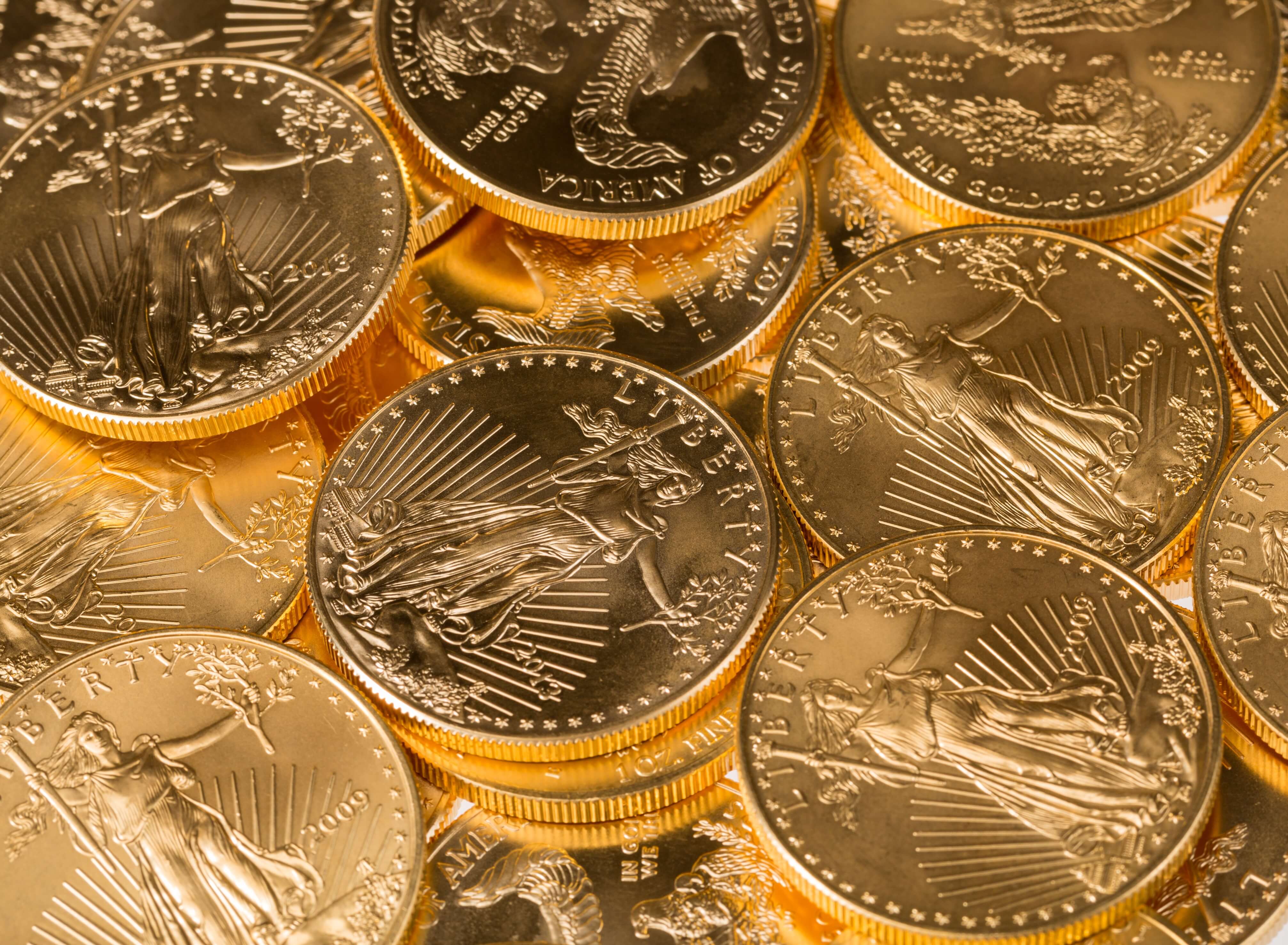 An array of American Gold Eagles
American Gold Eagle coins carry an obverse design originally created by Augustus Saint-Gaudens. It was used on the $20 double eagle gold coin in 1907. The striding Liberty motif lasted on that denomination until 1933. This is when the production of circulating gold coins ended in the United States.
The design was then adapted for use on the American Eagle gold coins in 1986. It has appeared on the obverse since that time.
On the reverse of all American Gold Eagles is a portrait showcasing a family of eagles around a nest. This design, by Miley Busiek, debuted with the gold eagles in 1986 and is slated to be replaced in 2021.
Types Of American Gold Eagles
While the counterpart American Silver Eagle series is offered in just one format (one-ounce coins with a face value of one dollar), American Gold Eagles are made in four sizes and denominations. These include:
One-tenth ounce (1/10 oz) with $5 face value
One-quarter ounce (1/4 oz) with $10 face value
One-half ounce (1/2 oz) with $25 face value
One-ounce (1 oz) with $50 face value

Various sizes of the Gold Eagle
The face values are merely nominal. They do not necessarily correspond to the value of the gold content within these coins. In theory, these legal-tender pieces could be spent as money for their respective face values. One who does so would suffer a major monetary loss this way, though!
This is especially true given current gold spot values for these coins. At any point since 1986 up until the time of writing, the melt values have always been many multiples of each coin's face value.
Since the release of the first American Gold Eagles, they have appeared in four formats: bullion, burnished, proof, and reverse proof.
The vernacular surrounding the "bullion" version has changed over the years. It was originally known as "uncirculated." This is a change that came in more recent years with the introduction of the "burnished" finish seen on some American Gold Eagles. These will be explained in greater detail below.
Here's a look at the various types of American Gold Eagles:
Bullion Gold Eagle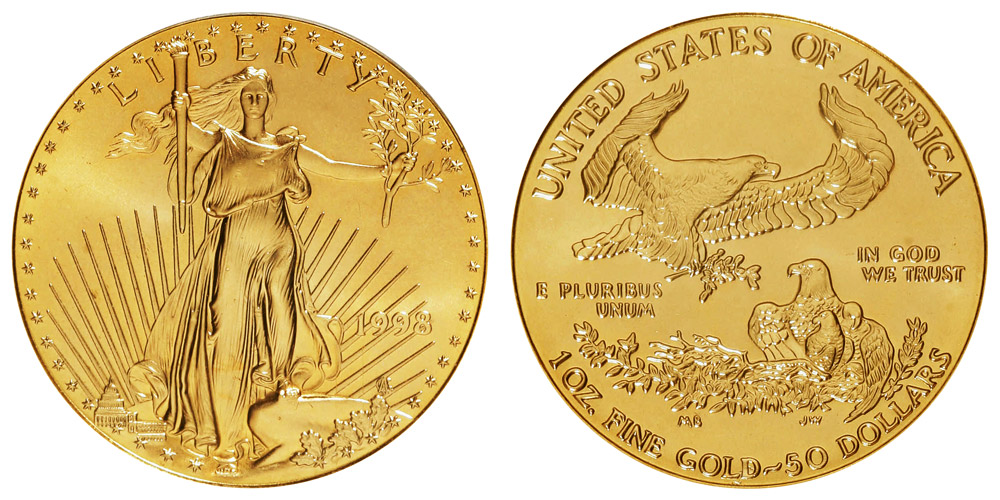 1998 1 oz American Gold Eagle. Image: USA CoinBook
Bullion American Gold Eagles are the lesser-expensive of the two major product categories. While they generally feature well-struck details and decent surface quality, they generally are not pursued by collectors. The main market for bullion-quality Gold Eagles is the investor set, and such coins are produced in large numbers. Rather than being sold to the public as most United States Mint products are, they are distributed to a network of authorized dealers who then sell these coins in individual or bulk quantities to collectors and investors for relatively small premiums over spot.
Burnished Gold Eagle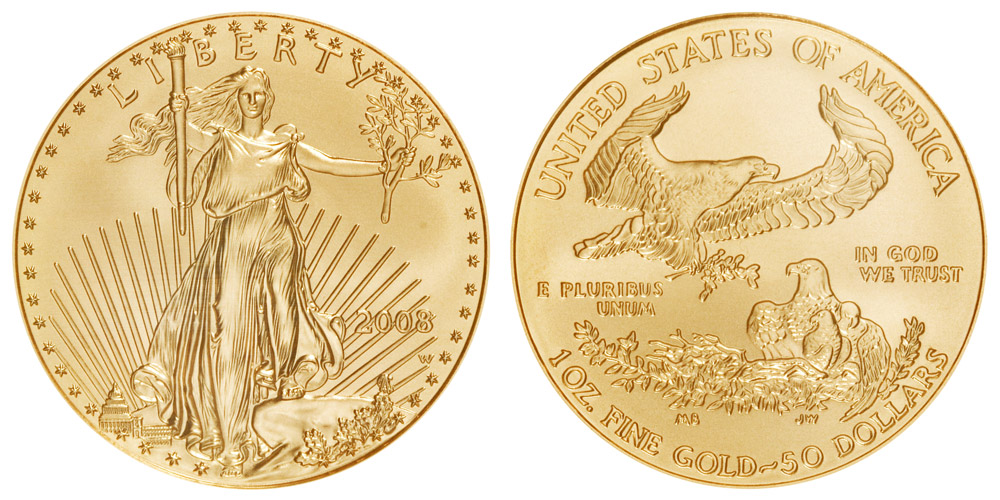 2008-W Burnished Uncirculated 1 oz American Gold Eagle. Image: USA CoinBook
The burnished finish is regarded as a premium numismatic strike and imparts a greater value on the coin over its spot price. Burnished finish coins bear nicer surfaces with a soft, matte-like appearance. The first burnished American Gold Eagles appeared in 2006 across all four denominations. However, production of these coins has been sporadic over the years and has been mostly seen on the $50 one-ounce Gold Eagle in the years since the finish type debuted for the American Gold Eagle program.
Proof Gold Eagle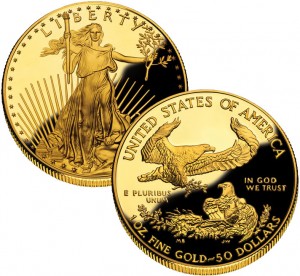 2010 American Gold Eagle Proof
Boasting deep-mirrorlike fields and richly frosted cameo devices and lettering, proof American Gold Eagles have been offered directly to the public by the United States Mint since the series debut in 1986. These beautiful proof coins are mainly targeted to collectors and are sold at significant premiums above their respective spot values. However, their much higher level of surface and visual quality and lower mintages justify these stronger premiums. While most precious metals investors do not spend their portfolio funds on buying numismatic Gold Eagles, these coins often still do find crossover appeal with investors who want a collectible item with significant intrinsic value.
Reverse Proof Gold Eagle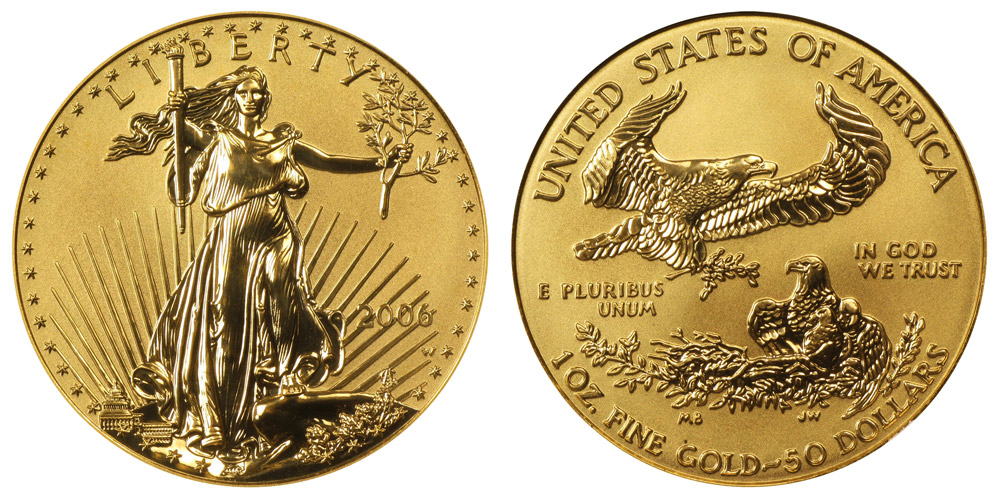 2006-W Reverse Proof 1 oz American Gold Eagle. Image: USA CoinBook
A reverse proof showcases the fields with a frosted finish while the devices and lettering boast mirror-like surfaces—a complete inversion of the usual surface qualities of modern-era proof coinage. While the reverse proof finish has appeared with increasing frequency among contemporary United States Mint products, it has not been seen very often in the American Gold Eagle lineup and to date has appeared only on the one-ounce $50 gold coin.
Gold Eagle Errors & Varieties
American Gold Eagles are struck with exceptional precision and careful attention to detail. This has led to relatively few Gold Eagles escaping the mint with imperfections. Still, nobody is perfect—including the United States Mint. A few resultant varieties have therefore emerged among the American Gold Eagle coins. The bulk of these are known for the tenth-ounce $5 and quarter-ounce $10 series, with both sharing the 1999-W Uncirculated Strike Made from Unpolished Proof Dies variety.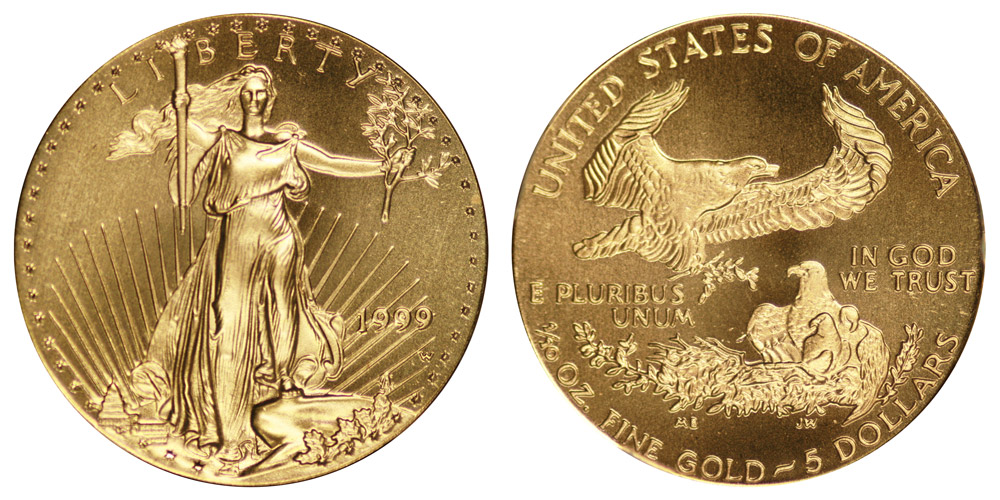 1999-W unfinished proof dies 1/10 oz American Gold Eagle. Image: USA CoinBook
While the name is self-explanatory as to what this variety entails, what isn't necessarily evident is how these coins are identified by collectors; the West Point Mint did not intentionally strike non-proof Gold Eagles in 1999, so any non-proof 1999 $5 or $10 gold eagle with a "W" mintmark can be attributed as having been struck by unpolished proof dies. Numismatic experts believe about 14,500 of the tenth-ounce eagles were struck this way while 10,000 of the quarter-ounce eagles feature this variety.
Another interesting variety is a 2015 tenth-ounce gold coin with narrower edge reeding than normal. This variety shows finer, more tightly spaced reeds than the wider reeding pattern seen on most 2015 tenth-ounce Eagles.
American Gold Eagle Values Today
Values fluctuate by the moment for bullion and regular-issue proof American Gold Eagles, thus it is impractical to publish fixed values for them here. However, you can find the latest prices for these American Gold Eagles here.
The prices for the American Gold Eagle varieties are more stable in part because they are less dependent on what the gold markets are doing. Therefore, it is feasible to publish prices for these pieces here with far less risk that pricing will be quickly outdated.
Current Gold Eagle Prices
| Date/Issue | Price |
| --- | --- |
| 1999-W $5 Unc. Unpolished Proof Die | $850 |
| 2006-W $5 Burnished | $250 |
| 2007-W $5 Burnished | $250 |
| 2008-W $5 Burnished | $400 |
| 2015 $5 Narrow Reeds | $250 |
| 1999-W $10 Unc. Unpolished Proof Die | $1,800 |
| 2006-W $10 Burnished | $800 |
| 2007-W $10 Burnished | $800 |
| 2008-W $10 Burnished | $1,900 |
| 2006-W $25 Burnished | $1,000 |
| 2007-W $25 Burnished | $1,500 |
| $2008-W $25 Burnished | $1,000 |
| $2006-W $50 Burnished | $2,200 |
| 2006-W $50 Reverse Proof | $3,450 |
| 2007-W $50 Burnished | $2,200 |
| 2008-W $50 Burnished | $2,600 |
| 2011-W $50 Burnished | $2,800 |
| 2012-W $50 Burnished | $2,800 |
| 2013-W $50 Burnished | $2,100 |
| 2014-W $50 Burnished | $2,150 |
| 2015-W $50 Burnished | $2,100 |
| 2016-W $50 Burnished | $2,100 |
| 2017-W $50 Burnished | $2,100 |
| 2018-W $50 Burnished | $2,100 |
| 2019-W $50 Burnished | $2,100 |
| 2020-W $50 Burnished | $2,100 |
Collecting American Gold Eagles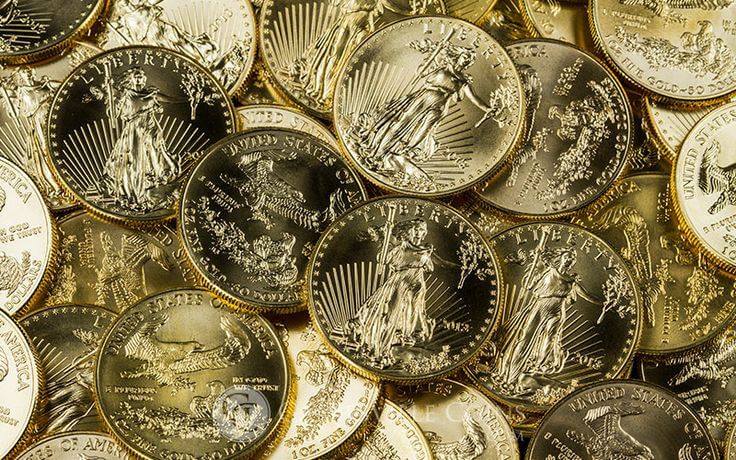 Pile of American Gold Eagles
The most widely collected American Gold Eagles are the tenth-ounce $5 coins, which are far and away the most widely affordable of the four denominations. Many collectors who pursue the American Gold Eagles will buy the burnished, proof, and reverse proof options, though a fair number of numismatists actively collect the bullion versions. Meanwhile, the aforementioned varieties are collected by error-variety specialists who may not ordinarily buy gold bullion coinage but find these scarcer varieties interesting modern collectibles.
Another popular vehicle for collecting American Gold Eagles are the annual four-coin proof sets containing one example of each the tenth-ounce, quarter-ounce, half-ounce, and one-ounce coins for a given year. These attractive sets are usually sold for a premium above the combined spot values of the four coins and are very popular with collectors and entry-level investors—the latter cognizant of the higher numismatic premiums paid for the proof coins but also aware that these sets offer easy liquidity in all market conditions. All American Gold Eagles are approved for Individual Retirement Accounts and can be easily bought and sold for IRAs.
All things being considered, the American Gold Eagle coinage represents one of the most popular bullion coin programs in the world. It's also among the oldest of the modern bullion coinage offerings on a global scale, following the South African Krugerrands that debuted in 1967, the Canadian Maple Leaf series that launched in 1979, Iran Emamis first produced in 1980, the Mexican Libertads that premiered in 1981, and the Chinese Pandas that were initially struck in 1982.
---
Joshua McMorrow-Hernandez is a journalist, editor, and blogger who has won multiple awards from the Numismatic Literary Guild. He has also authored numerous books, including works profiling the history of the United States Mint and United States coinage.
More from the author:
Silver Eagle Values: Complete Pricing Guide
Troy Ounce vs Ounce: What's the Difference and Why Does It Matter?
Latest Offers, Straight To Your Inbox
Don't be the last to know about the latest deals and new product arrivals. Join us today for FREE!