The Best Types of Gold To Buy

Published: February 15, 2021
Updated: February 02, 2023
Table Of Contents:
Table Of Contents:
If you're looking for the best type of gold to buy, you may find yourself overwhelmed at times. What form of physical gold bullion is the best way to invest? Gold bars? Gold rounds? Gold coins? Decisions, decisions… Don't worry, we're here to answer all of your questions about the yellow metal. The best gold products for each investor or collector is a matter determined by their individual financial goals. We will break down [gold products by category](/buy-gold) and examine some of the options available for each. This will help you narrow your focus on certain types of gold products, giving you a good idea of what to look for when shopping at your coin or bullion dealer. ##Gold Bars## When many people think of Fort Knox, the image of [gold bars](/category/489/gold-bars) comes to mind. Why is so much of the gold there stocked in the form of bars? One reason is that it's one of the most space-efficient ways to store gold. Bars fit neatly in small spaces like a safety deposit box or other secure location like a vault. It's also among the least expensive forms of gold. Dollar for dollar, gram for gram, gold bullion bars have lower premiums over [gold's spot price](/charts/gold-spot-price). Research from the [World Gold Council](https://www.gold.org/) and [London Bullion Market Association (LBMA)](https://www.lbma.org.uk/) shows that gold bars remain one of the most important financial assets. There are more options in sizes with gold bars than one may find in other forms of physical gold. While you can easily find 1 gram PAMP Suisse or Sunshine Minting gold bars, you'll be hard-pressed to find a gold round or gold coin that small. The same goes for gold coins and gold rounds on the higher side of the size spectrum. Good luck tracking down a 1 kilo gold coin or gold round! Here's a look at some of the gold bar options available: * Different sizes: gold ingots (another term for gold bars) are sold in sizes from 1 gram to 1 kg. Popular weights include 1 oz., 10 grams, and 10 oz. options. * Reputable brands: Leading names on the market include the Royal Canadian Mint, Royal Mint (U.K.), Perth Mint, PAMP Suisse, and Sunshine Minting. * Plain or art bar? Gold bars are available with minimal inscriptions (such as a measurement of weight, the manufacturer's name, and brand hallmark) or with decorative designs.
Gold bars stacked up in the vaults of the New York Federal Reserve Bank
As with so many things, it's cheaper to buy in bulk. Those investing in a lot of gold will usually find it cheaper to buy fewer large-sized bars than the equivalent total weight in small-sized bars. Even so, small bars generally cost less to purchase individually than the same amount of gold in the form of rounds or government-issued coins. Modern gold bars adhere to a .9999 fine gold standard of purity. Vintage gold bars may have been made to a .999 fine standard. Both types are 24K gold. The .9999 pure gold versions have been refined an extra time to get that extra bit of purity.
Bottom Line:
Investment-quality gold bars almost always have the lowest premium over gold's spot price.
---------- ##Gold Rounds## Gold rounds (also known as medals) represent something of a compromise between buying gold bars and gold coins. While gold rounds are shaped and designed like coins, they aren't usually as expensive as government-issued gold coinage. Gold rounds are generally produced in the size and purity that most people expect to find with gold coins. Those who want a collectible element to the gold products that they buy often find gold rounds a fantastic avenue. Many of today's mints that produce gold bars also create limited-edition gold medals that appeal to collectors. Design themes range from classic movie franchises and comic book heroes to presidents and popes.
Gold medals from the 1952 Olympics
Here's a look at some of the gold round options available on the marketplace: * A multitude of sizes, including 1/10 oz., 1/4 oz., 1/2 oz., and 1 oz. rounds, with some as small as 1/20-oz. and others weighing 2 oz., 5 oz., or more. * Designs range from simple weight and hallmark inscriptions, to those with elaborate artwork and inscriptions incorporating themes of virtually every kind. * Rounds (medals) from various well-known names, including the United States Mint, Royal Canadian Mint, Perth Mint, PAMP Suisse, Sunshine Minting, and many others. As the array of gold rounds is broad and diverse, it's best to check with your favorite gold dealer (whether a local dealer or online vendor) to see what they currently have in stock before making any investment decisions.
Bottom Line:
Gold rounds are similar to bars and offer a variety of sizes and designs.
---------- ##Gold Coins## At the top of seemingly everyone's bullion want list? [Gold coins](/category/2258/gold-coins). What makes a gold coin different from a gold round? The most "official" difference between a gold coin and a gold round is that gold coins are produced by a government entity and carry a face value. Gold rounds (which may also be produced by a government mint) are not legal tender—not currency. The legal tender status of gold coins means that its weight and purity are backed by the issuing government. It also means that the government can use stricter counterfeiting laws to punish those who would make fakes. This might make coins a better option for less sophisticated investors. Nonetheless, the legal tender value of gold coins are merely symbolic. It exists only to fulfill the legal requirements necessary. No one expects that the price of gold will ever fall under $50 a troy ounce, which is the legal tender value of the [1 oz American Gold Eagle](/category/14/buy-gold-eagle-coins) and [American Gold Buffalo coins](/category/10/gold-buffalos).
The shape of gold coins makes them stack neatly.
When looking at gold coins, you may wonder why they cost more than bars. All legal tender coins incur an extra charge from the government called "seigniorage." This charge on modern gold coins is in addition to the costs to mint the coin. This is why a gold medal or round by a private mint is nearly always cheaper than a gold coin. On the flip side, the legal tender status of gold bullion coins make them a highly liquid asset, even when compared to gold bars or rounds. The same applies to silver coins. Sometimes, the price of a gold coin also includes a numismatic premium that is influenced by a coin's rarity or popularity in the marketplace. This is especially true of proof, collectible, or limited edition gold coins. Here's a glance at some of the options investors have with gold coins: * Popular [vintage gold coins](/category/929/pre-1933-gold) include Saint-Gaudens $20 and other pre-1933 U.S. gold, British Sovereigns, and French Roosters. * [Modern gold bullion coins](/category/280/gold-bullion-coins-new-release) include the American Gold Eagle, Canadian Maple Leaf, South African Krugerrand, and Chinese Panda. * Commemorative coins, proof coins, and design series coins*. Popular subjects are Lunar New Year gold coins, and "one-off" gold coins commemorating a person or event.
*Proof and other numismatic gold coins have costs over and above their bullion counterparts. They should be purchased for their collectible value, rather than just for their gold content or monetary value.
Virtually every major industrialized nation past and present has produced gold coinage at some point. This is partly because gold has maintained its purchasing power over thousands of years. This ensures that both collectors and investors have numerous options for their portfolios. Many of these coins (and gold bars from accredited refiners) can be held in a self-directed precious metals IRA. The tax-deferred status of [gold IRAs](/ira) make them an attractive option for investors looking to save for retirement.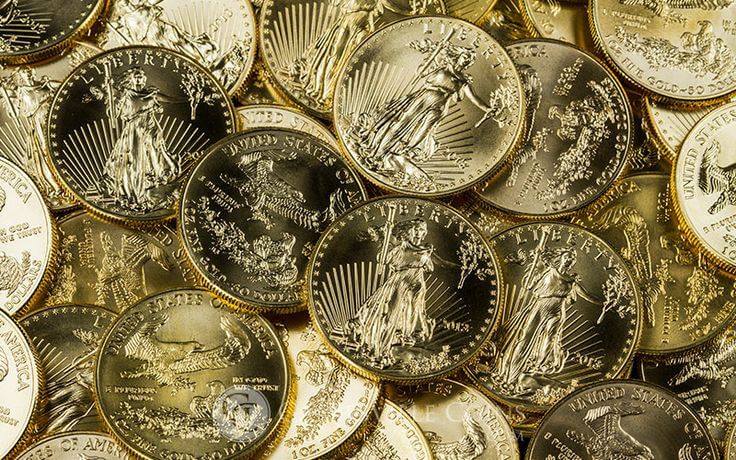 Gold American Eagles are the most popular gold bullion coins, always in high demand.
Bottom Line:
Gold coins are trusted for their government-issued status as legal tender.
---------- ##Non-Physical Forms of Gold## Other types of gold we haven't yet discussed are non-physical gold. These include trading gold futures contracts, gold exchange-traded funds (ETFs), gold-backed securities, and other gold derivatives. These are often referred to as "paper gold"—they are ways of owning gold on paper. Paper gold is the most common way for investment groups like mutual funds to get exposure to gold. Many investors prefer the convenience of futures trading or including an ETF in their portfolio rather than holding any tangible metal. In fact, convenience is the main advantage of paper gold products. Buying and selling ETF shares is much like trading stocks. It can be done remotely and in an instant. Of course, there are extra fees associated with doing so through a brokerage firm or financial advisor. There are even ETFs for gold mining stocks, such as the VanEck Vectors Gold Miners ETF. This fund is basically an index that tracks the performance of gold mining companies. You can also opt for individual mining stocks like Barrick Gold. Although miners are not a physical commodity, individual stocks of mining companies generate cash flow. The drawback with paper gold, however, is that it is merely a claim on owning gold. It isn't the real thing. In nearly all cases, owning gold "on paper" doesn't result in you holding any actual gold at the end of the investment. This creates [counterparty risk](https://www.investopedia.com/terms/c/counterpartyrisk.asp), which is something you don't have to worry about if you own physical gold. ##Where Should I Buy Gold?## To get the best deal when purchasing physical gold, find a reputable coin shop or online gold dealer. They will offer their products at a fair price with a consumer-friendly return policy. Reputable coin shops will also tap their industry resources to fill your want list if they don't have the items you're looking for at the moment. No matter which form(s) of gold you choose, buying gold bullion helps your asset portfolio weather downturns in equities, and counteract inflation. Gold is also the only major asset with both high liquidity and no counterparty risk. Regardless of your risk tolerance, gold is an important factor in a diversified portfolio. The yellow metal functions as a safe investment, even during times of financial crisis. Shop for gold online at Gainesville Coins by browsing the gold products below:
----------
Joshua McMorrow-Hernandez is a journalist, editor, and blogger who has won multiple awards from the Numismatic Literary Guild. He has also authored numerous books, including works profiling the history of the United States Mint and United States coinage.
More precious metals buying guides from Gainesville Coins, one of the largest precious metals dealers in North America:
[Investing in Gold: What You Need to Know](/blog/gold-investment-guide) [Top 10 Most Popular Gold Coins](/blog/top-10-most-popular-gold-coins) [The 3 Best Ways to Buy Gold](/blog/best-ways-to-buy-gold) [How to Buy Gold Bars: Buyer's Guide](/blog/how-to-buy-gold-bars) [Buying Gold With Bitcoin: A Simple Explanation](/blog/buying-gold-with-bitcoin) [Live Spot Prices for Precious Metals](/charts/)
Latest Offers, Straight To Your Inbox
Don't be the last to know about the latest deals and new product arrivals. Join us today for FREE!