The Best Place To Buy Gold in 2023

Published: April 26, 2021
Updated: July 31, 2023
Table Of Contents:
Table Of Contents:
A professional gold dealer is your best option when buying gold. We'll explain what the marks of reputable gold dealers are, as well as where and how to buy gold.
The good news is that with a little bit of homework upfront, you'll be able to find the right gold dealer for you. You'll want a reliable one with whom you can establish a solid relationship when you wish to buy or sell gold. Gainesville Coins is an excellent place to buy and sell gold bullion, whether online or in person.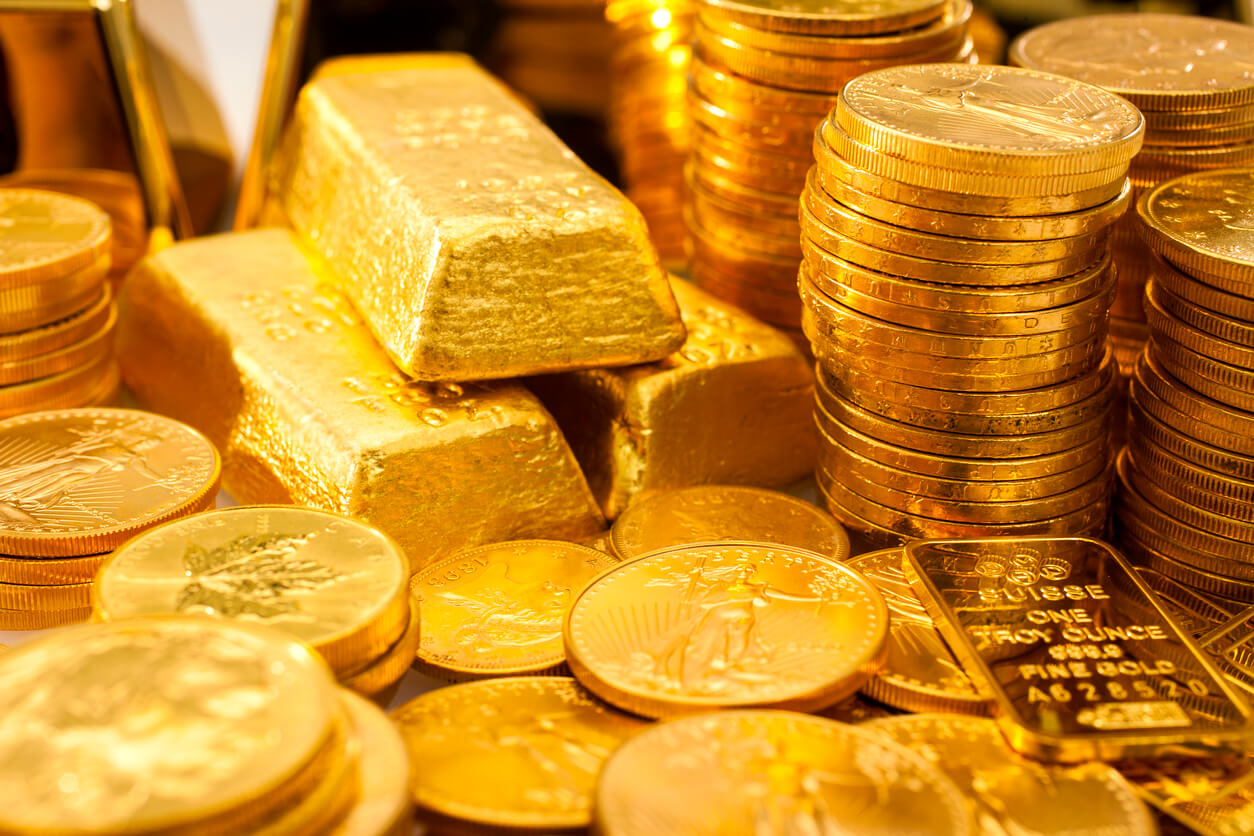 Gold bullion usually comes in the form of gold coins or gold bars.
Best Places to Buy Gold Locally
1. Gold Bullion Dealers
As we will discuss with the key factors below, purchasing gold from a trusted dealer is invariably the best option. A reliable bullion dealer will offer multiple types of gold (bars, bullion coins, and numismatic coins).
American Gold Eagle coins should be available in a trusted gold bullion seller's inventory.
Moreover, gold dealers can accept many ways to pay for gold bullion, from credit card to paper checks to bank wire payments. Flexible payment options are rarely possible with forms of paper gold.
Ideally, both in-person and online ordering should be available to you. The freedom to choose between physical delivery or on-site pick-up is another perk. It's even better if the seller provides an option for gold storage, as well.
If you're ready to start buying gold at the best price, follow the link to buy gold at Gainesville Coins.
2. Coin Shows
Periodically, a large number of coin dealers will gather together for a coin show or coin convention. Sometimes these shows occur on a smaller scale locally on a regular basis, such as each weekend. Most commonly coin shows are held at a hotel or convention center once per quarter or once per year. These events attract a large number of attendees from an entire region or the entire nation.
Each coin dealer will reserve a vendor booth where they display various coins for sale. Potential buyers can freely browse around the convention floor (sometimes called the bourse or bourse room) and visit many different dealers. This can be a good opportunity for gold buyers to find deals on gold coins.
However, the main drawback of coin conventions is that they are much more focused on collectible coins. You may or may not find any good offers for gold without paying a hefty premium for a collectible gold coin.
3. Pawn Shops
Believe it or not, your local pawn shop can be an excellent place to find reasonable deals on gold bullion. Virtually every pawnbroker is familiar with buying and selling precious metals due to the nature of the pawn business.
There are at least two caveats to buying gold from a pawn shop. First, the pawn shop owner might not be as knowledgeable about the gold market as a bullion dealer or even an experienced coin dealer. Gold is certainly part of their business, but it is far from the only part.
Second, many times the only gold items you will find at a pawn store will be gold jewelry or gold watches. Jewelry, timepieces, artwork, and other decorative gold items will always be more expensive than buying gold bullion that is specifically for investment purposes.
4 Factors to Consider to Find the Best Gold Dealer
Next, let's look at some of the important factors you should consider when looking for the best gold dealer.
1. Product Selection
One of the most important factors to consider when choosing a gold dealer is making sure they offer what you're looking for. It makes no sense to choose a place to buy gold that doesn't sell the type of gold products you want.
Coins, Bars, and Rounds
Of course, there is a wide selection of investment gold products out there, including physical gold coins, rounds, and bars. (Gold jewelry usually doesn't qualify as "investment grade," and fine jewelry is not eligible for your self-directed IRA.)
Among that trifecta of gold products, there are infinite options. Different styles of gold bars, gold rounds with various themes, gold coins from an array of nations. This can include newly minted coins or older foreign coins, as well.
Make sure you browse a gold dealer's inventory of products before making a buying decision.
Different Product Sizes
Beyond that, many products are made in different sizes to suit each person's budget and bullion investing objectives. They typically cover a wide range from 1 oz to 10 ounces of metal content and above, with some fractional sizes less than 1 troy ounce as well.
Variety of Brands
It's also important that gold sellers keep bulk amounts of popular products in stock. This is often where the best deals can be found—which we will discuss more in the next section.
For example, if you choose to buy random year Canadian Maple Leaf coins, you'll likely get better price than buying 2023 date coins. If you plan to include metals in your Gold IRA, be sure to choose IRA-eligible gold coins or bars that qualify as IRA-approved gold.
In addition to offering a large selection of gold and silver products, it's a good sign if bullion dealers carry items from well-known brands within the precious metals industry.
Rather than only selling "rare coins," sellers should have some products from trusted names like the Royal Canadian Mint, Austrian Mint, and Perth Mint (Australia), to cite a few examples. Also look for bars from name brand private mints such as PAMP Suisse.
Those who want to buy gold online can visit each gold dealer's website to see what they offer in their inventory. Meanwhile, investors who want to buy gold in a brick-and-mortar storefront may choose to physically visit the dealer in person to see what they have in stock. This is one of the best aspects of a local coin shop.
People who are shopping around can also place calls or send emails to find out certain products' availability. Once you determine what a given gold dealer offers, you need to determine how much these items cost and ascertain if they are reasonably priced. 
2. Prices and Deals
Pricing is just about everything when it comes to deciding who to buy from. But one of the big problems investors often encounter is in their (often failed) efforts to buy gold cheap.
It seems all too many people start their search for the best place to buy gold by looking for the cheapest gold. And this is where some budget-minded gold investors stop their search. They choose a dealer advertising the lowest price, and all too frequently end up with subpar goods or, in the worst-case scenarios, stolen gold or even counterfeit gold. 
Gold prices are generally the same everywhere, but premiums can vary from one product to another.
Do Your Research
If your search for a gold dealer leads you to a too-good-to-be-true deal from a seller who wants to meet you in the big-box store parking lot for a cash transaction of bullion goods, run as quickly as possible.
This type of thing happens every day—and it's frankly astounding to comprehend how many people fall victim to these scams to save a few dollars.
Prevent a headache by buying gold the right way, for the right price, from the right dealer. Become familiar with the current gold prices (the gold spot price) and market values for the gold bars, gold rounds, and gold coins for sale you're looking for.
As a general rule, the best place to buy gold will offer their products right around those fair market values, i.e. competitive prices.
So, what's the key takeaway here? Don't blindly buy cheap gold—especially free shipping offers. Buy fairly priced gold from a reputable dealer! The same applies to silver coins, silver bars, and silver rounds, as well as platinum coins.
3. Professional Reputation
What does it mean to be a reputable gold dealer? Sure, one of the main criteria is to not trick your customers with fake gold, stolen goods, or prices that are way higher than they should be. But it's much more than that, too.
Being a reputable dealer means serving the public with a sense of trust, ethics, and doing the right thing. It means selling quality gold products. It means standing by a pledge to offer authentic products, guarantee their metal content, and sell them at fair prices. It also means buying back those gold products at a reasonable price should the investor decide to sell. 
Sometimes, you may not really "know" if a gold dealer is reputable until you try working with them. But there are plenty of things you can look for ahead of that first purchase when choosing the best place to buy gold.
Make sure the gold dealer offers a fair return policy and lists their contact information. This makes it easy to reach them, whether you want to buy gold or inquire about making a return.
Look for the dealer's industry connections. The best places to buy gold are affiliated with the National Coin & Bullion Association (formerly known as Industry Council for Tangible Assets) and coin organizations such as Professional Coin Grading Service and/or Numismatic Guaranty Corporation.
Always make sure the gold dealer has an A+ rating from the Better Business Bureau. An A+ BBB rating is a clear sign of a reputable seller.
Read customer reviews. It's worth checking what other customers have said, or what frequently asked questions pop up.
4. Quality of Service
It's all well and good to buy gold coins, rounds, and bars at a fair price from a gold dealer who is upstanding and reputable. But there's another part of the equation when it comes to buying gold that often goes overlooked: customer service.
Some bullion dealers are great, simply great. They're right there to inform the new buyer, apprise longtime customers of new products, and stand at the ready to answer questions and reply to online inquiries at a moment's notice. 
You will want to work with a gold dealer with a reputation for honesty and integrity.
Then there are gruffer gold dealers. They may offer little more than terse replies for any customer who asks a question besides "how much does this cost?" When it comes down to it, don't you want to work with a reliable gold dealer who will offer you fair deals and exceptional service?
The best place to buy gold is from a dealer who hires experts who are always willing to answer your questions. They can educate you on your options, and have the professional courtesy to answer phone calls and emails quickly while promptly fulfilling orders. The best place to buy physical gold and silver is the gold dealer that treats you like the valued customer you are.
If you're interested in buying gold at the lowest price, check out the inventory of product listings for gold bars available at Gainesville Coins.
Remember, owning physical gold is a safe haven for your money. That's why (among many reasons) the Federal Reserve still holds over 8,000 metric tons of precious metal, mostly in the form of gold bullion bars.
Check out the gold bullion products below to shop for gold online:
Other Options for Buying Gold
Gold Derivatives
Some investors may choose the route of buying "paper gold"—gold derivatives like gold futures and gold ETFs. The category can also include gold stocks (i.e. mining stocks, shares in a gold mining company) or gold mutual funds.
One advantage to paper gold options is the buyer doesn't have to worry about how or where to store their gold. They're also highly liquid—easy to sell—when it's time to make money.
While ETFs and futures are popular choices for gold investments, they carry several drawbacks. In almost all cases, ETF shares or futures contracts make it very difficult to receive physical delivery of your gold. Instead, your investment will be settled in cash. If your goal is to own physical gold, this route really defeats the purpose. It's more akin to trading the stock market.
Auction Websites
You might look to online auction sites as convenient places to buy gold bullion online, but buyer beware. Extra fees, higher prices, and difficulty returning or selling back your gold are all potential problems with buying gold at auction. This option should usually be reserved for rare collectibles such as semi-numismatic or numismatic products.
---
Joshua McMorrow-Hernandez is a journalist, editor, and blogger who has won multiple awards from the Numismatic Literary Guild. He has also authored numerous books, including works profiling the history of the United States Mint and United States coinage.
More information on how to buy precious metals at low prices from Gainesville Coins:
The Best Gold to Buy: A Straightforward Explanation
How to Buy Gold Coins: Buyer's Guide
How to Buy Gold Bars: Buyer's Guide
Gold vs. Bitcoin: Why You Should Consider Buying Both
Latest Offers, Straight To Your Inbox
Don't be the last to know about the latest deals and new product arrivals. Join us today for FREE!