Top 10 Best Silver Coins To Buy

Published: November 10, 2020
Updated: December 02, 2022
Table Of Contents:
Table Of Contents:
What are the best silver coins to buy if you want to invest in precious metals? There's no simple answer, as there isn't a single best silver coin for investing. Instead, many different types of silver coins can offer outstanding returns if market conditions are right. This is especially true amid economic uncertainty or a full-blown financial crisis.
Let's look at the top 10 best silver coins to buy, with an eye toward investment, liquidity, and affordability.
1. American Silver Eagles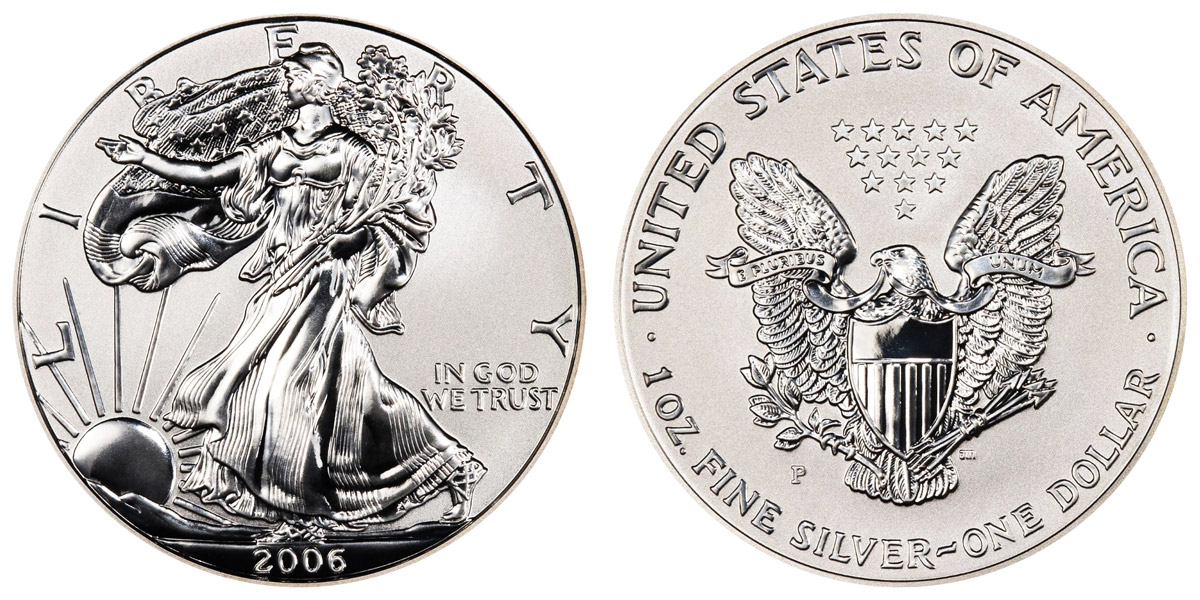 American Silver Eagle, designed by John Mercanti
If one were to rank the most sought-after silver bullion coins from around the world, the American Silver Eagle would surely reign atop the list.
Unlike junk silver coins, each Silver American Eagle coin contains 1 full troy ounce (troy oz) of .999 fine silver. As the official silver bullion coin of the United States, it has a legal tender face value of 1 dollar. This distinguishes government-issued coins from privately made bullion products such as silver rounds. As a result, government coins made of silver tend to have a slightly higher premium than generic rounds. The "blanks" (blank pieces of silver) that Silver Eagles are struck on are made by Sunshine Minting in Idaho.
When the American Silver Eagle flew onto the scene in 1986, it quickly emerged as one of the most desirable precious-metal coins at a time when few such silver bullion coins were issued. Even as many other nations have launched their own silver bullion coin programs in the years since, the American Silver Eagle maintains a tremendous market share.
Take a look at the various Silver Eagles in stock at Gainesville Coins by following the link.
Other pure silver coins that compete with the Silver Eagle on the precious metals market include the following:
Austrian Silver Philharmonic
British Silver Britannia
Canadian Silver Maple Leaf
Chinese Silver Panda
Mexican Silver Libertad
Among these, the Royal Canadian Mint's Silver Maple Leaf coin is perhaps the best-known. It stands out for its .9999 fine silver content, the highest purity on the market. Each of these beautiful coins has the same silver weight as a one-ounce coin. As a general rule, they each feature a national symbol from the issuing country.
Silver Eagles remain extraordinarily popular with both American investors as well as international investors. Silver Eagles are eligible for a range of tax-sheltered investment portfolio programs, such as precious metals IRA accounts. The growing appeal of the coin among diehard numismatists has only further cemented the American Silver Eagle's great popularity. It maintains legitimacy as a solid investment vehicle for precious metals speculators.
2. Walking Liberty Half Dollars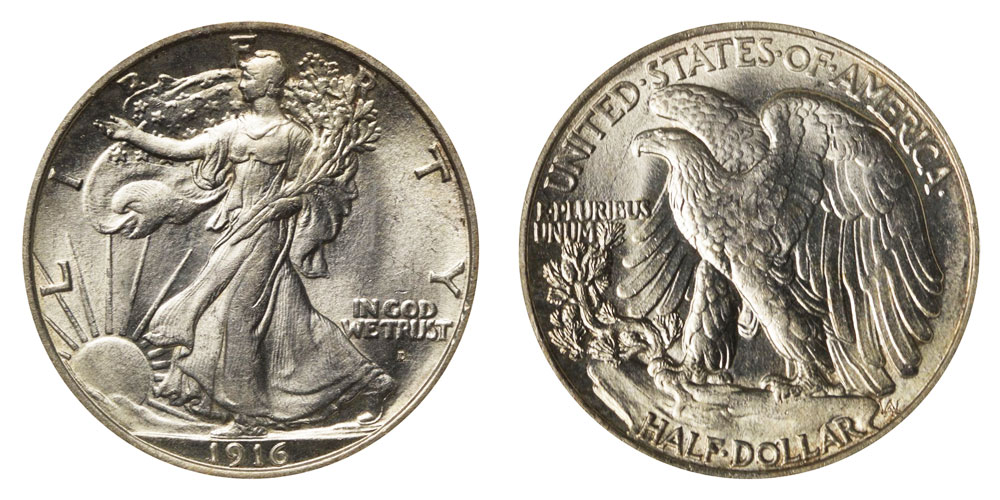 Walking Liberty half dollar featuring Lady Liberty
Few American coins rise to the level of beauty and general appeal of the Walking Liberty half dollar. Struck from 1916 through 1947, "Walkers" have long held a special place in the heart of numismatists—and they're preferred by silver investors, too.
In terms of scarcity and overall cost, Walking Liberty half dollars can be subdivided into two categories: pre-1934 and post-1933. The pre-1933 Walking Liberty half dollars are routinely scarce coins. Even in the lowest grades, they are worth huge premiums over melt. Pieces minted since 1934 are much more common and can be purchased in the lower grades at prices closer to melt values.
Due to their numismatic collectability and huge demand even from non-collectors, Walking Liberty half dollars provide silver investors excellent value and increased liquidity, with an opportunity for collector value as well.
3. Mercury Dimes
Mercury dime
Struck from 1916 through 1945, the Mercury dime is a 90% silver coin. It has long been popular among precious metals investors. Like so many of the 90% circulating coins of the 20th century (several of which are listed in this article), Mercury silver dimes offer sellers a two-fold marketplace. This includes both bullion investment and numismatic collectability.
The Mercury dime series boasts one major key date, a few semi-keys, and a handful of notable varieties. But, most Mercury dimes are extremely affordable and can be obtained from local dealers near their melt values.
4. 1946–1964 Roosevelt Dimes
Roosevelt dime
The Roosevelt dime replaced the Mercury dime in 1946. For the first 18 years of its existence, it was a 90% silver coin. Unlike the Mercury dime series, there are no expensive keys among the silver Roosevelt dimes of 1946 through 1964. There are, however, a few issues that become tough in the MS65 range and better.
Investors can avoid any concerns over paying hefty numismatic premiums if they stick to the "Average Circulated" Roosevelt dimes. These are the pieces that are obtainable near melt value. In other words, you're really only paying for the metal content with these so-called "junk silver dimes."
5. 1932–1964 Washington Quarters
Silver Washington quarter
For the first 33 years of the series run, the Washington quarter was a 90% silver circulating coin. Save for a small handful of early dates, most of the silver Washington quarters are common dates. They are readily obtainable near melt value, so they can be had at minimal outlay over bullion prices.
Yet, as with so many mid-century United States silver coinage, there's a built-in collector market. So, those who wish to sell their silver quarters should have little difficulty finding eager buyers either in the precious metals or numismatic marketplaces.
6. 1964 Kennedy Half Dollars
Kennedy half dollar
The world was in shock when young President John F. Kennedy was assassinated on November 22, 1963, during a motorcade procession in Dallas, Texas. Official calls to honor the fallen commander-in-chief on a United States coin came within hours of the president's death. Within weeks, the Kennedy half dollar was authorized by Congress and signed into law by President Lyndon Johnson.
The Kennedy half dollar was unveiled the following spring in 1964. Tens of millions of people rushed to banks to buy the new 90% silver coins. Decades later, the 1964 Kennedy half dollar remains popular both with numismatists and the general public. Because they can be purchased near melt values, the 1964 Kennedy half dollar is an excellent buy for silver investors who want a coin that's also easy to sell.
7. 1965–1970 Kennedy Half Dollars
Within a year of the Kennedy half dollar's release in 1964, rising silver bullion prices forced the United States Mint to change the composition of 90% silver circulating coinage. Circulating dimes and quarters lost all their silver content, becoming entirely fiat currency. Yet the half dollar composition retained a small amount of silver, resulting in a 40% silver-clad format.
The 40% silver Kennedy halves were minted from 1965 through 1970. The half dollars struck from 1965 through 1969 are readily obtainable and can be bought near the spot silver price. Meanwhile, the 1970-D Kennedy half dollar—the only business-strike from the series' last year of the 40% silver run—is a key date that costs much more than melt value.
8. Morgan Dollars
Morgan silver dollar
The Morgan dollar, struck from 1878 through 1921, is the most popular collectible silver coin. The Morgan is also a major hit with precious metals investors. It's hard to resist these large, heavy silver coins that are now a century old.
Many dates can be obtained in circulated condition for nominal amounts over spot price. This is undoubtedly the case for many Philadelphia, New Orleans, and San Francisco issues from the 1880s and 1890s, as well as all 1921 Morgan dollars.
The coin is widely traded in rolls and bag quantities. Today, it has unparalleled crossover appeal with collectors and non-collectors. That may be one of the biggest things going for this coin: liquidity. No matter the silver market state, there's always a ready and willing buyer for Morgan dollars.
You can clearly see the impact of price inflation with Morgan dollars. When the Federal Reserve was established in 1914, the amount of silver content in a silver dollar was roughly equal to its face value: one dollar. Today, that silver is almost 20x as valuable! Said differently, the dollar has lost almost 95% of its purchasing power against silver over that time period.
9. Peace Dollars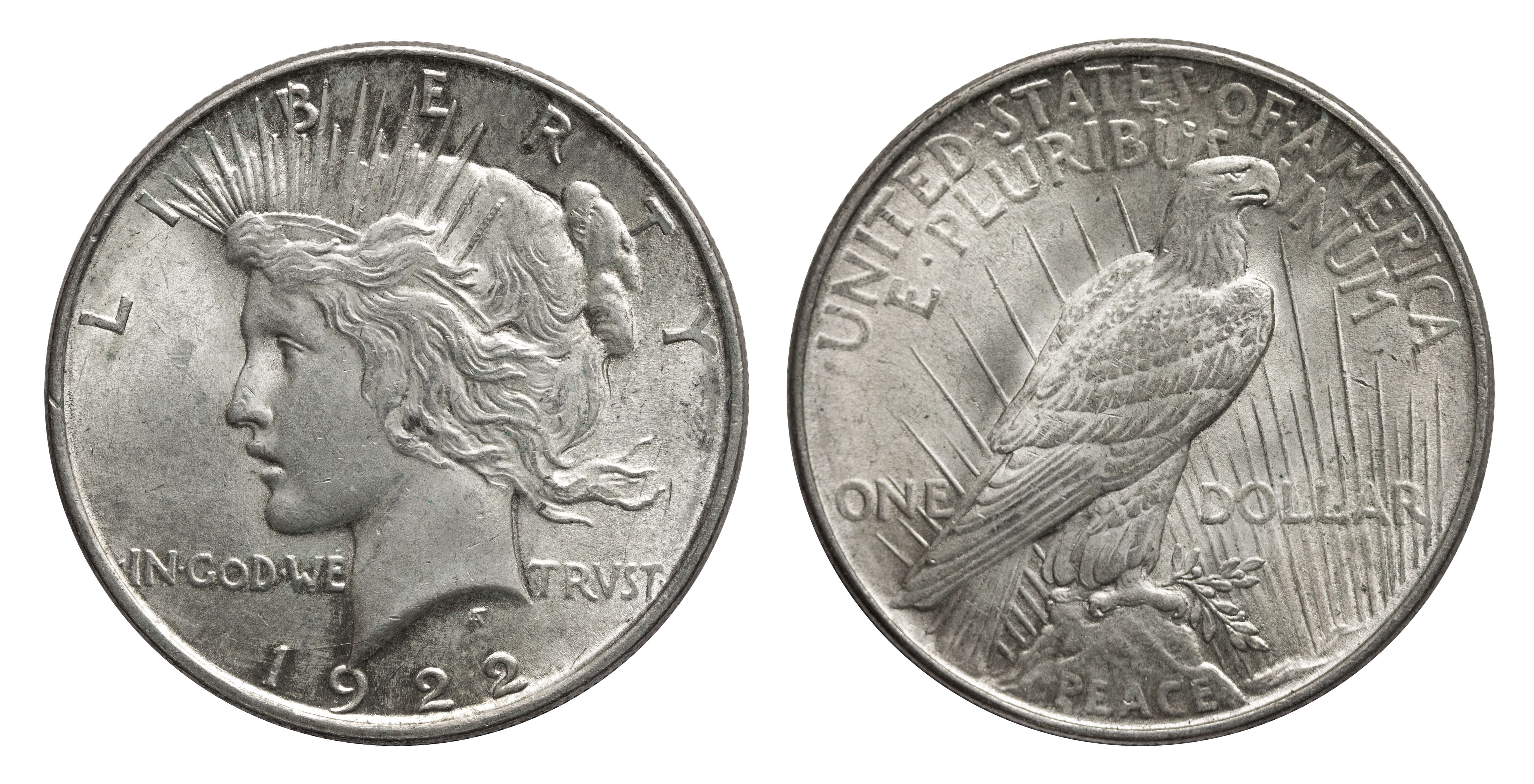 Silver Peace dollar
The Peace dollar followed the Morgan dollar in 1921 and ran until 1935. While Peace dollars don't have quite the immense following their immediate predecessor do in terms of numismatic popularity, they nevertheless enjoy a robust collector market.
Peace dollars are hefty silver coins boasting a beautiful likeness of a young Miss Liberty. The obverse features Liberty wearing a tiara of rays, and a stately eagle perched upon a rock before a sunrise is found on the reverse. It's a truly timeless design.
Despite the short run for the series, about half of the issues carry large numismatic premiums, even in circulated grades. The silver investor will find the lowest premiums for the most common dates, which are 1922, 1923, 1924, and 1925.
10. 40% Silver Eisenhower Dollars
Eisenhower dollar
When the Eisenhower dollar debuted in 1971, it became the nation's first dollar coin in 36 years—following the end of the Peace dollar in 1935.
The Eisenhower dollar was the nation's first circulating copper-nickel dollar coin. Yet the United States Mint also struck collectible versions in a 40% silver-clad format. These were made from 1971 through 1976 as business strikes and proofs. They are still readily available today in the numismatic and bullion marketplace for relatively little above their spot price.
The Eisenhower dollar's enduring popularity gives the 40% silver-clad Ikes a large marketplace, ensuring easy liquidity. Their lower silver content keeps the 40% Eisenhower dollars affordable even for those on shoestring budgets.
---
Joshua McMorrow-Hernandez is a journalist, editor, and blogger who has won multiple awards from the Numismatic Literary Guild. He has also authored numerous books, including works profiling the history of the United States Mint and United States coinage.
More gold and silver buying guides:
The Best Way to Buy Silver: A Guide to Buying Physical Silver
Physical Gold and Silver Stacking: Expert Guide
Key Date Morgan Dollars: Collecting Tips and Prices
Junk Silver FAQs: Must-Know Facts About 90% Silver Coins
Best Silver Bars to Buy: The Complete List
South African Gold Krugerrand Value: Chart of Current Prices
Latest Offers, Straight To Your Inbox
Don't be the last to know about the latest deals and new product arrivals. Join us today for FREE!