Gift Ideas for Coin Collectors: 8 Affordable Presents They'll Love

Published: January 16, 2023
Updated: April 11, 2023
Table Of Contents:
Table Of Contents:
Buying just the right gifts for coin collectors may require thinking outside the box a bit. It's not necessarily quite as easy as just running down to the nearest department store at the mall and picking something up in the housewares section.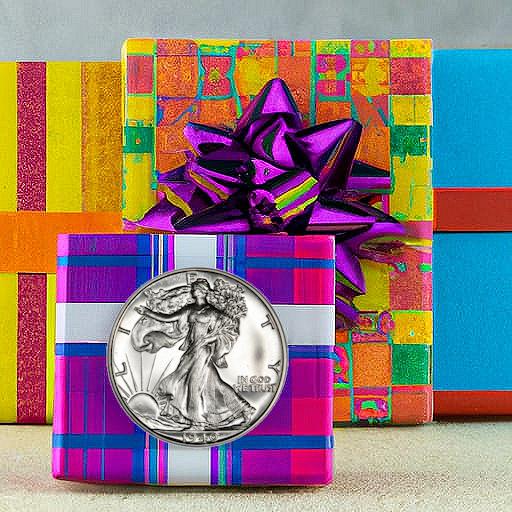 There are many interesting gift ideas for coin collectors to choose from!
With our expertise and research, we have curated an amazing list of affordable coin-related gifts that fit any budget. Whether the coin collector near and dear to you is just starting out in the hobby or is a seasoned veteran, here are eight great gifts you can buy that numismatist you love for any reason and during any season. They are sure to be impressed no matter which of these coin collecting gifts you choose!
1. Coin Loupe / Coin Magnifier
A good coin loupe will help to inspect a coin's finer details.
There is no gift for numismatists more quintessential than a coin loupe or coin magnifier. Every coin collector needs a way to magnify their coins and get an up-close look at the details and other attributes on them. Yet, a surprising number of collectors—particularly new ones—don't have the right kind of loupe for viewing their collectibles.
One of the best kinds of magnifiers to buy is a coin loupe with 5x to 10x magnification. Some models come with tiny LED lights and other bells and whistles that can aid the collector. One downside to buying a loupe with extra components reliant on batteries or the operation of other mechanical elements is that if these parts break, the magnifying glass may be too expensive to repair. Buy a good one and, if the collector takes care of it, the loupe can last for a lifetime!
Buy coin magnifiers from Wizard Coin Supply by following the link.
2. The Red Book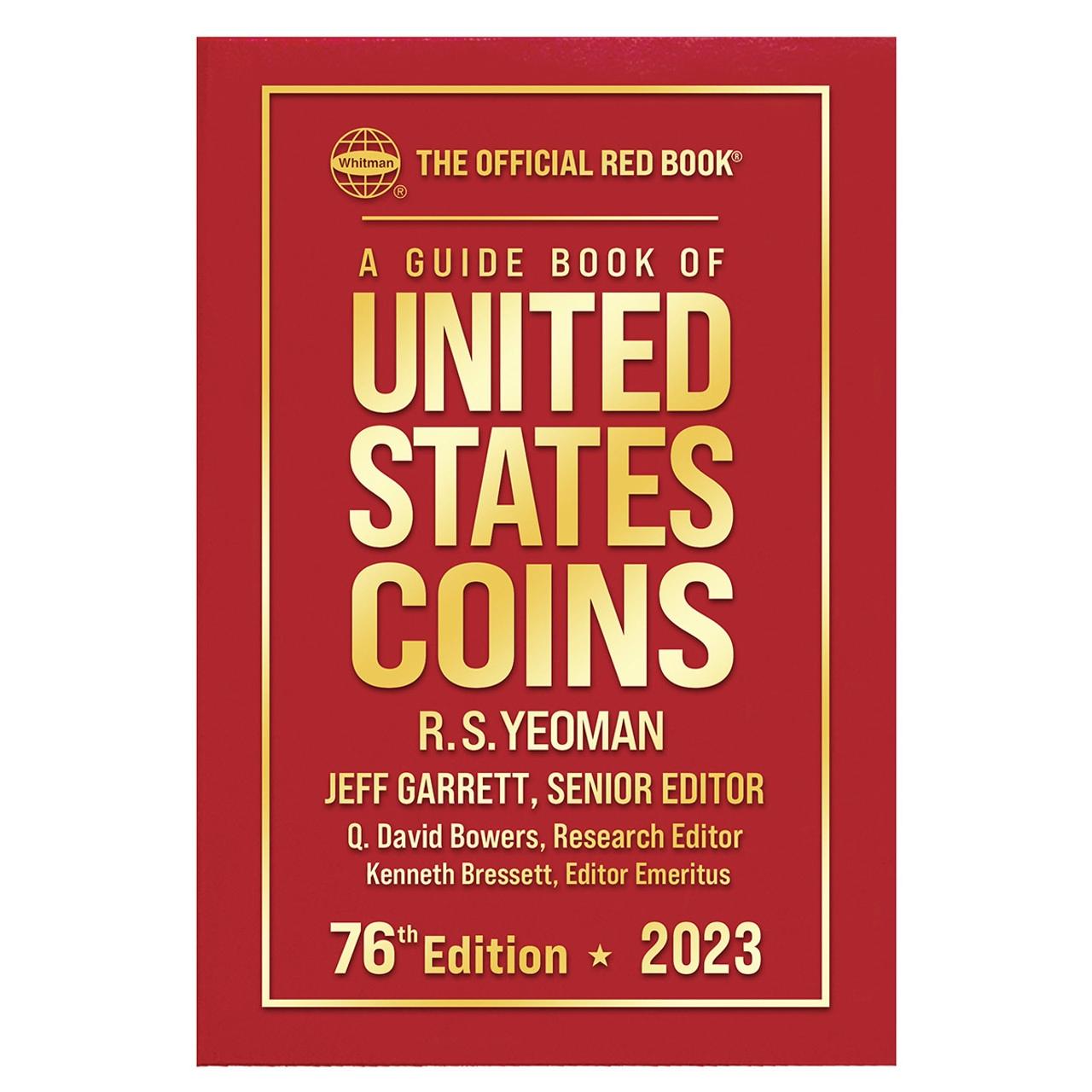 The Official Red Book comes in hardback and spiral-bound editions.
There's an old saying in the hobby: "Buy the book before the coin." The thrust of the message means that one should study up on their area of the hobby before actively pursuing it. Reading makes for a well-educated buyer and a smart collector. So, what coin book should you buy a coin collector?
You really can't go wrong with the purchase of the current edition of A Guide Book of United States Coins, published annually since 1947 and widely known as "The Red Book." Published by Whitman Publishing, The Official Red Book includes full-size color photographs, extensive pricing information, and introductory summaries of each coin struck in the United States and the American colonies going back to at least 1616.
Buy the Red Book from Wizard Coin Supply by following the link.
3. Coin Albums / Coin Folders
An album or folder is a great way to safely store and display a coin collection.
Every coin collector needs a range of basic coin supplies to help round out their collecting experience. One of the most important things a coin collector should have on hand to accompany them on their numismatic journey are coin folders or albums.
The most popular coin albums come from two major brands, Whitman and Dansco. These are oftentimes a green or navy blue color and are made for each specific type of coin, such as Lincoln pennies or Washington quarters. The album includes slots for each issue of a coin, by year and mintmark. This is an ideal way for a coin collector to organize their collection and quickly identify any "holes" that need to be filled.
There are also cardboard coin mounts commonly known as 2x2s—a reference to their dimensional size, in inches. Many coin shops and even general hobby supply stores sell these items. But you must be careful not to buy any items that are designed to physically contact coins yet contain polyvinylchloride, or PVC. Unfortunately, PVC is quite common in items that contain plastic or are pliable (bendable) but maintain their form. PVC is bad for coins because it can cause irreparable pitting and other forms of corrosion that leaves behind visible green residue.
Buy coin albums and folders from Wizard Coin Supply by following the link.
4. Coin Flips / Coin Capsules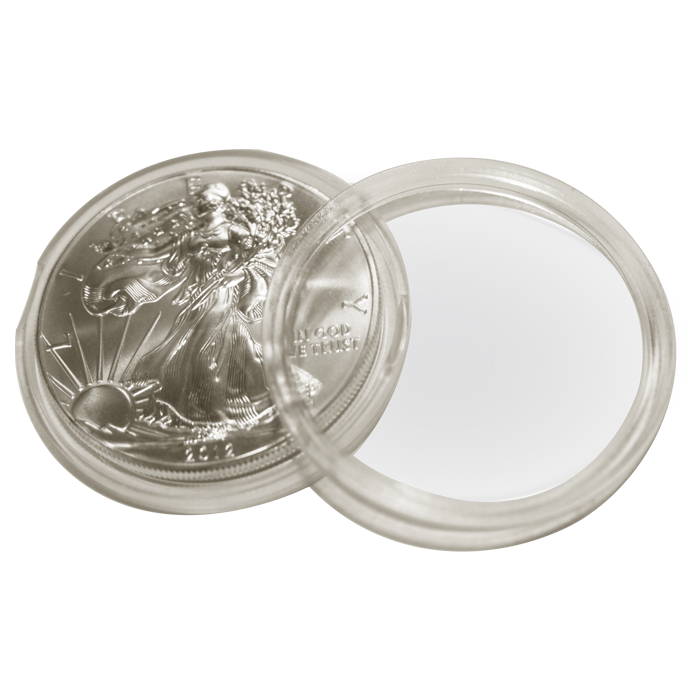 Coin capsules are a popular way to protect individual coins.
Much like coin albums, capsules and flips are a great way to protect your coins. They also offer a convenient way to display any coin collection without exposing the coins to the elements. The difference is that an album or folder can hold groups of many coins, while flips and capsules are used for individual coins.
Coin flips are made of lightweight plastic. They are known as "flips" because they typically fold in half at the middle and can thus hold two separate coins. In addition to providing some basic protection, flips are transparent and make for easy viewing of collectible coins. If nothing else, they are a PVC-free alternative to the cardboard 2x2s mentioned earlier.
Coin capsules are also transparent but offer superior protection due to being an air-tight enclosure for the coin. Capsules come in a variety of sizes in order to accommodate different kinds of coins and silver rounds. They have the advantage of protecting a coin from reacting to chemicals in the air as well as shielding the coin from scratches, contact marks, and other surface damage.
Buy coin flips and coin supplies from CollectTons by following the link.
5. Coin Tubes
Coin tubes come in various sizes for different items.
Another essential addition to any coin collector's tool kit are plastic coin tubes, also sometimes called coin rolls. Tubes are an excellent storage option for bulk purchases of the same types of coins or rounds. In fact, the "Monster Boxes" of 500 coins that come from government mints usually contain coin tubes within. They are available in sizes that specifically fit certain bullion coins or old coin denominations.
Rolls of coins stack neatly upon one another in each tube in groups of 20 to 25 coins. This makes coin tubes a more space-efficient solution for storing and organizing a collection of a specific type of coin. Similar to coin capsules, tubes are manufactured to different size specifications based on the type of coin they are designed to hold.
Buy coin tubes from Wizard Coin Supply by following the link.
6. Gloves for Handling Coins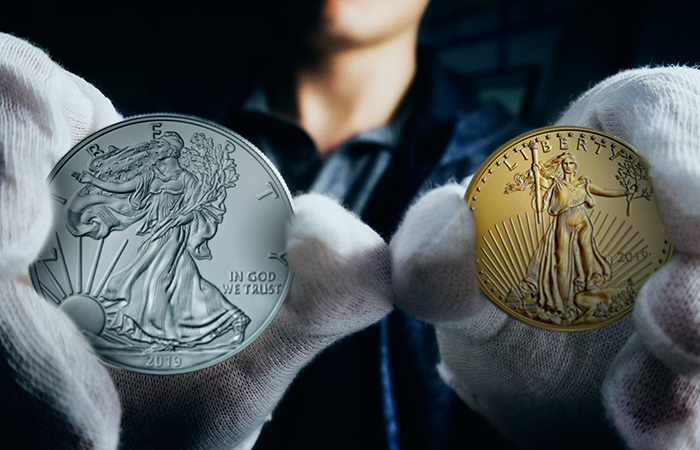 Gloves are very useful for handling and inspecting raw coins.
Gloves are an affordable and trusty tool for any coin collector worth their salt. Cotton gloves will protect coins from fingerprints and smudges that come from the oils on our hands. This is especially important with proof coins, where even the smallest smudge or scratch will stand out on the coin's surface.
There are some alternatives to gloves for collectors, such as using little tongs to inspect coins without touching them. These are functional, but are more awkward to use than a simple pair of gloves. Cotton gloves will allow a collector to handle their coins without any fear of damage. They are the perfect tool for transitioning a coin collection into the different types of holders mentioned above.
Buy cotton gloves from Wizard Coin Supply by following the link.
7. Membership to a Coin Club
FUN, the Florida United Numismatists, is a popular regional coin club.
One of the best presents you can buy a coin collector is the gift of numismatic knowledge and camaraderie as found in the form of membership to a coin club. There are many clubs out there designed for coin collectors, and these organizations range in size and scope from local clubs to national clubs as well as groups focused on particular kinds of coins.
If a collector were to join one club, they might consider the American Numismatic Association, which was chartered by Congress in 1891 and is billed as the largest coin club in the United States. Professional Coin Grading Service and Numismatic Guaranty Company also have collector clubs that afford a variety of submission privileges to their respective third-party grading services. Among popular regional clubs are Florida United Numismatists and Central States Numismatic Society.
8. Bullion Collectibles
American Gold Eagle and American Silver Eagle coins.
What do you buy the collector who has just about everything? What about the collector with next to nothing? No matter how worldly your favorite collector, you can't go wrong with buying them bullion coins. These monetized chunks of gold, silver, platinum, palladium, and other precious metal represent the intersection of numismatic collectability and bullion investment. They are perfect for anybody who wants to build a collection of coins that might also appreciate in value due to their intrinsic metal content.
One of the best kinds of bullion gifts you can give a collector are current-year American Eagles, a family of United States bullion coins that are struck in silver, gold, platinum, and palladium; they come in various sizes and formats ideal for virtually every budget. Collectors with more exotic tastes may enjoy bullion coins from mints around the world, including Canadian Maple Leafs, Chinese Pandas, Mexican Libertads, and Austrian Philharmonics, and Australian Kookaburras.
Follow the link to shop for bullion coins at Gainesville Coins.
Where Should You Buy Gifts for Coin Collectors?
No matter what gifts you decide to buy your beloved numismatist, make sure you purchase them at a place offering a good selection of the items you need and that offers a return policy on anything that favorite collector may already have—or doesn't want! Most coin shops offer decent return policies on many unopened and unused goods that are brought back with a receipt during a specified period after sale.
Be sure to do your shopping at a place sporting trained staff who can provide you with expert advice on what to buy—especially if you aren't necessarily a coin pro yourself and are buying for someone who is. Most importantly, do business with a place you can trust. Like their products, service, and selection enough and you'll know where to go back to in the future when buying coin gifts for someone else—or maybe even something numismatic for yourself!
Follow the links below to shop for silver and gold at Gainesville Coins:
---
Joshua McMorrow-Hernandez is a journalist, editor, and blogger who has won multiple awards from the Numismatic Literary Guild. He has also authored numerous books, including works profiling the history of the United States Mint and United States coinage.
Read more about buying coins and bullion from the experts at Gainesville Coins:
Guide to Numismatics: Discover the Thrill of Coin Collecting
Top 10 Best Silver Coins to Buy
6 Best Precious Metals to Invest In: Pros and Cons
Best Silver Bars to Buy: The Conclusive List
Why Is Gold So Valuable? (Updated for 2023)
How to Buy Gold Coins: Ultimate Guide to Buying Gold Coins Like a Pro
How to Buy Silver Online: 6 Simple Steps for Buying Silver
Latest Offers, Straight To Your Inbox
Don't be the last to know about the latest deals and new product arrivals. Join us today for FREE!