Key Date Peace Dollars: Collecting Guide & Prices

Published: December 09, 2020
Updated: June 03, 2022
Table Of Contents:
Table Of Contents:
The Peace dollar series that ran from 1921 through 1935 is nearly as popular as the Morgan silver dollars they replaced. This beautiful, large silver coin is best known for its iconic design.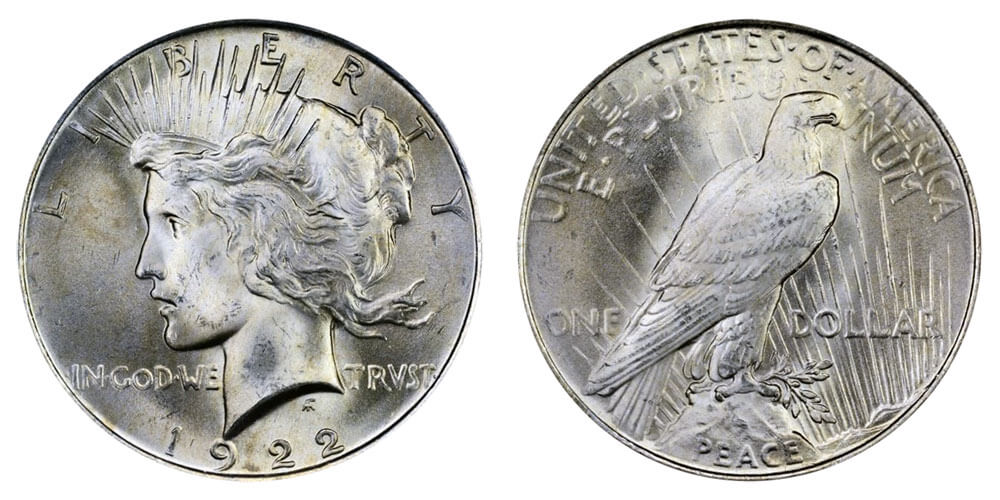 1922 Peace silver dollar. Image: USA CoinBook
It features a portrait of Miss Liberty crowned with rays on the obverse. The reverse showcases a bald eagle perched on a rock inscribed with the word "PEACE." A sunrise in the background splashes light across the patriotic scene.
The introduction of the Peace dollar commemorated the end of World War I. The coin was designed by Anthony de Francisci and is considered one of the many resplendent designs emblematic of the artistic Renaissance of American Coinage.
Peace dollars were minted for a relatively short period of time, and none were made from 1929 through 1933. All told, there are 28 major issues and varieties that were struck. This figure includes very elusive matte proofs and a major doubled die. There are also a handful of key dates here that pose significant challenges to coin collectors.
The Key Date Peace Dollars
Depending on exactly how one defines their Peace dollar collection, there may be only a couple major key dates and a semi-key that need to be sought, or there can be more than half a dozen major rarities to pursue.
As one might expect, all Peace dollars become rare above a certain grading threshold. But we won't be looking at the Peace dollar series from the perspective of condition rarities. Instead, we will examine the series from the standpoint of the absolute key dates: which pieces are the toughest and generally most expensive to obtain, regardless of the coin's grade.
Key Date Peace Dollar Price Chart
| Issue | VF-20 | MS-65/PR-65 |
| --- | --- | --- |
| 1921 | $125 | $1,750 |
| 1921 Matte Proof | n/a | $100,000 |
| 1922 Matte Proof (High Relief) | n/a | $150,000+ |
| 1922 Matte Proof (Normal Relief) | n/a | $125,000+ |
| 1928 | $300 | $4,000 |
| 1934-D DDO | $100 | $700 |
| 1934-S | $75 | $8,000 |
Follow the link for a complete chart of Peace dollar prices for all dates in our Coin Library.
1921 Peace Dollar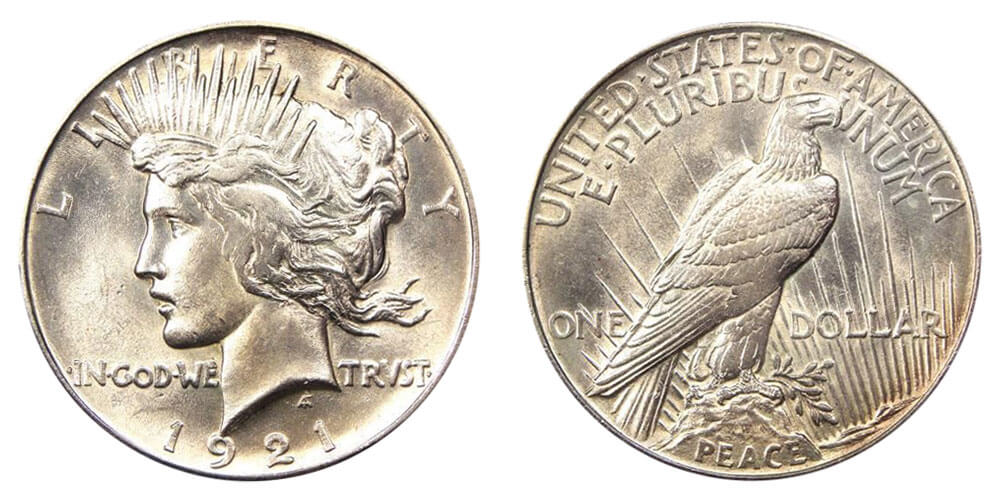 1921 High Relief Peace dollar. Image: USA CoinBook
This issue marks the only regular-strike to feature the high-relief design. High relief is the style this coin was originally intended to be struck but proved too difficult on dies for large-scale production.
Minted during the last four days of 1921, this issue has a mintage of just 1,006,473. It is coveted not only as the first-year issue due to its low mintage but also for the coin's high-relief finish. This sets it an aesthetic notch above all the regular-issue Peace dollars that follow.
Prices for this coin start around $125 in moderately circulated grades and surpass $1,750 in MS65.
1921 Matte Proof
This rarity was minted in tiny numbers in a matte proof finish consistent with other proof coins of the period. Estimates vary on exactly how many were made, but most numismatic experts agree the number is south of a dozen pieces.
Prices for this coin in PR65 hover around $100,000.
1922 High Relief Matte Proof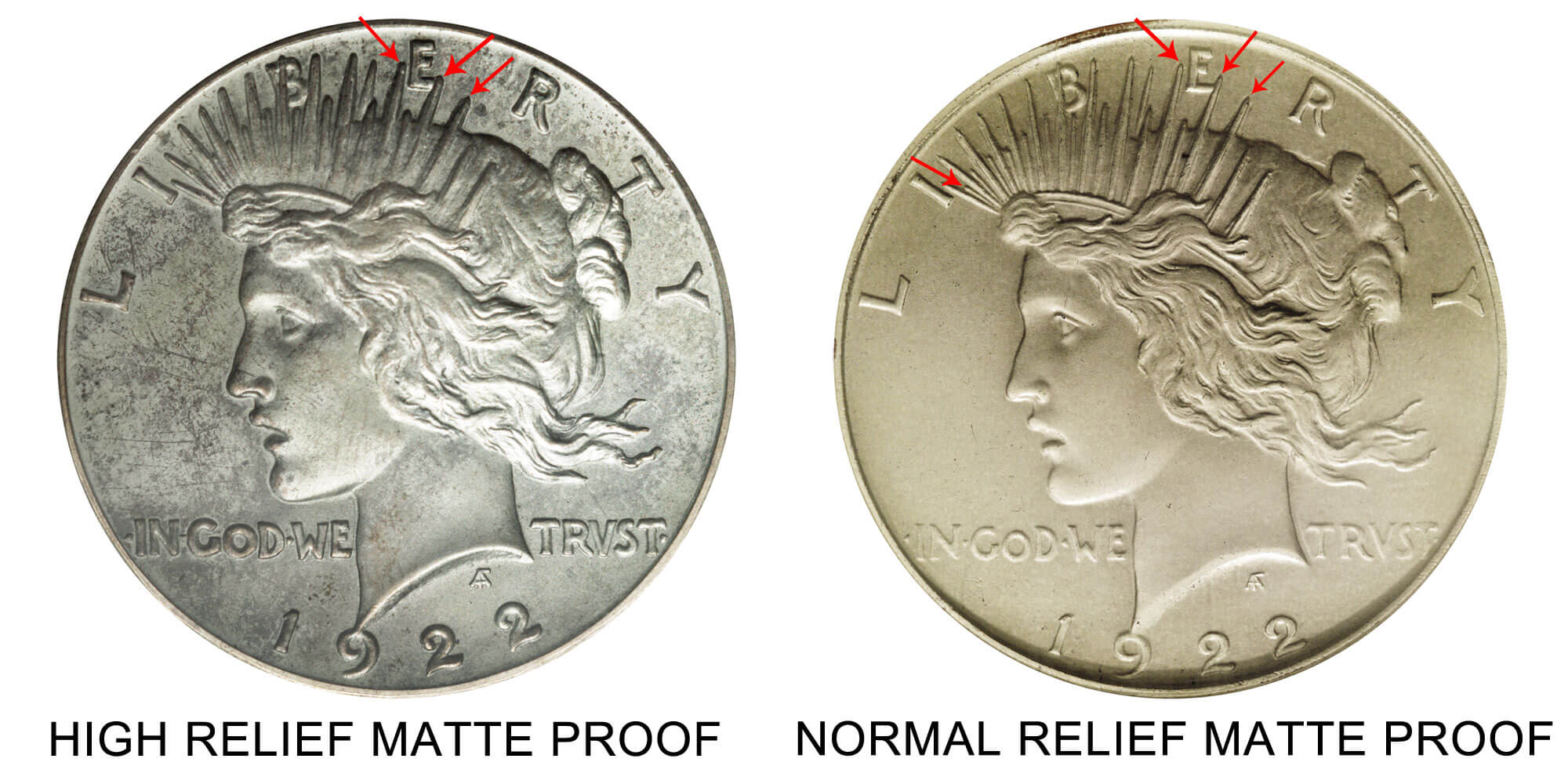 1922 high relief vs normal relief Peace silver dollar (obverse). Image: USA CoinBook
Another early Peace dollar rarity, this matte proof features a high-relief format akin to its 1921 predecessor.
Like the 1921 matte proof, this elusive issue has a tiny mintage of perhaps ten pieces though fewer are known to exist. Prices for this coin trend around $150,000.
1922 Normal Relief Matte Proof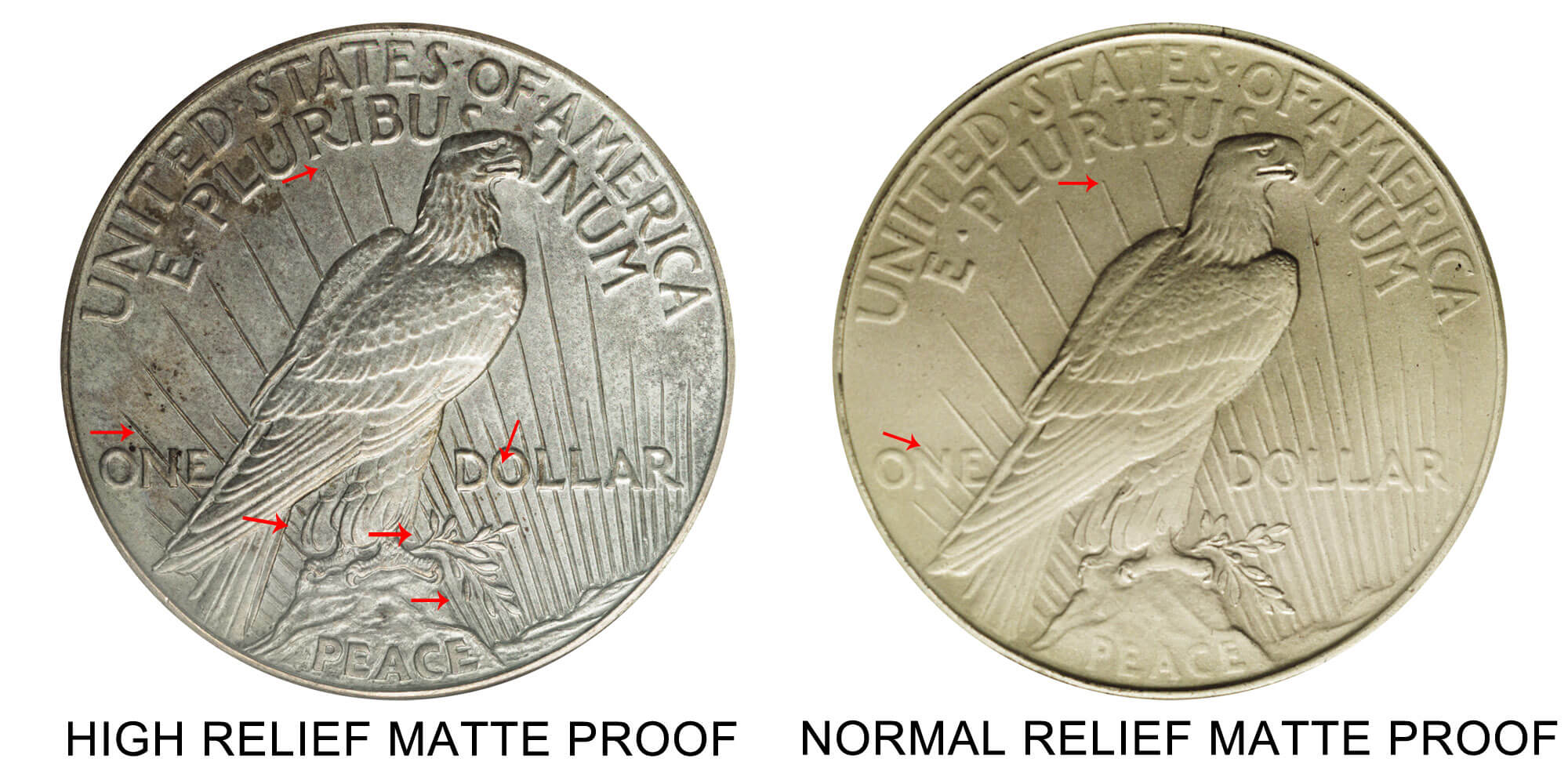 1922 high relief vs normal relief Peace silver dollar (reverse). Image: USA CoinBook
Bearing the lower relief more typical of 1922 Peace dollars, this version of the matte proof is often categorized as a "normal relief." Like its other early 1920s matte proof Peace dollar counterparts, this piece also saw a tiny mintage of around 10. The number of survivors may be just a few specimens.
The value for this coin is approximately $125,000.
1928 Peace Dollar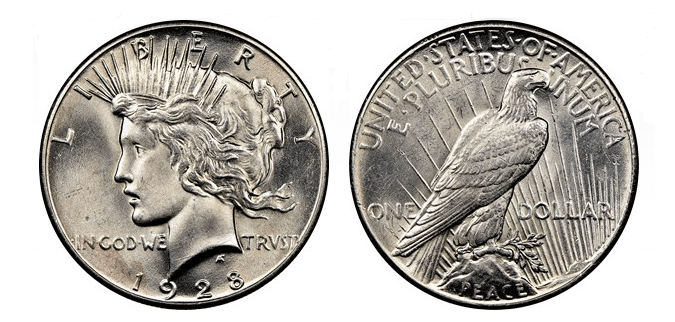 1928 Peace dollar. Image: NGC
When it comes to the regular-issue Peace dollars for which most series enthusiasts vie, the 1928 Philadelphia issue ranks as the key date. It's the lowest-mintage business-strike, with just 360,649 minted.
It's also decisively the most expensive regular issue in the series, with this piece fetching prices of nearly $300 even in a grade of VF20. In MS65, this coin trades for around $4,000.
1934-D Doubled Die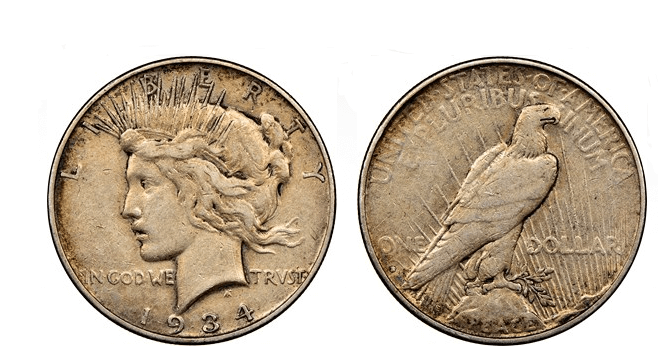 1934-D Peace silver dollar. Image: NGC
There are many dozens of exciting die varieties in the Peace dollar series. These are known as VAMs—an abbreviation of the two silver dollar experts who cataloged them: Leroy Van Allen and A. George Mallis.
Among these Peace dollar varieties, the most popular and one of the most important is the 1934-D doubled die obverse. It exhibits clear hub doubling around the words "GOD WE" on Miss Liberty's nose and some of the rays upon her tiara.
This cool variety has a retail value of about $100 in VF20 and around $700 in MS60.
1934-S Peace Dollar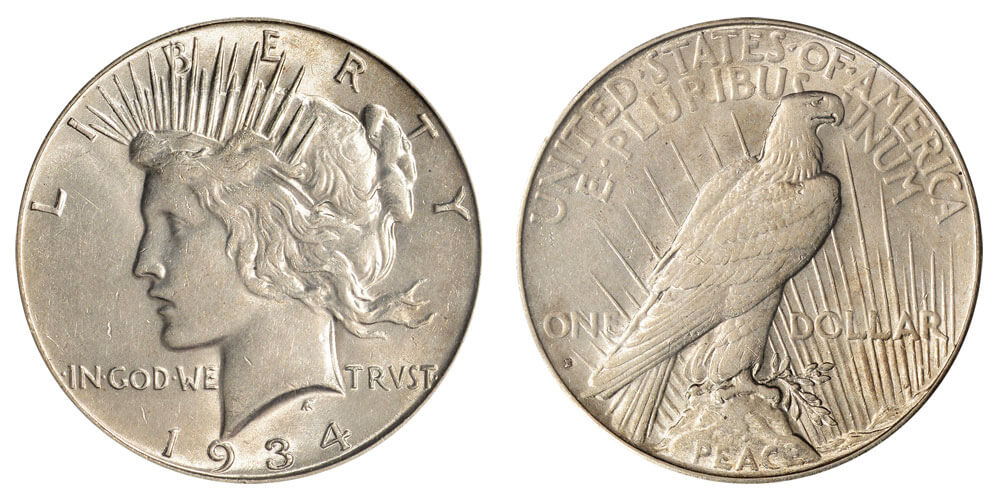 1934-S Peace silver dollar. Image: USA CoinBook
The 1934-S Peace dollar may "only" be a semi-key, but it's a heavyweight among Peace dollar collectors who are working on assembling an entire date-and-mintmark collection. This coin has a mintage of 1,011,000 pieces, making it slightly more common than the 1921 business-strike.
The 1934-S retails for around $75 in a grade of VF20 but quickly reflects its rarity in the higher circulated and uncirculated grades, topping $8,000 in MS65.
Collecting Peace Dollars
As can be seen here, the Peace dollar series offers both challenges yet options. Yes, one can easily spend six figures collecting Peace dollars.
However, suppose one sticks to the business-strikes. In that case, the super-rarities are avoided altogether, and even the four-digit MS65 examples become mere options—not requirements—for finishing a handsome set.
Building an eye-pleasing collection of Peace dollars in the higher circulated or lower Mint State grades is also an option. This can be done at a fraction of the price that might be spent attempting to build an MS65 set of these beautiful silver dollars. If you exclude the matte proofs and retain only the 1921, 1928, 1934-D doubled die, and 1934-S, an entire 25-coin set of business-strike Peace dollars grading AU50 to MS63 can be completed for less than $3,000.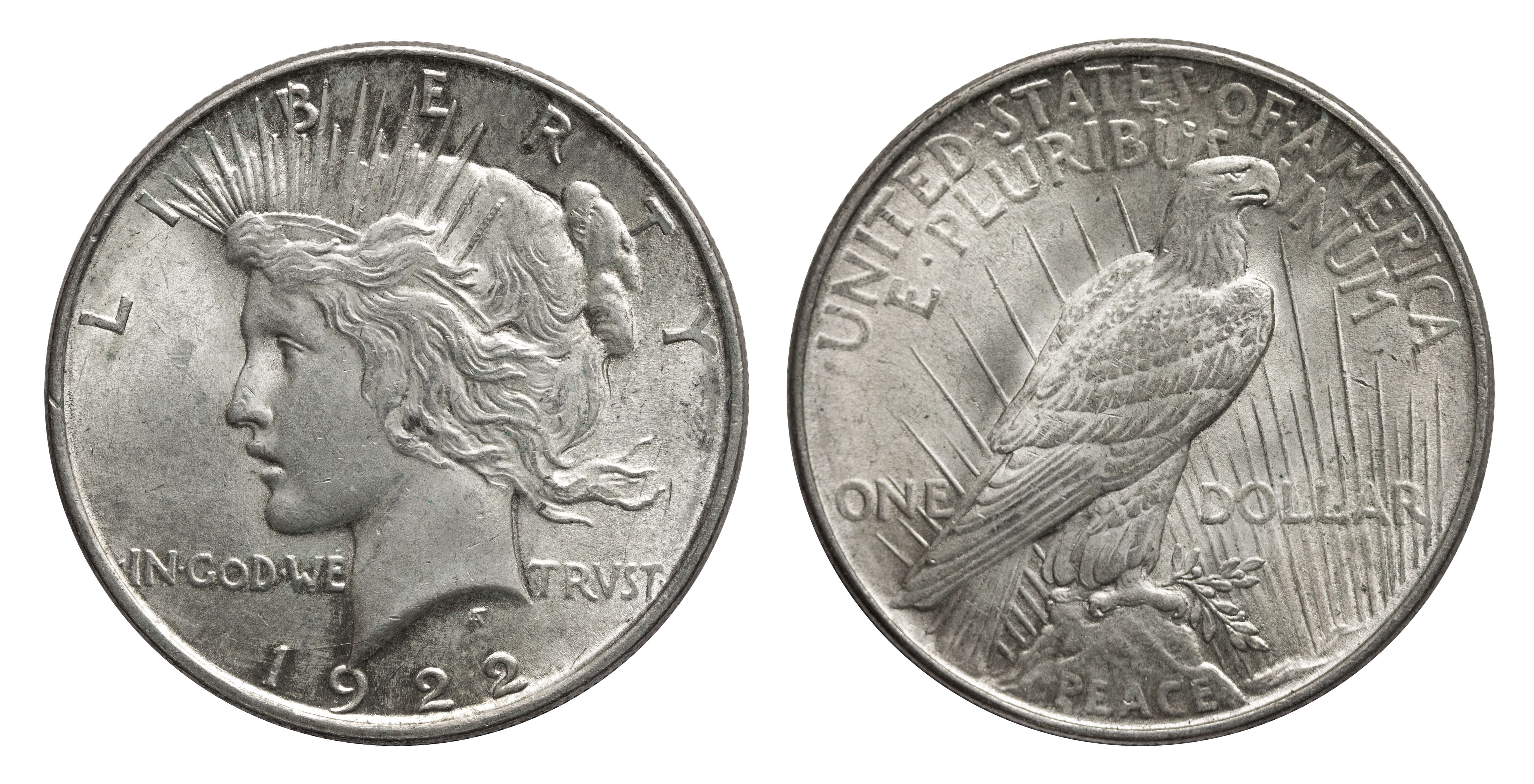 Silver Peace Dollar with de Francisci's High Relief design. Image: USA CoinBook
No matter the grade or scope of your Peace dollar collection, always seek the nicest examples you can afford. Peace dollars have large, broad fields, especially on the obverse. These are prime locations for nicks, scratches, contact marks, and other imperfections.
Furthermore, avoid examples that are discolored or appear to have been cleaned. Specimens grading around AU50 should show plenty of mint luster. Those in the Mint State range commonly exhibit rich, cartwheel-style luster and brilliant white surfaces. Take your time buying key date Peace dollars with excellent eye appeal, and you'll surely be pleased with your purchase for years to come.
---
Joshua McMorrow-Hernandez is a journalist, editor, and blogger who has won multiple awards from the Numismatic Literary Guild. He has also authored numerous books, including works profiling the history of the United States Mint and United States coinage.
More key date coin articles from Gainesville Coins:
Washington Quarter Key Dates and Varieties
Key Date Mercury Dimes: 1916-D, 1921, 1921-D
Key Date Morgan Dollars: Collecting Tips & Prices
Key Date Roosevelt Dimes: Collecting Tips
Lincoln Wheat Penny (1909–1958): Values & Key Dates
What Are the Key Dates for the Silver Eagle?
Latest Offers, Straight To Your Inbox
Don't be the last to know about the latest deals and new product arrivals. Join us today for FREE!