Learn About Gold Coins
Published: February 10, 2021
Updated: July 26, 2022
Table Of Contents:
Table Of Contents:
Gold coins were once used around the world as currency. In fact, this system worked for thousands of years. Today, gold coins are collectibles or investments.
This article will walk you through how to buy gold coins and which are the best gold coins to buy.
Stacks of gold coins
HOW TO BUY GOLD COINS
Here's an explanation of how the purchasing process works:
Once you have finalized your order, choose your payment method. Gainesville Coins accepts credit card, check, bank wire, and cryptocurrency payments. You can pay with cash if you place your order in person in our showroom. The price of your order is locked in once you have paid. It is standard practice for it to take up to 10 business days for your payment to clear.
No matter which payment method you choose, you will need to approve an authorization on your credit card for 5% of your purchase total. The 5% authorization is not a charge, and will be refunded to your card once your payment has been cleared. The credit card authorization is simply to lock in your purchase price.
Next, choose your method of delivery. You can pick up your coins in person, have them shipped to your address, or opt for vault storage. Both our vaulting facilities and all of our packages are fully insured.
---
WHICH GOLD COINS SHOULD I BUY?
For a comprehensive answer, check out our definitive guide on the best ways to buy gold!
Included below is a list of some of the most popular coins available for sale today. As always our customer service team is here to help with any questions you may have. Please feel free to contact us on 813-482-9300 or at Sales@GainesvilleCoins.com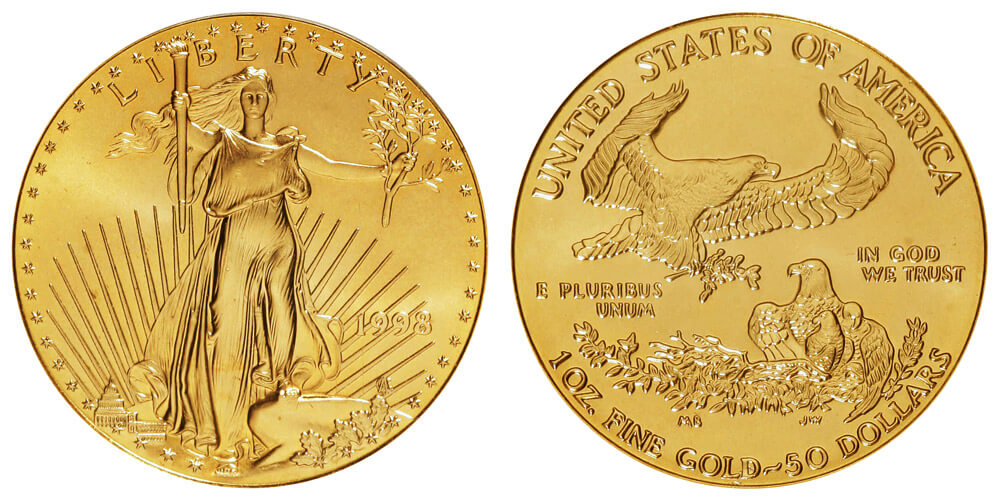 1998 one ounce American Gold Eagle
The American Gold Eagle is the world's most popular gold bullion coin. Introduced in 1986, the 22k (22-karat) Gold Eagle is the official gold bullion coin of the United States. The U.S. Mint uses a 91.7% gold, 5.3% copper, and 3% silver 22k alloy to make the Gold Eagle. This mixture gives it a brighter appearance than 22k gold coins like the Krugerrand, which only uses copper in its alloy.


Canadian Gold Maple Leaf
The Canadian Gold Maple Leaf debuted in 1979 as the world's first alternative to the Krugerrand. The Gold Maple Leaf was also the first 24k (.999 fine) gold investment coin. This purity increased to .9999 "four nines" in late 1982. The Gold Maple Leaf is the second-best selling gold bullion coin in the world. Only the American Gold Eagle sells more.
Part of the Gold Maple Leaf's popularity comes from its unmatched anti-counterfeiting measures. The Royal Canadian Mint is a world leader in anti-counterfeiting technology. It uses three separate security measures on its investment coins.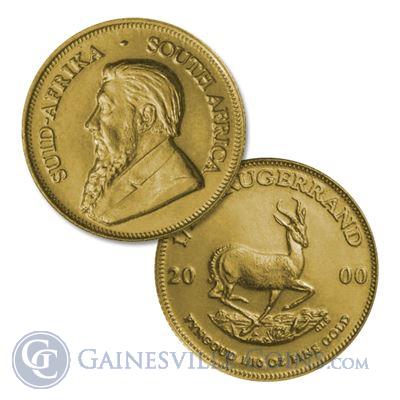 1/10 oz Gold Krugerrands
The era of the modern gold bullion coin began in 1967, with the advent of the South African Krugerrand. The Krugerrand was the first, and for a dozen years, the only gold coin to contain exactly one troy ounce of gold. By 1980 the Krugerrand accounted for 90% of global gold coin sales.


1907 low relief arabic numerals Saint-Gaudens gold double eagle
The most famous American gold coin is the 1907–1933 Saint-Gaudens double eagle (0.7734 oz gold content). The double eagle was a large coin that didn't see much day-to-day use. Millions of them were caught in bank vaults and melted down when Franklin Roosevelt outlawed private ownership of gold in 1933. However, the double eagle was also the coin most used by American companies to buy foreign goods. This meant that millions more double eagles hiding in European bank vaults escaped FDR's melting pot. These coins flowed back into the U.S. when private gold ownership was legalized in 1974.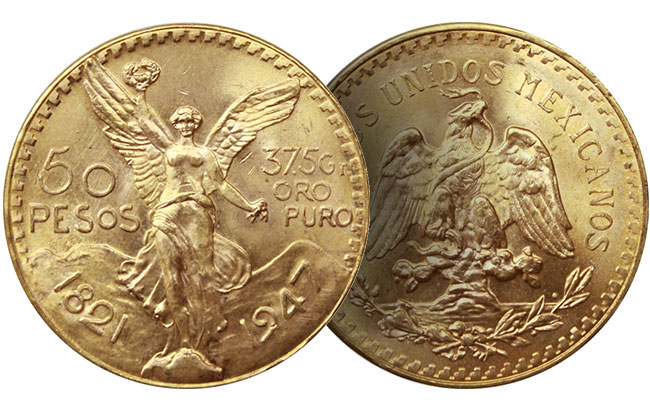 Mexican gold 50 pesos coin
The large 50 Peso "Centenario" Mexican gold coin (1.2057 oz gold content) is a relatively unknown historical gold coin. It is popular among savvy gold investors for its striking design and low premium over spot. This holds true for other old Mexican gold coins as well.


Gold Sovereign coin
The British Sovereign (0.2354 oz gold content) was perhaps the best-known gold coin of the 18th and 19th centuries. This was a time when the British Empire was the world's industrial powerhouse. The Sovereign is one historical gold coin that is still minted today.


Austrian 100 corona gold coin
The Austrian 100 Corona (0.9802 oz gold content) is another gold coin with one foot in the past and the other in the present. The original 1909–1914 coins were minted at the end of the Austro-Hungarian Empire. The Austrian government began making restrikes of the 100 Corona in the 1970s, to compete with the Krugerrand. The restrikes bear a 1915 mintage date to separate them from the original 1909-1914 coins.


French 20 franc gold Rooster coin
Long before there was a European Monetary Union, European nations used a standard 20 franc gold coin (.1867 gold content) as a common currency. Since France had the largest economy in Europe, their 20 franc coin set the standard for the others. Much like the euro would do 130 years later, this common gold coin standard smoothed trade throughout Europe. The beautiful designs of these small coins make them an attractive alternative to modern fractional gold coins.


---
Read more about coins and the precious metals market from the experts at Gainesville Coins:
How Many Coins Are in a Coin Roll? (Chart and Story)
161 Facts About Gold (The Largest Gold Facts List Online!)
13 Mind-Blowing Facts About Silver: Fascinating Silver Facts
Quick Facts About Silver Canadian Maple Leaf Coins
Learn About American Silver Eagles
Latest Offers, Straight To Your Inbox
Don't be the last to know about the latest deals and new product arrivals. Join us today for FREE!