11 Most Valuable Canadian Pennies

Published: April 19, 2023
Table Of Contents:
Table Of Contents:
The Canada penny is a widely beloved coin on both sides of the Canadian border. This is largely because the coin was a critical part of Canada's commerce until the denomination was discontinued by the Royal Canadian Mint in 2012. Also, Canadian pennies frequently appear in United States circulation, piquing the curiosities of many collectors who don't ordinarily encounter these coins form the "Great White North" every day.
Like one-cent coins in other countries, most Canadian pennies are quite common and worth little over face value in worn condition. Yet, there are many valuable Canadian pennies that collectors vie for, including the relatively rare pennies we examine in greater detail below.
1. 1936 Canadian Dot Penny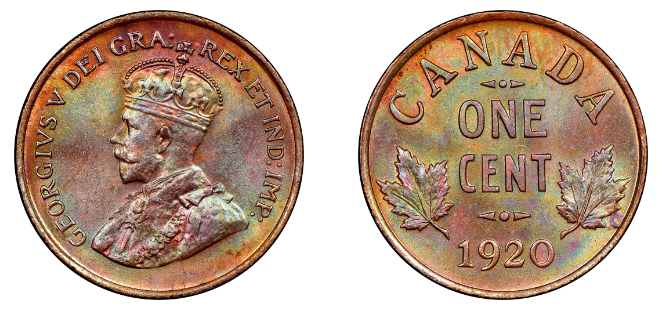 The Canada Dot Penny coin design. Source: NGC Coin Explorer
One of the most valuable Canadian coins of all is the 1936 Dot cent, an outcropping of production logistics in the face of unforeseen royal drama on the British throne. King George V died in January 1936 and his son King Edward VIII was in line to ascend to the throne. However, he abdicated his royal duties in December 1936 when he intended to marry American socialite and divorcee Bessie Wallis Simpson. The king's desire to marry a twice-divorced American sparked a constitutional crisis, and, embroiled in a scandal that bridged the Atlantic Ocean, King George VIII left the throne. Taking his place was his brother, King George VI.
Meanwhile, the Royal Mint (and the commonwealth nations whose coinage reflected the reigning monarchs of the day) were largely unable to produce a coin depicting King George VI in time for new coinage to begin production with the 1937 date. This also affected Canadian numismatics. Canada tried remedying the situation with its one-cent coins by continuing the 1936-dated King George V type, but with the addition of a raised dot below the date on the reverse of the coin to indicates its minting in 1937. The Royal Canadian Mint reported the production of 678,823 of these coins, though only five are currently known. Each time these rare 1936 Dot cents have crossed the auction block in recent years they have commanded six-figure prices reaching beyond $400,000.
2. 1955 No Shoulder Fold Canadian Penny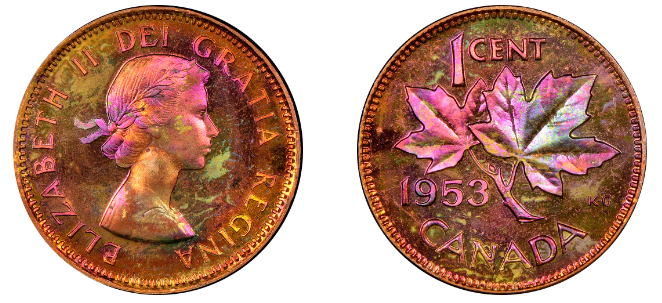 1955 Canada No Strap Penny coin design. Source: NGC Coin Explorer
After Queen Elizabeth II's ascension to the throne in 1952 following the death of her father, King George VI, there were several changes made to the proposed coin design of the young queen immediately following the debut of her bust on coinage in 1953. The most notable of these concerned the appearance—or disappearance—of shoulder folds to indicate the queen's gown. The 1955 No Shoulder Fold Canada cent is a rarity that can be had for $125 in well-worn grades, with uncirculated specimens trending above $700.
3. 1923 Canadian Penny
Coming in with an even lower mintage than seen in 1922, the 1923 Canada cent had an output of just 1,019,002 pieces. This lower mintage provides relatively few pieces for collectors today, a situation exacerbated by the fact that only a fraction of these coins survives in collectible condition. Values range from around $25 for well-worn example to beyond $500 for uncirculated specimens.
4. 2006 Steel Error Canadian Penny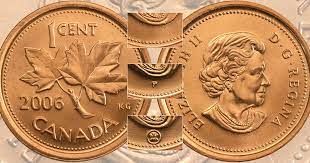 2006 Canada Penny coin design with privy mark. Source: CoinsAndCanada.com
In 2006, the Royal Canadian Mint began rolling out a new plated-steel composition for its one-cent coins, with the debut intended only for numismatic sets that year. However, an untold but very small number of 2006 pennies without a "P" indicating the coin was plated or a Royal Canadian Mint privy mark—either of which normally appear on the numismatic strikes. Values for this presumed wrong-planchet error are all over the board, though the rare examples generally sell for between $150 and $350.
5. 1925 Canadian Penny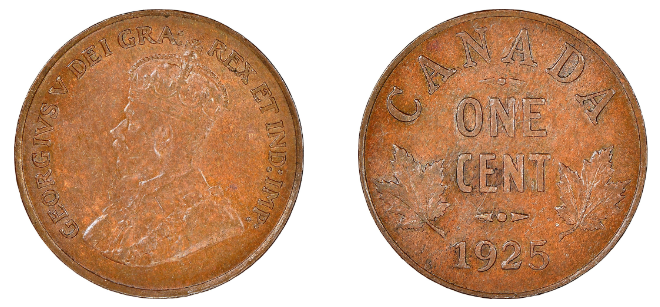 1925 Canada penny. Source: NGC Coin Explorer
In terms of mintage, the 1925 Canada penny boasts one of the lowest mintages of any regular-issue Canadian small cent, with a mintage of just 1,000,652. A challenging coin in any grade, collectors can expect to shell out some $25 or more for a well-worn example, while uncirculated specimens trade for north of $200.
6. 1922 Canadian Penny
The 1922 Canada cent marks the first of several valuable Canadian pennies that were struck during a period of economic malaise and, thus, low mintages in the mid-1920s. The 1922 Canada penny had a mintage of 1,243,635, which was considerably low, even in its day. Even well-worn examples of the 1922 Canada cent sell for $10 to $15, with uncirculated specimens for this significant date going for beyond $200.
7. 1924 Canadian Penny
The 1924 Canada cent was made in greater quantities than its 1922- or 1923-dated predecessors, but with a mintage of only 1,593,195, it's still a tough semi-key date that commands strong premiums, regardless of grade. The 1924 Canadian cent goes for about $5 in well-worn grades and transcends the $150 price point in uncirculated grades.
8. 1926 Canadian Penny
The semi-scarce 1926 Canadian cent marked a hesitant return to higher mintages, with this issue struck to the tune of 2,143,372 pieces. The 1926 Canada cent can be readily found in lower grades, where prices hover around $5, but it's much more difficult to find decent specimens in the higher grades. An uncirculated piece fetches well over $100.
9. 1949 A Points to Denticle Canadian Penny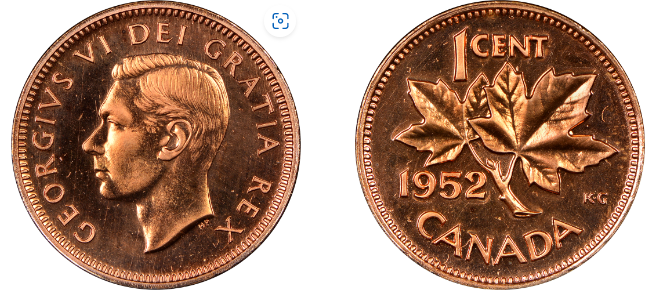 1949 Canada Penny coin design. Source: NGC Coin Explorer
The mid-20th century brought a series of varieties to Canadian coins. This is one such case, in which the second "A" in the inscription "DEI GRATIA" points directly to a denticle—one of the toothlike details pointing inward to the center of the coin from the rim. Of the related varieties on 1949 Canada cents, this is the scarcest, and it sells for around $20 and up.
10. 1965 Large Beads, Pointed 5 Canadian Penny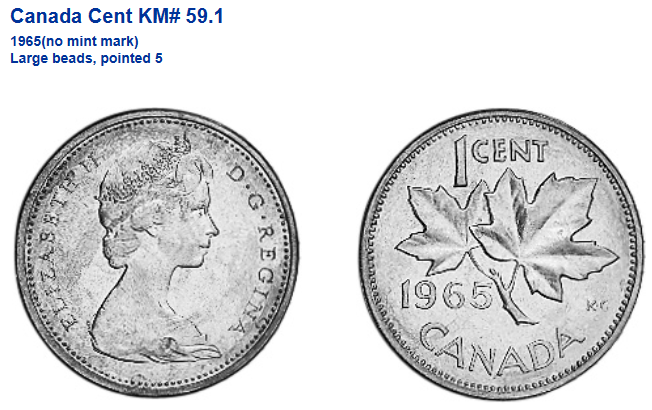 1965 Canada Penny coin design. Picture is not colorized. Source: NGC Coin Explorer
Several varieties of 1965-dated cents were created among differences in the sizing of the ornamental obverse beads and shaping of the "5" date digit on the reverse—and the combinations thereof. The scarcest of the regular-issue circulating cent varieties of 1965 is the 1965 Large Beads, Pointed 5. Though not a true rarity, especially in the lower grades, this is nevertheless a 1965 Canada cent worth looking for, and its value ranges from about $3 in mid-circulated grades to above $20 in uncirculated condition.
11. 1985 Pointed 5 Canadian Penny
A variety of note among circulating 1980s Canadian coinage is the 1985 Pointed 5 cent, which is a scarcer coin of an unknown but relatively small quantity of production output. It's worth around $2 in moderately worn grades and sells for more than $10 in uncirculated grades.
Collecting Canadian Coins
Many collectors bypass collecting these rare Canada cents because of the difficulty in finding them in circulation or cost of purchasing them outright. However, for those who enjoy a challenge and desire a truly complete set of Canadian pennies, they are essential.
One can spend many years tracking down all these valuable Canadian pennies, whether they are looking for them in circulation or trying to purchase them by way of coin dealers and numismatic auctions. It's therefore little wonder that so many numismatists in the United States, Canada, and beyond enjoy the realm of Canadian cents, which are among the most enigmatic coins ever produced.
---
Joshua McMorrow-Hernandez is a journalist, editor, and blogger who has won multiple awards from the Numismatic Literary Guild. He has also authored numerous books, including works profiling the history of the United States Mint and United States coinage.
Read more about collecting coins from the expert authors at Gainesville Coins:
10 Most Valuable Canadian Coins & What They're Worth
Best Place to Buy Silver Maple Leaf Coins
Best Place to Buy Gold Maple Leaf Coins
How to Collect Coins for Beginners: Coin Collecting 101
Coin Collecting For Kids: How to Get Started
Gift Ideas for Coin Collectors: 8 Affordable Presents They'll Love
How To Sell Your Coin Collection
Latest Offers, Straight To Your Inbox
Don't be the last to know about the latest deals and new product arrivals. Join us today for FREE!