PAMP Suisse Gold Bars Buyer's Guide

Published: December 01, 2021
Updated: May 10, 2023
Table Of Contents:
Table Of Contents:
When you buy PAMP Suisse gold bars, you are buying one of the most trusted gold investment products on the planet. PAMP's stellar reputation has been earned through decades of providing the highest quality gold bullion. This article will explain who the company PAMP Suisse is, why their gold bars are so popular, and how the buying process works. If you're already ready to
shop for PAMP Suisse gold bars
, follow the link or browse some of the PAMP gold bars for sale at the bottom of the article!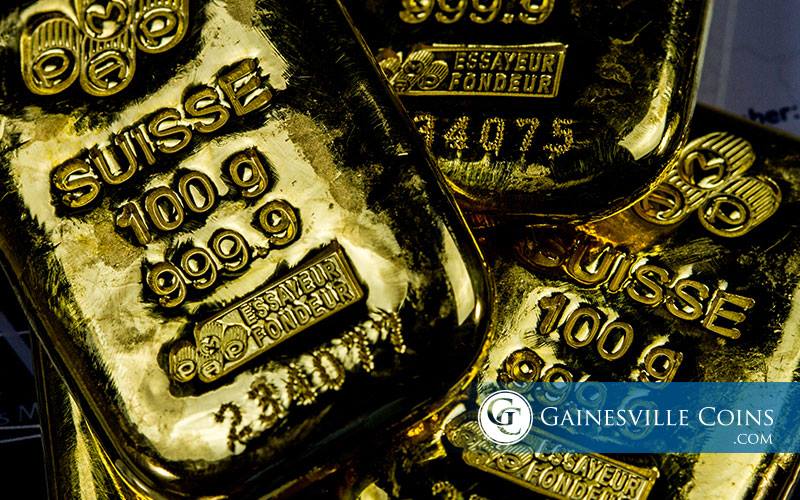 PAMP gold bars, poured style.
##What Is PAMP Suisse?## PAMP Suisse is a world-renowned precious metals refiner that was established in 1977. Its parent company is known as MKS Group. In addition to refining, assaying, and minting gold, the company produces platinum, palladium, and silver bullion products as well. In the past, the Swiss refiner has also provided semi-fabricated materials used for fine jewelry, luxury watches, and other industries. As the name suggests, the company is headquartered in Switzerland. In the city Castel San Pietro, within the canton of Ticino, it operates a state-of-the-art precious metal refinery. It has the capacity to refine and process in excess of 450 metric tons of gold per year. This ranks PAMP among the world leaders in gold refining, alongside firms such as Valcambi Suisse, Credit Suisse, Metalor, Argor-Heraeus, Tanaka, and Rand Refinery. The
corporate website
refers to PAMP as the "world's leading bullion brand," and this claim is entirely reasonable. PAMP Suisse is without equal in terms of its wide-ranging industry involvement: * Good Delivery accreditation * London Bullion Market Association (LBMA) referee * London Platinum and Palladium Market (LPPM) member * Approved Brand of CME Group * Member of COMEX/NYMEX * ISO-compliant facility Among the company's various accreditations, PAMP gold ingots also enjoy the vaunted "Good Delivery" status on commodity exchanges around the world. In addition to COMEX and the LBMA, this includes the Shanghai Gold Exchange, Dubai Multi Commodities Center, and the Swiss National Bank. As you would expect, all PAMP products are IRA approved for inclusion in a
precious metals IRA
in the United States. ##What Does "PAMP" Stand For?## "PAMP" is an acronym that stands for Produits Artistiques Métaux Précieux ("artistic precious metals products," in French). The name is absolutely fitting. PAMP's bars and other bullion products are best known for their exceptionally high quality, attention to detail, and great artistic merit (especially in comparison to more generic gold bullion products). PAMP also handles custom minting services for several government mints and private firms. Thanks to worldwide brand awareness, a diverse selection of products, and unrivaled security innovations, PAMP gold bars set themselves apart from any other refinery's gold bullion products. Most experts would consider PAMP Suisse gold bars the best gold bars on the global market.
PAMP 500 gram silver bar, featuring the PAMP Suisse logo.
##How to Buy PAMP Suisse Gold Bars## The buying process is largely the same for any brand of gold bars. You can read more about
how to buy gold bars
in general with our helpful blog article. There are many considerations worth exploring, but the steps are fairly simple. ###Where Are PAMP Gold Bars Sold?### PAMP distributes their gold bars to a small group of wholesalers on every continent in the world. These wholesale partners will in turn sell the bars to a network of reputable precious metals dealers throughout each country or region. This global supply chain is one of the brand's strengths. For the most part, you cannot purchase PAMP gold bars directly from the company nor from the wholesale market. So "where to buy PAMP gold bars?" is an even better question than asking *how*. Simply finding a trustworthy gold dealer near you is the most important step in buying PAMP Suisse gold bars. ###How Much Do PAMP Gold Bars Cost?### The
spot price of gold
, plus a small premium of about 5%, will determine how much a PAMP gold bar is worth in a retail setting. At a reputable gold dealer like Gainesville Coins, your price is locked in at the time your order is finalized. (Note that "finalized" is **not** simply when you add a product to your shopping cart. It's once you commit to pay.) Several forms of payment are accepted, such as check, bank wire, credit card, and cryptocurrency. Be sure to check a seller's in stock availability of the product type you want. They may carry special offers depending on the quantity and metal type. You have the option to either place your bars in vault storage, pick them up in person, or receive them through the mail. All orders shipped from Gainesville Coins are discreetly packaged and fully insured. ##Why PAMP Suisse Gold Is So Special## Within the precious metals community, PAMP Suisse products are held in the highest regard. This is true all around the world. So what makes this Swiss gold refiner different from the competition? ###Stellar Reputation### We've already mentioned their unmatched involvement in the bullion industry. On all of the most prestigious exchanges, PAMP products are readily accepted. Each one is stamped with the bar's weight, metal content, and unique serial number. This reputation for exceptional quality is well-earned. It is well-known for refining its gold to .9999 fine gold and even .99999 fine (99.999% pure), the highest standards possible for 24 karat purity. PAMP's gold bars are also noteworthy for their attractive designs. An array of interesting themes are used for their gold bar designs. They range from the familiar Lady Fortuna series featuring the Roman goddess of fortune and fertility to its Lunar calendar motifs celebrating the Chinese zodiac. ###Product Selection## Along those same lines, PAMP Suisse boasts a very extensive product catalog. Aside from a wide selection of beautiful designs, these gold bars are available in virtually any size (in terms of weight) imaginable. Their standard 1 troy oz gold bar is joined by kilobars weighing 1 kilogram (32.15 troy ounces), on down to 100 grams, 50 grams, 20 grams, 10 grams, 5 grams, 2.5 grams, and even 1 gram size gold bars. Much like the popular Valcambi CombiBar™, the range of gold bar sizes offered by PAMP is a key attraction for investors no matter how small their budget.
PAMP Suisse 1 kilo gold bars.
Moreover, you will often find the bars come in different shapes and styles. You can choose from minted gold bars, which are uniformly flat and sleek, or cast gold bars, which are hand-poured into molds. The cast bars (also called poured gold bars) are sold in a variety of shapes, giving each ingot its own individual character. ###Security Features### Much of the popularity of PAMP gold bars comes from the factors above. But they are also highly sought-after for their innovative security measures. PAMP Suisse employs the cutting edge of anti-counterfeiting technology. Its CertiPAMP™ packaging protects the bar inside and conveniently doubles as an assay card (i.e. a certificate of authenticity and provenance). You'll sometimes see sellers market this as "w/ assay." This is done for all minted bars that PAMP produces, even for platinum bars and palladium bars. The company has also developed an innovation called Veriscan™ where the unique surface of each bar is scanned and digitally mapped. This allows the bar to be definitively identified as authentic. These security features go far beyond a serial number and assay certificate, which unfortunately
have been faked
before by scam artists. Veriscan™ is the best way to tell if your PAMP gold is real.
PAMP Veriscan™ 1 ounce (1 oz) bar in CertiPAMP™ packaging.
These enhanced security features are what sets PAMP apart from its peers, even other prestigious Swiss refiners like Valcambi and Credit Suisse. ##Buying PAMP Suisse Gold Bars at Gainesville Coins## PAMP gold bars remain immensely popular among investors. It's no exaggeration to say they are the most trusted and desirable gold bullion bars on the global market. **Follow the link to browse all of the
PAMP Suisse gold bars for sale
at the best price at Gainesville Coins!** Please call (813) 482-9300 to speak to one of our customer service representatives for more information.
---------- **Read more precious metals buyer's guides from the expert authors at Gainesville Coins:** [How to Buy Gold Coins: Essential Advice to Get Started](/blog/how-to-buy-gold-coins) [How to Buy Silver Coins: Step-by-Step Guide](/blog/how-to-buy-silver-coins) [How to Buy Silver Rounds: Complete Guide](/blog/how-to-buy-silver-rounds) [Silver Coins vs. Silver Bars: Which Is the Better Buy?](/blog/silver-coins-vs-silver-bars) [How to Buy Platinum: Platinum Buyer's Guide](/blog/platinum-buyers-guide) [Buying Gold With Bitcoin: A Simple Guide](/blog/buying-gold-with-bitcoin) [How to Sell Gold: Step-by-Step Guide](/blog/how-to-sell-gold) [How to Sell Coins: 5 Essential Tips](/blog/how-to-sell-coins)

Everett Millman
Managing Editor
|
Analyst, Commodities and Finance
Everett has been the head content writer and market analyst at Gainesville Coins since 2013. He has a background in History and is deeply interested in how gold and silver have historically fit into the financial system.
In addition to blogging, Everett's work has been featured in Reuters, CNN Business, Bloomberg Radio, TD Ameritrade Network, CoinWeek, and has been referenced by the Washington Post.
Latest Offers, Straight To Your Inbox
Don't be the last to know about the latest deals and new product arrivals. Join us today for FREE!