Silver Premiums Explained: Insider Shares Knowledge!

Published: December 13, 2022
Updated: February 28, 2023
Table Of Contents:
Table Of Contents:
Are you keeping an eye on silver premiums these days? Sure, it has pretty much always cost more than spot price to buy silver in the retail market. But it seems like the silver premium is up more these days than even just a few years ago.
First, let's define what a "premium" is in this context. The premium on a silver product is the amount of money above the spot price of silver that the product costs. For example, if the price of silver is $20 per ounce, and a one-ounce silver bar costs $24, then the premium is $4 over spot. This premium can also be expressed as 20% over spot.
Some premiums have been much higher than this example lately. What's going on? Why does it cost more to buy silver coins, rounds, and bars today? The price increases aren't really uniform across the board, and the answer to the situation isn't necessarily all that simple. But, as a bullion observer and someone who has been involved in the numismatic world since 1992, I have some perspective to offer that I hope you'll find useful.
The current premium on American Silver Eagles is at historic levels.
The Allure of Silver: Why Strong Silver Demand Has Increased Premiums
It's safe to say that silver has really enjoyed a flurry of attention in recent times. At least since the spring of 2020, when the COVID pandemic rocked the world and the economy as we knew it came to a grinding standstill for a few months. Many people with stakes in the stock market panicked and began moving their money into alternative investments. Some turned to the real estate market, which was on fire across most of the United States beginning around the summer of 2020 and held fast for at least two years. Others turned to cryptocurrency, such as Bitcoin, Ethereum, Tether, and others.
Then there were the millions who turned to the traditional "safe haven" investment of bullion. Silver and gold in particular saw monumental performance in the months that followed COVID reaching the dreaded pandemic status. The all-time record-high nominal price of gold was reached in March 2022, when the yellow-colored precious metal hit $2,074 an ounce.
But let's put a little context to this… That record price for gold occurred during the tense weeks right after Russian president Vladmir Putin declared war on his neighboring country of Ukraine; concerns over impending nuclear war were at their highest in years, and fears over grain and oil shortage cast a pall over investment futures. Meanwhile, inflation was hitting its worst numbers since the stagflationary early 1980s.
Eventually, gold prices softened and have remained unsettled ever since. Meanwhile silver became a darling—it's less expensive and thus more accessible to more investors. Plus, silver has the added advantage of being a widely used industrial metal. It is also harbored by preppers and survivalists who believe silver has trading potential should the monetary system as we know it collapse. Silver coinage, or monetized silver, provides further benefits, including its backing by governments and its numismatic collectability.
Silver has held the attention of humankind for at least 5,000 years. Now, conditions in the current marketplace are driving premiums to new highs.
The Current Silver Marketplace: Why Silver Premiums Skyrocketed
We've set the scene: Investors have put a lot of money into cryptocurrency, real estate, and other investments during some very tenuous times—certainly the most nerve-wracking socioeconomic situations of this century and easily the most dire since the global economic troubles of the 1970s era.
Consider what's happening over the last several months, though. Real estate is rapidly cooling off and cryptocurrency is proving it's not the failsafe juggernaut many thought it was. Meanwhile, precious metals are showing, as they usually do, that they usually weather economic storms more soundly than so many other investments.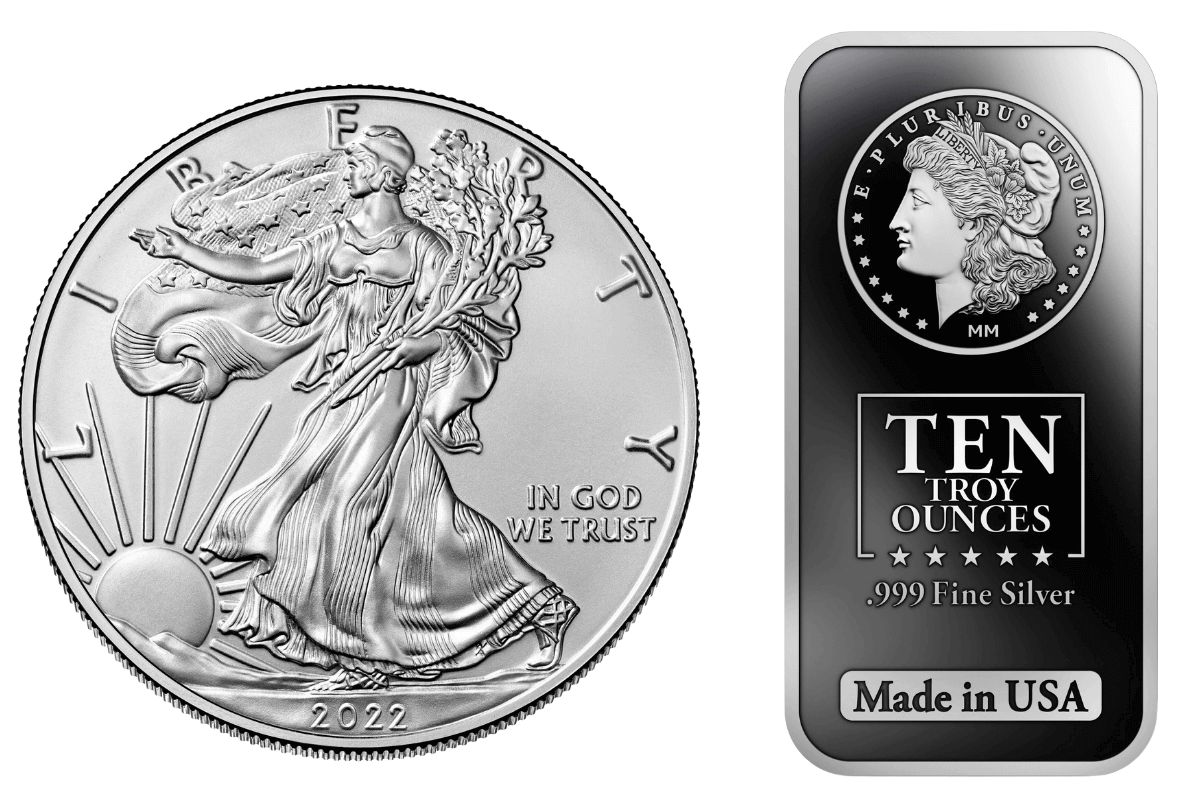 A lack of availability of silver bullion finished products have contributed to rising silver premiums.
People are learning now (if they didn't during the worst years of the Great Recession a decade ago) that housing prices don't always just go up. We are also discovering just how fragile the cryptocurrency world really is. This is now obvious with the failure of FTX and huge losses seen with the popular Bitcoin and other digital currencies. Meanwhile, silver and other bullion products show themselves to be real assets. They can be physically held, traded person to person, and are virtually anonymous. Unless one is trading huge amounts of bullion at a single time, they can generally buy and sell silver and other forms of bullion without an identifiable paper trail.
This realization by many that silver is truly a safe-haven asset—one that is easily traded and performs well during rapid inflation and other economic hardships—has led many to redirect their investment funds to silver. The increased demand has thus pushed silver premiums to higher levels. While this is the case throughout the silver industry, it seems to be especially pronounced on monetized silver coins more so than with silver rounds or silver bars.
Ultimately, investors enjoy the built-in protections that mint-coined bullion offers. Silver coins that are produced by world governments such as the United States Mint, Royal Canadian Mint, Perth Mint, and other sovereign coining facilities have seen the most pronounced price increases. Additionally, the monetized value of these coins means that even if, in a worst-case scenario, silver prices were to plummet to near zero (who says that can't happen?), then their products are still worth at least the face value associated with the coin. In other words, their investment dollars will never completely vanish. The same can't be said for those who invest in stocks (remember Enron?), cryptocurrency (don't forget FTX!), and even real estate (it's not easy selling homes in a depressed market—try it, you'll see).
What Do You Do When Silver Premiums Are So High?
If you're a bullion investor who is dejected by the climbing price of silver premiums right now, there are solutions that will make it more affordable to invest in silver. One of the most popular options for buying silver at a cheaper price is to purchase silver bars and rounds. While these products have also seen some increases in premiums in recent months, they pale in comparison to the price increases seen with monetized silver coins.
Here are just a few of the private-mint silver products that you can buy for relatively low premiums:
1 oz. Mason Mint silver rounds
Mason Mint silver bars in varying sizes
Trident silver bars
Johnson Matthey silver bars
Sunshine Mint silver bars
Mason Mint silver bar, one of the most affordable 10 oz silver bars.
These silver products all come from name-brand minting and refinery companies. The bullion content is guaranteed by these longstanding names. Many of these products are available in attractive designs and some are collected on their aesthetic merits. Their prices are, gram for gram, cheaper than silver coins.
These privately-minted silver rounds and bars are seeing increasing interest from silver investors who don't want to pay rising silver premiums. Those who wish to buy silver rounds and bars should consider buying them while their premiums are still relatively reasonable.
When investing in silver of any form, be sure to buy it from a reputable bullion dealer. Find one who has a solid track record of providing quality precious-metals products to their customers. Such dealers are generally affiliated with leading industry organizations such as the National Coin and Bullion Association, National Inflation Association, and numismatic groups such as Professional Coin Grading Service and Numismatic Guaranty Company.
---
Joshua McMorrow-Hernandez is a journalist, editor, and blogger who has won multiple awards from the Numismatic Literary Guild. He has also authored numerous books, including works profiling the history of the United States Mint and United States coinage.
Learn more about the current gold and silver market from Gainesville Coins:
Tax on Gold: All Your Questions Answered
Silver Investment Returns: Analysis for Investors
Best Silver Coins to Buy for Survival
Silver Price Today: Check Silver Spot Prices
Gold Price Today: Check Gold Spot Prices
Latest Offers, Straight To Your Inbox
Don't be the last to know about the latest deals and new product arrivals. Join us today for FREE!