South Africa Issues Silver, Platinum Krugerrands for 50th Anniversary

Published: October 20, 2016
Updated: May 05, 2020
Table Of Contents:
Table Of Contents:
It's not entirely surprising that in addition to enjoying vast precious metal deposits, South Africa has long been a world-leader in the international gold coin market. The flagship South African Gold Krugerrand was the first modern bullion coin available on the global market in 1967. Krugerrands quickly ended up displacing out-of-issue British gold sovereigns as the most popular gold trade coin in the world.
Gold Krugerrands use the same 22-karat gold fineness standard (.9167 fine gold) as Britain's "Crown gold," yet they are minted without a real-world currency denomination. This makes them a popular physical gold investment product. Krugerrands were especially notable as the "Gold Standard" among gold investment coins when there were no other state mints producing comparable gold coins (besides the Royal Canadian Mint's Gold Maple Leaf that began 1979) until the 1980s.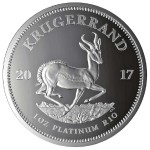 Image courtesy of AgAuNEWS. Click to enlarge.
Now, to celebrate the 50th year of the Krugerrand, the Rand Refinery is expanding its bullion coin program to include Silver Krugerrands and Platinum Krugerrands for investors. The mint is not only South Africa's main operation for smelting precious metals and issuing investment products, but also boasts the world's largest integrated precious metals refining complex.
Proof Platinum Krugerrands
As the world's top platinum supplier, it's only fitting that South Africa celebrate the Krugerrand's 50th anniversary in 2017 with a platinum coin. It will be issued with a maximum mintage of only 1,967 coins, which should appeal strongly to collectors. Weighing in at 1 ounce, the Platinum Krugerrand will feature the frosted relief and mirrored fields that create the sharper design devices of a proof finish.
Unlike the Gold Krugerrand, the 2017 1 oz Platinum Krugerrand Proof coin will bear a legal tender denomination of 10 Rand. Moreover, unlike most investment-grade platinum that uses a fineness of .9995, the new Platinum Krugerrand will be struck from extra-pure .9999 platinum. The coins measure 32.69 mm across, nearly identical to their gold counterparts.
1 oz Silver Krugerrands
The mint is also introducing a one-ounce Silver Krugerrand for the first time. These 1 oz silver coins will also have a denomination (1R) and will feature a limited mintage. The Uncirculated coin is capped at 500,000 coins while a proof version will also be produced in the limited quantity of 15,000. Both will be struck from .999 fine silver and have a 38.725-mm diameter—slightly larger than the normal Krugerrand.
The reverse designs for both the Platinum and Silver Krugerrands will bear a small privy mark reading "50" in honor of the half-century anniversary. The privy is placed just above the image of a springbok, an antelope that is one of South Africa's national symbols.
Adds Gold Krugerrand Sizes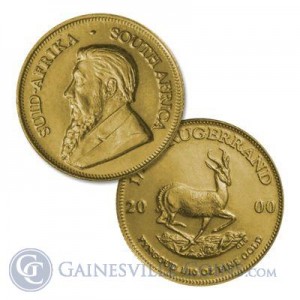 1/10 oz Gold Krugerrands
On top of it all, the Gold Krugerrand series gets a wider range of options beginning next year with smaller (1/20th oz and 1/50th oz) and larger (5 oz and 50 oz) coins than have ever previously been minted by South Africa.
In addition to the standard 1-troy-ounce Krugerrand, the flagship gold bullion coin is also struck in 1/2 oz, 1/4 oz, and 1/10 oz sizes—also without denominations—each year. The weight and size specifications for the new gold coins are listed below:
50 oz: 100 mm—1,696.5 grams 5 oz: 50 mm—169.65 grams 1/20 oz: 12 mm—1.696 grams 1/50 oz: 8 mm—0.679 grams
The opinions and forecasts herein are provided solely for informational purposes, and should not be used or construed as an offer, solicitation, or recommendation to buy or sell any product.

Everett Millman
Managing Editor
|
Analyst, Commodities and Finance
Everett has been the head content writer and market analyst at Gainesville Coins since 2013. He has a background in History and is deeply interested in how gold and silver have historically fit into the financial system.
In addition to blogging, Everett's work has been featured in Reuters, CNN Business, Bloomberg Radio, TD Ameritrade Network, CoinWeek, and has been referenced by the Washington Post.
Latest Offers, Straight To Your Inbox
Don't be the last to know about the latest deals and new product arrivals. Join us today for FREE!