The History of the 50 Gold Peso Centenario
Published: June 01, 2011
Updated: July 31, 2019
Table Of Contents:
Table Of Contents:
Gainesville Coins is currently featuring the 50 Gold Peso! It's an artistic coin with an interesting history, so we'll share it with you here. Visit the Mexican 50 Peso link on our website to view our current offering of this coin and find out more about ordering!
The Mexican 50 Peso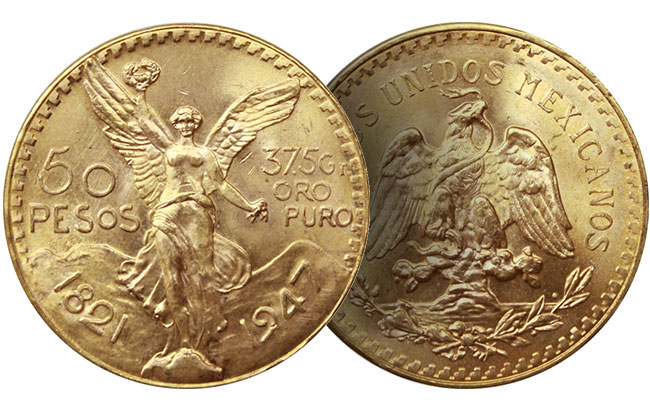 Mexican 50 Gold Peso Centenario
Also known as the Centenario de oro, the Mexican 50 Peso was first issued in 1921 to commemorate the 100th Anniversary of Mexico's War of Independence. The Mexican 50 Peso is most noted for being one the world?s first bullion gold coins. Not until the introduction of the South African Kruggerand in 1967 were any other pure bullion gold coins being produced in large quantities.Today they are a favorite of accumulators of gold, due to their low premium over spot and their universal ease of liquidation.
The Obverse design was inspired by the image of Nike, the winged Roman God of Victory. The coin actually depicts the iconic el Angel de la Independencia or the Angel of Independence. In her right hand she holds a laurel leaf and in her left a broken chain. Behind her are the Popocatepetl and Iztaccihautl, the famous volcanoes of Mexico. On each side of the winged angel are the dates 1821, the year in which the Mexico gained its Independence from Spain and 1947 the year in which 50 peso's were stopped minted. The Reverse depicts a picture of an eagle perched on a cactus feeding on a snake, symoblizing Mexico's call to arms. Surounding this depiction are the words 'ESTADOS UNIDOS MEXICANOS' which translates into United Mexican States. Each Mexican 50 Peso contains 1.2057oz of gold.
In comparison to other coins the Mexican 50 Peso is much larger, with a diameter of 37.08mm and a thickness of 2.69mm.
Latest Offers, Straight To Your Inbox
Don't be the last to know about the latest deals and new product arrivals. Join us today for FREE!