Buffalo 1 oz Silver Round (.999 Pure)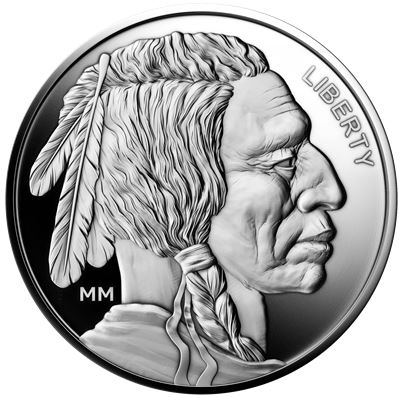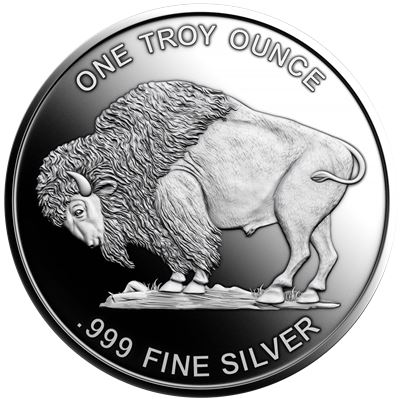 As low as $1.50 over spot!
Ends In:
Buy Buffalo 1 oz Silver Round (.999 Pure)
The Silver Buffalo round pays homage to the design of a Native American chief created by sculptor James Earle Fraser in 1913. Fraser used three different American Indians as models for the portrait, creating a composite image that incorporated elements from each of the men.
To clarify, these Buffalo silver rounds use a modified version of the original Fraser design. For that reason, the images on these rounds are sharper and more detailed than the real Buffalo nickel design that appeared on five-cent coins from 1913 to 1938.
Nonetheless, the appearance of the Silver Buffalo round is quite similar to the famous design that it is based on. On the front side, it depicts an Indian chief wearing a series of feathers in his hair while a tail of braided locks hangs over his shoulder. The word "LIBERTY" is inscribed to the right. In place of Fraser's initial "F" in the bottom-left corner, the abbreviation "MM" is used for the mint that strikes these rounds, Mason Mint.
Mason Mint is an ISO 9001:2015 certified facility. This is an international standard for quality assurance. Thanks to this certification, Silver Buffalo rounds are eligible for inclusion in a precious metals IRA.
The back side of the round also mimics the reverse design found on Fraser's Buffalo nickel. An American bison (also known as a buffalo) is shown facing toward the left, mirroring the arrangement of Fraser's classic design. The round's weight and purity specifications are inscribed along the top rim, reading "ONE TROY OUNCE .999 FINE SILVER."
History of the Design
The story goes that James Earle Fraser used a buffalo named Black Diamond at the Central Park Zoo in New York City as his model for the design. Black Diamond was known for having a very docile temperament, yet the artist had a difficult time getting the 1,500-pound creature to sit still for very long.
However, this quaint backstory is by many accounts a fictionalized legend. Even the United States Mint doubts its veracity. For one thing, Fraser identified his model buffalo as a resident of the Bronx Zoo, not the one located in Central Park.
Moreover, observers have noted that the shape of the horns on the coin's design were not a good match for the horns on the well-known Black Diamond. Interestingly enough, Black Diamond does have at least one undeniable appearance on U.S. currency to his credit: He was featured on a ten-dollar bill in 1901.
The supposed inspiration behind the Native American profile found on the front side of the round is at least equally complicated.
What is known for certain is that Fraser did not use a single person as the model for his portrait of an American Indian. The accomplished sculptor always maintained that the image was a composite of several different men.
When asked about their identities, Fraser consistently named two people: one named Chief Iron Tail, who was from a Sioux tribe, which is part of the Lakota people; and another man named Two Moons, who he claimed was a member of the Cheyenne people. Despite the consistency of his memory about these two men, Fraser also told reporters that his inspiration additionally came from a third or perhaps even fourth person.
Unfortunately, the artist gave conflicting answers over the years about the identity of the (possible) models. In Fraser's defense, he readily admitted that his memory failed him about who else inspired his design, which he characterized as a "type" rather than a true portrait of an individual.
The problem with this case of fuzzy memory meant that a number of different people tried to lay claim to being the face that inspired the Buffalo nickel design. In most cases, this was simply an attempt to drum up publicity. Such claims were often successful in drawing considerable attention in the media, nevertheless.
Fraser actually completed his sketches and sculpting of the designs in 1911, but various delays prevented the finished coin from entering circulation until 1913.
The Buffalo nickel was unfortunately met with almost uniformly negative reviews and criticisms from the numismatic press at the time it was introduced. As a result, the design was retired by the U.S. Mint after 25 years of service (in 1938). This is the minimum amount of time a circulating American coin design must be used before it can be replaced.
The Buffalo Design Returns to Gold and Silver Bullion
It wasn't until long after it had ceased production in favor of the Jefferson nickel that Fraser's design came to be appreciated by coin collectors on its own terms. It eventually was reproduced as a commemorative silver dollar by the U.S. Mint in 2001.
Then, beginning in 2006, the mint began issuing an annual gold bullion coin bearing a slightly modified version of Fraser's design. This .9999 fine gold coin (in other words, 99.99% pure gold) is known as the American Gold Buffalo, or sometimes simply the Gold Buffalo. Each of these bullion coins contains a full one troy ounce of gold content by weight.
Of course, the Silver Buffalo round also capitalizes upon the distinctly American symbolism of Fraser's art.
All of these more recent homages to the original Buffalo nickel speak to the resurgent popularity of the design. In each case, the modernized versions of both the Native American portrait and the buffalo image are used.
It's worth pointing out that difficulties with the dies used to strike the original Buffalo nickel led to a number of problems in minting the coin. Even worse, the array of solutions that were implemented to try and fix these problems often proved ineffective -- or even backfired.
For instance, mint employees attempted to adjust various design elements in order to make the features of the coin more durable. The denomination on the reverse design, the relief of the cheek of the Native American, and especially the numbers of the date all showed a tendency to wear away too easily.
This posed a problem aside from merely aesthetics or artistic integrity: If certain parts of the coin design routinely wore away, it would make the denomination more attractive to counterfeiting operations or leave it susceptible to other types of fraud.
Buy Silver Buffalo Rounds at Gainesville Coins
This extremely popular privately minted 1 oz silver round brings back the famous "Buffalo Nickel" design of James Earle Fraser, the famous sculptor and designer. The front carries the American Indian profile of the 1913 original, while the reverse shows the American Bison known as "Black Diamond." This 99.9% pure low premium silver one ounce round changes the back of the original design, replacing the denomination with "One Troy Ounce" and "999 Fine Silver".
The "Buffalo Design" 1 troy oz silver round is a best seller at Gainesville Coins. Many silver buyers use the tiered pricing at Gainesville Coins on these bullion items to purchase them in bulk for a low cost, easily liquidated way to stack 99.9% pure silver.
This popular low premium silver round is an excellent way to diversify your portfolio. Gainesville Coins only contracts with ISO 9001:2015-certified American mints to supply this round, for your peace of mind. This means that the silver buffalo round can be used for an IRA purchase along with the traditional buying experience.
The 1 oz Silver Buffalo round allows you to capture the essence of this classic design without paying a huge premium for a well-preserved collectible coin. Sharp examples of original Buffalo nickels are difficult to come by.
On top of that, each Silver Buffalo is struck from .999 silver, meaning it is 99.9% pure. By weight, each round contains a total of one troy ounce (31.1 grams) of pure silver.
What Are Silver Rounds? How Are Silver Rounds Different From Coins and Bars?
Silver bullion comes in a breathtaking array of different forms, from old silver coins to silver bars to a more recent innovation, silver rounds.
Despite misconceptions to the contrary, silver rounds are not the same as legal tender coins. If you feel confused about what a silver round actually is, rest assured that they are exactly what they sound like: round pieces of silver bullion. The name literally says it all.
The key difference between rounds and coins comes down to the concept of face value. A silver round is not issued by a government mint and does not carry a legal tender denomination. Instead, they are manufactured by private mints or refining facilities and are more akin to silver bars. In fact, the only difference between a silver bar and a silver round is the shape.
One thing that sets silver rounds apart from their rectangular cousins is the quality of the designs that rounds can offer. In most cases -- though not all -- silver bars bear rather unimaginative designs. The buyer's choice between different silver bars is usually limited to just two options: 1) poured silver bars, which use the Old World technique of simply pouring molten silver into a mold; or 2) minted silver bars, which are produced by machines to create a more standardized and uniform appearance.
Poured bars do have the advantages of coming in a variety of unique shapes and providing the hand-crafted feel of an independent artisan. Thus no two poured bars are ever exactly the same. Meanwhile, minted bars may have more appeal when the time comes to sell your silver on the secondary market. This would likely be due to their precise dimensions, which makes verifying authenticity easier, and their name brand pedigree, ensuring a higher degree of trust from a potential buyer.
Pros and Cons
As with any precious metal product, there are benefits and drawbacks for each different type of item, depending on what you are looking for.
This same principle of pros and cons applies to silver rounds. It's entirely up to the preferences of the person making the purchasing decision. This holds true whether you are comparing rounds to bars or considering the differences between silver rounds and silver coins.
The trade-offs can take a wide variety of forms: As just one example, silver rounds will often have more artistic freedom with their designs, making them more visually appealing in many cases, but coins (at least those that are not explicitly collectibles) will always have the advantage of stacking neatly one on top of the other.
The ability to stack conveniently is not always true of bullion rounds because of high relief or avant-garde design elements. In an instance such as this, you would have to decide whether an artistic design and aesthetic appeal is more important to you or if you are more concerned with simply maximizing how much silver you can store in a compact space. If the latter is of greater importance to a buyer, they would be better off choosing a silver coin issued by a government mint rather than a privately-minted round.
Low Premium Silver
At the same time, however, there are several reasons why someone might choose to buy a round instead of some other form of silver. Chief among these reasons is the fact that silver rounds typically carry a lower premium than coins that contain a comparable amount of precious metal.
This is especially appealing to bullion investors that are only looking to get the largest amount of silver by weight for each dollar they spend. Even if the difference is only $1 saved per coin, these savings will quickly add up over time when someone is buying hundreds of ounces of silver.
Another consideration that is in favor of silver rounds, as mentioned before, is the wide range of designs that you can find on bullion rounds. Private mints have much greater freedom when it comes to what subject matter can be used on their products. There are virtually no restrictions outside of physical limits on how much detail can be imparted onto the piece of metal.
By contrast, coin designs must be approved by a panel of experts (known as the Citizens Coin Advisory Committee) and are often planned years in advance. Moreover, laws regarding United States coinage provide a number of guidelines about how the country's coins must be designed. For instance, legal tender coins are prohibited from depicting any living people.
Another example is that there are very specific rules outlined in U.S. law regarding the weight, composition, purity, and diameter of different coin denominations. Silver rounds do not have to adhere to these rules, opening up many more possibilities for the artists and engravers that create their designs.
Accordingly, there really is an almost limitless selection of different silver round designs to choose from.
Be sure to buy your Silver Buffalo 1 oz round for competitive pricing from Gainesville Coins!
Purchase 1 oz Buffalo Silver Rounds online or over the phone today from your trusted online precious metals dealer, Gainesville Coins.
Please note: This round is not an official government issue, but still contains 1 oz of .999 Fine Silver.