Oceania Gold Coins
Showing 1 - 2 of 2 products.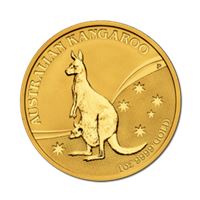 Oceania Gold Coins
Oceania refers to fourteen independent countries in the Southern Pacific, many of which are small islands or groups of islands. This region generally includes Australia, Papua New Guinea, New Zealand and the other surrounding islands. While the boundaries of Oceania may not be rigidly defined, it is typically understood as starting at the Indonesia-Papua New Guinea border, separating it from Southeast Asia. Australian gold coins make up a majority of oceanic gold coins, as australia is not only by far the largest country in the region, but is also home to some of the world's richest gold deposits.
Gold Coins from Oceania
Because much of the South Pacific is made up of tiny islands with rather small populations and rudimentary infrastructure, the coins of the individual nations are generally struck by either the Perth Mint (Australia) or the New Zealand Mint. In some cases, another major world mint will be contracted to strike the coins for a small nation such as Niue or Tokelau, which have become much more involved in the bullion coin industry in recent years.
Gold coins from Papua New Guinea and other island nations such as fiji, the solomon islands, and kiribati are popular with collectors due to the relative smaller production volumes. the limited mintages make these coins interesting pieces for serious collectors. gold coins from these island nations are usually commemorative proof coins and depict historical events, famous rulers, and indigenous wildlife. many of them, just like australia, use an effigy of her majesty queen elizabeth ii on the obverse of the coins, as many of these countries were british protectorates or commonwealths.
Australian Gold Coins
With both a remarkable precious metal refining capacity and a penchant for patronizing highly skilled artists, Australia's Perth Mint has become one of the most, if not the most, active government mints in the entire world. Founded in the wake of the Western Australian gold rush of the late 19th century, the Perth Mint produces most of the gold, silver, and platinum bullion coins that come from Australia, while the less prominent Royal Australian Mint produces all of the country's circulating clad currency.
Some of the most beloved coins from the Perth Mint feature indigenous Australian wildlife like kangaroos and koalas. Not only are these coins attractive for highlighting the distinctive Aussie wildlife, but they also feature original new reverse designs each year. This keeps the series fresh for collectors, stirring excitement for each subsequent year's new release. Additionally, the Perth Mint sells its own gold bars, many of which are .9999 fine (99.99% pure) gold.