Raw Peace Dollar About Uncirculated Common Date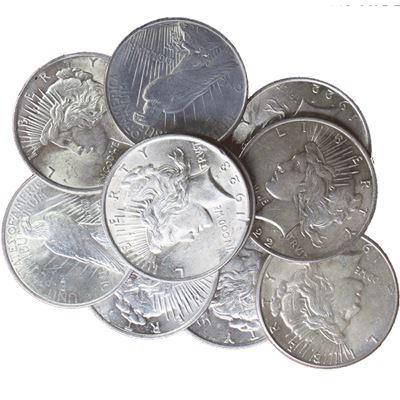 Click image for larger picture.

Shop With Confidence
Fully Insured
All packages are fully insured from our vault to your door.
Secure IRA & Storage
Safe, private, secure storage solution for your precious metals.
Get Help Buying
Have questions about a product? Contact our trading floor.
Call (813) 482-9300
Buy Raw Peace Dollar About Uncirculated Common Date
Gainesville Coins has a treat for collectors of vintage U.S. silver coins, or someone looking for a nice historical gift for their favorite silver stacker: A Common Date Peace Dollar in AU (About Uncirculated) condition! Minted between 1921 and 1935, the Peace Dollar silver coin is still one of the favorite classic U.S. coin designs. Originally struck from a high-relief pattern in late 1921, the first Peace Dollars were found to not stack easily, so most were melted back down. A low-relief version was introduced in 1922 and ran through 1935. This was the last U.S. "silver dollar" minted for circulation that was actually made from silver. Today's "silver dollars"are really base metal coins made to look silver or gold.
America, like Europe, was traumatized over the millions of deaths in the First World War. The American people believed that the end of the "War to End All Wars" meant a new era of world peace was at hand, and wanted a coin to express that sentiment. The coin, originally called a "Victory Coin" or "Peace Coin", ran into several hurdles in Congress before the Secretary of the Treasury authorized a new design, using the law that any coin design that had been used for 25 years or more could be changed at the Secretary's discretion.
The contest for the new coin design was won by Anthony de Francisci, who used his wife Mary Teresa as inspiration. Mary, who had fallen in love with the Statue of Liberty as a child when her family immigrated to the United States, called the opportunity to portray Liberty on the Peace Dollar a childhood dream come true.
Customers will receive ONE Common Date Peace Dollar, in approximately "AU" condition. The stock photo shows a variety of the coins that have been sold under this designation, and is included for illustrative purposes only. These coins are not professionally graded, but only sorted "by eye" into approximate condition classifications.
Stock photo for reference only. Customer will receive ONE random date Peace dollar.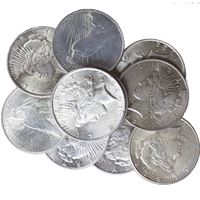 Specification
Mint Name
United States Mint
Customer Ratings & Review
out of 5 stars
Review This Product
Share your thoughts with other customers.