1 oz Royal Canadian Mint RCM Gold Bar (.9999 Pure In Assay Card)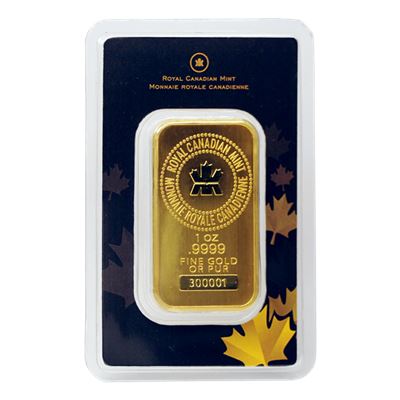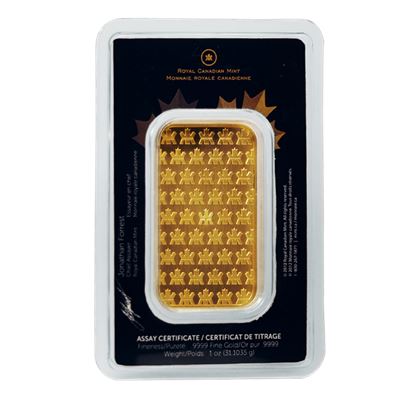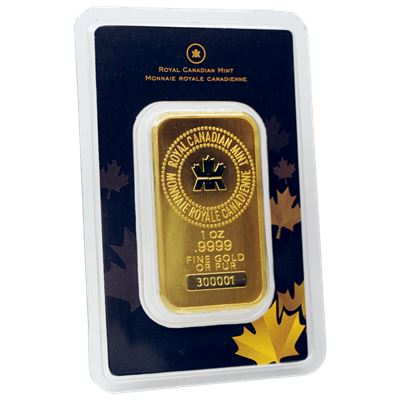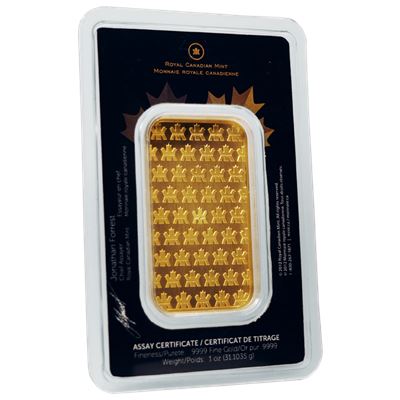 Click image for larger picture.

Shop With Confidence
100% satisfaction guarantee, safe shopping.
Fully Insured
All packages are fully insured from our vault to your door.
Secure IRA & Storage
Safe, private, secure storage solution for your precious metals.
Get Help Buying
Have questions about a product? Contact our trading floor.
Call (813) 482-9300
Buy 1 oz Royal Canadian Mint RCM Gold Bar (.9999 Pure In Assay Card)
There are only a handful of government mints around the world that issue bullion in the form of gold bars. The Royal Canadian Mint (RCM) is one of them.
For the most part, the market for small- and medium-sized gold bars, which are very popular among high-earning investors and international traders, is dominated by private refineries. Much larger bars ranging from several kilograms to 400 oz London Good Delivery bars are almost exclusively used by the big multinational banks and central banks.
With a keen eye for investor tastes, the RCM has cultivated a wide range of bullion products for its customers. Aside from its flagship bullion coin programs and its minted bars, several of its collectible gold and silver coins have won awards for their eye-catching and oftentimes innovative designs. Its commitment to quality is exceeded only by the strides the Royal Canadian Mint has made in anti-counterfeiting technology and providing secure gold and silver bullion for investors.
The RCM continues to grow its global footprint thanks to a wealth of experience and expertise in the precious metals industry.
History of the Royal Canadian Mint
The mint can trace its history back to the 19th century, when the idea of establishing a Canadian branch of the Royal Mint -- the state mint of the United Kingdom -- was first put into action.
At the time, of course, Canada was still a Dominion of the British Crown. The country didn't become a full-fledged Commonwealth until 1931 (the same year that the Ottawa Mint officially came under Canadian control), and its formal independence from Britain came in the 1960s.
In this context, the success and prominence of the Royal Canadian Mint was an important touchstone toward Canada's eventual self-determination. Moreover, the control over minting its own coins was an indispensable step in this process.
The mint was first proposed in 1890. It struck its first coins in 1908, and began refining gold three years later. Prior to 1908, all of Canada's coins were struck in Britain and shipped across the Atlantic Ocean.
In 1935, the Royal Canadian Mint struck the country's first silver dollar. One of its crowning achievements came in 1969, when it became the first in the world to produce gold bars that were .9999 fine. The Gold Maple Leaf coin was introduced ten years later in 1979.
Today, the RCM is regarded (deservedly so) as one of the premier mints in the world.
Canada's Close Association With Gold
One of the highest quality gold bullion bars on the market, this Royal Canadian Mint 1oz Gold Bar is .9999 pure and comes packaged in protective hard plastic with an Assay Certificate.
The use of .9999 fine gold, also called "extra pure," is an important aspect of these gold bars that distinguishes them from more generic products on the market.
The Royal Canadian Mint is one of the most esteemed coining and refining institutions in the world for its ingenuity and advancements in precious metals refining, and Gainesville Coins is the best place to buy 1 oz RCM Gold Bars at competitive gold prices.
These bars are offered for sale all around the world, trusted not only by investors in North America but also by traders in Dubai, Shanghai, and everywhere else in between. There is no doubt that they rank among the most trusted and highest quality gold bars available on the market.
Canada has long had a reputation for expertise in mining gold and other resources, especially in the western part of the country. This dates back to the Klondike gold rush (sometimes called the Yukon gold rush) in the last few years of the 19th century. Some of the world's largest gold mining companies are still active in Canada to this day.
Gold IRAs and Storage
Some investors aren't aware that any individual retirement account (IRA) can be converted into a self-directed IRA that can be funded using precious metals. This is sometimes called a "precious metals IRA" or simply a "gold IRA."
Thanks to their .9999 fine gold, high quality, and high degree of trust, RCM gold bars are eligible for inclusion in an IRA. Not all gold bullion is approved for inclusion.
Keep in mind that secure vault storage is required for your IRA gold, as well as for any precious metals used to fund your account. This provision eliminates the risk of someone trying to burglarize your home because you're storing precious metals.
The facility (depository) you choose for storage should be a vault that uses segregated storage rather than the more common pooled or "allocated" storage. In the latter case, assets held in the vault for different clients are co-mingled or pooled together, meaning you may not receive the exact items you originally stored when you decide to take delivery of your metals.
Liquidating your gold held in a vault or depository is also a simple process.
RCM 1 oz Gold Bar Design
Stamped with the famous the Royal Canadian Mint logo, these RCM gold bars feature a serial number, the bar's weight and purity, and the legend "FINE GOLD OR PUR" which declares its content in English and French. The edge is raised to better protect the bar's surface. A repeating pattern of the mint's logo fills the back side of the design. These gold bars come sealed in an Assay Card that is also decorated with the country's national symbol, the Maple Leaf.
Please note that the image shown is a stock photo for reference only.
Gold, historically revered as the reserve currency of the world, still continues to aid bullion buyers in safely storing their wealth in a tangible asset. Gold carries great prominence when planning for the future, as it has retained its importance since it was first discovered. For centuries, rulers combed the earth to find gold even before it carried monetary value, and the gold they found still exists today.
Gold's great value is sewn into its indestructible nature, with these 1 oz Gold Bars backed and guaranteed by the esteemed Royal Canadian Mint. Buy Royal Canadian Mint Gold Bars on Gainesville Coins' secure online shopping site.
Investing in Gold Bars
Since the global financial crisis of 2008, many investors have discovered the rationale for including gold bars, and precious metals in general, in a diversified investment portfolio.
Gold helps provide a hedge against the effects of inflation or a more dire economic calamity. Although it is often dismissed because it produces no yield or dividend like a traditional security, gold bars are instead used to provide stability for the future.
Moreover, a Royal Canadian Mint 1 oz RCM Gold Bar (With Assay) comes with the added advantage of the RCM's status as a government mint for a stable, advanced economy.
As mentioned earlier, the broader market for gold bars is for the most part dominated by big private refiners like PAMP Suisse and Credit Suisse, both of which are based in Switzerland.
The RCM was nonetheless the first minting facility in the world to achieve "five-nines" gold, meaning gold that is .99999 fine. Gold that is 99.99% or certainly 99.999% is rather soft, so it is typically sold in a protective plastic casing like these one-ounce bars.
Taken together, all of this shows that the Royal Canadian Mint is on par with any of the most prestigious precious metal refineries in the world.
Other Bullion Products from the Royal Canadian Mint
As a leading state mint, the RCM is busy churning out a wide range of other bullion items aside from its gold bars. Its minting and refining capabilities are among the best in the world, and it continues to push the envelope on the cutting edge of bullion security and other precious metals technology.
This affinity for refining starts inescapably with Canada's natural endowments. The country is home to some of the richest deposits of natural resources (like gold) found anywhere in the world.
Canadian tar sands (basically solid rocks of fossil fuel) and lumber are other key commodities for the country's economy. They are exported in considerable quantities to the United States. Manufacturing also plays an important role in Canada's trade relationship with its southern neighbor: Last year, Canada was the single-largest exporter of steel to the U.S.
Accordingly, it has always been the Royal Canadian Mint's job to use these resources that benefits its citizens -- such as providing high-quality bullion in the case of gold.
Of course, the Gold Maple Leaf and Silver Maple Leaf coins are the flagship bullion products offered by the mint. These world-renown bullion coins come in many different varieties that celebrate important events or anniversaries.
The mint has more recently introduced a host of special bullion coin series to complement the famous Maple Leaf coins. For instance, the Call of the Wild series of gold coins are struck from .99999 fine gold, known as "five-nines gold," which means it is an unbelievable 99.999% pure!
The RCM is also one of the world's top producers of special-edition and collectible coins -- some bearing very imaginative themes and requiring impressive technical capabilities, such as glow-in-the-dark coins.
In addition to handling all of Canada's domestic coinage, bullion and otherwise, the RCM also strikes coins for dozens of smaller countries around the world that don't have their own national mint.
Why Should Investors Buy Gold Bars?
A traditional investment portfolio is typically made up of some combination of equities (stocks) and bonds, depending on the level of risk someone is comfortable with.
However, there is always risk involved in investing -- and this potential for loss is especially true of paper assets. Even if a bond is considered a safe place to put your money, it is still not intrinsically valuable. Moreover, it relies on a counterparty to pay you the amount agreed upon.
The same problem of counterparty risk is true of cash, which is either in the form of worthless paper or digital numbers on a screen.
This is why gold has traditionally been used by investors as a store of value, a hedge against inflation, and ultimately a vehicle for long-term wealth preservation. Physical gold is tangible and intrinsically valuable and therefore not subject to the whims or shifting financial fortunes of any company, bank, or government.
Gold bars are also cost-effective, carrying a very low premium over the spot price of gold compared to collectible precious metal items. To top it off, the RCM's gold bars are recognized all over the world, which makes them highly liquid.
Rather than being a speculative instrument, gold is an investment in preserving one's wealth into the future.
Buying Gold Online at Gainesville Coins
Thanks to a decade of experience with selling gold and silver online, GC is among the most trusted online precious metals dealers in the world. We buy from and sell to customers located all around the world and we have intimate experience with both the web-based platform and the traditional brick-and-mortar coin business on the wholesale and retail side of the industry.
Gainesville Coins has done literally billions of dollars in gold and silver bought and sold over the years. This high volume allows us to offer competitive pricing on all of our bullion as well as numismatic items. Also, our bid and ask prices on our bullion products are always transparent so that there's no secret about what we charge and how much we pay you for your metals. Our traders and customer service representatives never engage in high-pressure sales tactics and nobody at our company works for commission.
Our goal is simply to help you find the right precious metal item for your investment portfolio or numismatic collection!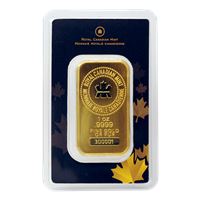 Specification
Actual Metal Weight
1 ozt
Mint Name
Royal Canadian Mint
Customer Ratings & Review
4.8 out of 5 stars
Review This Product
Share your thoughts with other customers.
Showing 5 reviews.
Nitedawg
Monday, March 31, 2014
This is a gorgeous gold bar! Packaging is very professional. I stopped buying PAMP and started buying these. Hey, gold is gold. For a little less money I can have a more beautiful bar and I feel that it is better-packaged.
7
of
7
people found this helpful
Jeremiah
Friday, December 20, 2013
I had never bought a bar from the Canadian Mint before, but I was not disappointed. I would recommend it.
7
of
7
people found this helpful
Scotch
Friday, September 6, 2013
Gold is an excellent way to hedge your other investment. I purchased this bar, usually I go for PAMP bar but I couldn't be more happy with Canadian Mint RCM Gold bar. It's an excellent bar with perfect packing. Pictures on website does not do any justice, bar is very attractive in reality. Clarity is excellent, prints are excellent, packaging is excellent. Over all 5 star for this bar. Don't forget it's backed by RCM which is a huge plus. If you are thinking about purchasing a bar I would highly recommend Royal Canadian Mint Gold Bar.
6
of
6
people found this helpful
Dan McGuire
Friday, May 31, 2013
Very low-premium way to buy gold. Only drawback compared to coins is that they take up a lot of room in your safe-deposit box. Attractive packaging. The lighting of this photograph makes the maple leaf look like a dark color, but the entire bar is gold.
16
of
17
people found this helpful
Farooq
Monday, November 12, 2012
Got these bars for their low price. Gold is Gold! No expensive coins for me. Backed by the RCM, you cannot go wrong on these.
28
of
28
people found this helpful