Lamb of God 1 oz Silver Round (.999 Pure) - Mason Mint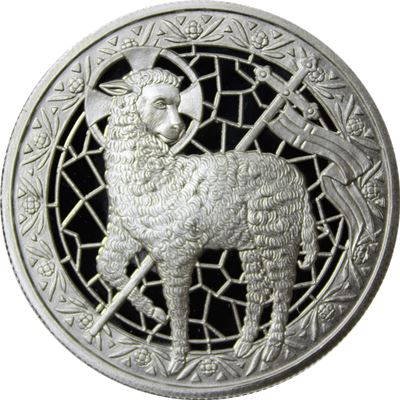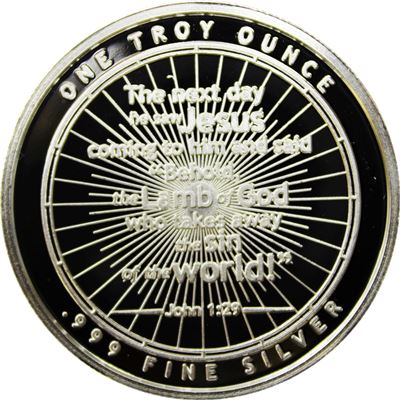 Click image for larger picture.
As low as
*Price changes every 5 seconds. The price added to cart will reflect the current spot price. Discount is calculated savings compared to credit card pricing for one unit quantity.
$25.16
As low as $1.79 over spot!
| Qty | Check / Bank Wire | Credit Card |
| --- | --- | --- |
| 1+ | $25.16 | $26.04 |

Shop With Confidence
Fully Insured
All packages are fully insured from our vault to your door.
Secure IRA & Storage
Safe, private, secure storage solution for your precious metals.
Get Help Buying
Have questions about a product? Contact our trading floor.
Call (813) 482-9300
Buy Lamb of God 1 oz Silver Round (.999 Pure) - Mason Mint
You can commemorate your faith and commitment to Christianity in .999 fine silver with the Lamb of God 1 oz Silver Round! This proof quality silver round bears an intricate and artistically arranged design in addition to its beautiful proof-like finish. Each round, struck from 99.9% pure silver, contains a total metal weight of 1 troy ounce of pure silver.
On the front side, a lamb is shown in remarkable detail along with a great deal of traditional Christian iconography. A halo hangs above the lamb's head, while it wields a cross with one of its front legs. A flag with a cross hangs from the cross itself. A stained-glass-style pattern fills the background, and a repeating floral design runs along the entirety of the outer rim.
The back side features an inscription of the Biblical verse John 1:29. Overlaid on the image of a radiant sun, it reads, "The next day he saw Jesus coming to him and said 'Behold, the Lamb of God who takes away the sin of the world!' " In an outer ring that encircles the design, the weight "ONE TROY OUNCE" runs along the top rim while the purity ".999 FINE SILVER" is placed along the bottom rim.
Both sides of the coin use a proof-like finish, meaning the raised devices are frosted to stand out against a mirror-like background. If you're interested in buying .999 fine silver bullion but would also like to celebrate your faith in Christ, look no further than this Lamb of God 1 oz Silver Round available at Gainesville Coins!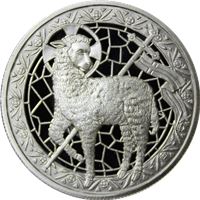 Specification
Actual Metal Weight
1 ozt
Customer Ratings & Review
4.5 out of 5 stars
Review This Product
Share your thoughts with other customers.
Showing 4 reviews.
RP
Friday, November 10, 2017
Beautiful round with amazing artwork. Hard to believe you can have such a fine silver round at this price.
3
of
3
people found this helpful
PeterZarcone
Monday, February 15, 2016
Almost anything you can get in the way of Gold or Silver rounds, either has a pagan, mythical god or the Evil Queen of the world stamped on it. I am sorry but I don't want her face stamped on my coins. Too bad, because Canada has lots of beautiful coins but then we have to see the Queen on the other side to ruin the coin. The Scripture says " Hag 2:8 The silver is mine, and the gold is mine, saith the LORD of hosts. ". Great job making a few coins that glorify the Lord of Glory. I would love to see a few in Gold. The reason Gold and Silver have value is because God put the value on it. In Genesis 2:12 before the fall of man God speaks of the Gold of that land is good. Gold and Silver have always been money in every civilization through out all of history.
3
of
3
people found this helpful
leia
Tuesday, December 22, 2015
Nice addition to the religious themed round selection. And the price was great. Order of 20 arrived in a white plastic tube.
4
of
4
people found this helpful
Trebord
Monday, December 7, 2015
For someone who wants to invest in rounds and prefers something that either isn't stamped "COPY" or doesn't have mythological gods on it, this is a nice faith-based option. It's similar to the Ichthus round and has a John 1:29 inscribed. The photo appears to show a black enamel-like background. However, the actual round is silver with no coloration, tone, etc. The lamb's face and feet are not the best artwork. All-in-all, consider it a nice 1 ounce option.
6
of
6
people found this helpful