2022 1 oz American Silver Eagle Coin - BU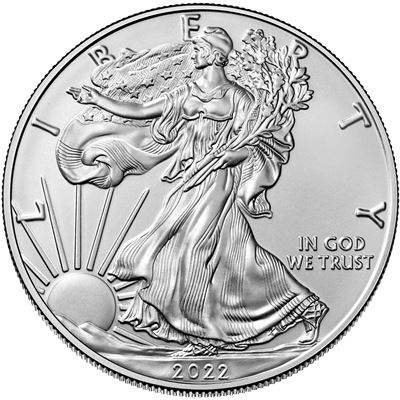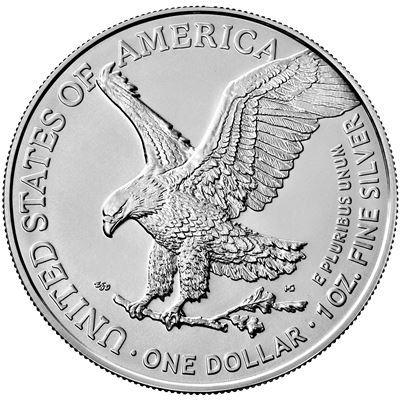 Click image for larger picture.

Product Highlight:
99.9% pure silver
Official U.S silver bullion coin
United States Mint product
Popular worldwide
Shop With Confidence
Fully Insured
All packages are fully insured from our vault to your door.
Secure IRA & Storage
Safe, private, secure storage solution for your precious metals.
Get Help Buying
Have questions about a product? Contact our trading floor.
Call (813) 482-9300
Buy 2022 1 oz American Silver Eagle Coin - BU
The 2022 1 oz American Silver Eagle Coin - Brilliant Uncirculated is back for the new year! Add this wildly popular choice United States Mint silver coin to your collection or investment portfolio with the best prices from Gainesville Coins. We are proud to be an Authorized Distributor for this iconic silver bullion coin as well as Gold American Eagles.
Product Details
Contains 1 troy ounce (1 troy oz) of pure silver
Struck from .999 fine silver
United States legal tender
New Bald Eagle design
Face value of 1 Dollar USD
Backed by full faith & credit of U.S. government
Adolph Weinman's "Walking Liberty" design on obverse
Brilliant Uncirculated (BU)
Eligible for inclusion in precious metals IRA
Available in individual plastic flips, rolls of 20 coins, and Silver Eagle monster boxes of 500 coins
American Silver Eagle Design and Coin Highlights
Every coin can be thought of as a canvas for a work of art. This is certainly true with the Silver Eagle. Its beautiful design was created by A.A. Weinman, first minted in 1916 and originally used for the half dollar. It was officially known as the Walking Liberty half dollar and is a gem of American coinage. Today, this iconic coin design is synonymous with the American Silver Eagle. It remains one of the most popular designs on a coin ever.
The obverse design shows Lady Liberty draped in the American flag as she carries an oak branch and laurel in her left arm. The rising sun can be seen over the horizon, symbolizing the dawn of a new day. Miss Liberty has her other arm outstretched as the dress billows over her shoulder. The edge uses a reeded pattern. In terms of diameter, the coin measures 40.6 mm across. It is 2.98 mm in thickness.
A new reverse design (Type 2) was introduced to the Silver Eagle series for the first year in 2021. It was designed by artist Emily Damstra and sculpted by Michael Gaudioso to celebrate the 35th anniversary of the coin's release. The reverse of the coin depicts an eagle in mid-flight. Its wings are spread as it carries an olive branch in its talons. The legal tender face value of "ONE DOLLAR" and fine silver weight of the coin are inscribed along the bottom rim. You will also find an inscription for the motto "E PLURIBUS UNUM."
The previous reverse design (Type 1) had appeared on the Silver Eagle since 1986 when the coin was first released, thanks to the Liberty Coin Act of 1985. The Type 1 reverse features an American bald eagle, shown in a heraldic eagle pose. It was designed by American sculptor John Mercanti, who also became Chief Engraver of the United States Mint. The coins are produced at the Philadelphia Mint, San Francisco Mint, and West Point Mint. However, they generally will not have a mint mark.
Reverse Proof and proof versions of the Silver Eagle are sold directly to collectors by the U.S. Mint. The bullion version is only available through Authorized Distributors. These are sold based on their intrinsic value of one ounce of silver, including a premium over the silver spot price. Proof Silver Eagles and other collectible versions such as Uncirculated Silver Eagles and Burnished Silver Eagles may bear a W mint mark. These collector's coins come at a significant premium above silver prices.
The Walking Liberty motif on the American Silver Eagle is beloved by many coin collectors all around the world. It stands as a collector favorite even more than 100 years after its creation. This undeniable artistic beauty is combined with the coin's trusted pedigree as the official silver bullion coin of the U.S. Its silver content is backed by the full faith and credit of the United States government. For these reasons, the Silver Eagle is the most popular modern silver coin on the planet.
When you're trying to find the best place to buy American Silver Eagle coins online, Gainesville Coins will consistently offer low prices compared to our competitors! For the least expensive options, you may also consider shopping our selection of silver bars and silver rounds.
Buy Gold and Silver Bullion Coins Online Fast, Easy, and Securely With Gainesville Coins
Gainesville Coins is your trusted source for purchasing precious metals at the lowest prices. Orders can be placed online 24/7 or by calling us Monday - Friday at (813) 482-9300 from 9am until 6pm EST. Please contact us with any questions.
We accept many different forms of payment including Visa, MasterCard, Discover, American Express, personal & business checks, money orders, cashier's checks, and bank wires.
All of our shipments are sent discreetly with fully insured shipping until the time of delivery.
Gainesville Coins customers enjoy no minimum orders, no cold calls and no commission sales people.
There is no need to worry about the price of gold and silver moving as your prices are locked in at the time of your order. Shop confidently for gold bullion (gold coins and gold bars) once you lock in gold prices.
With over $10 billion dollars in trusted transactions since 2006, Gainesville Coins is one of the most trusted gold and silver bullion dealers worldwide. We ship internationally to over 40 countries. We also work with the third-party grading services, Numismatic Guaranty Corporation (NGC) and Professional Coin Grading Service (PCGS).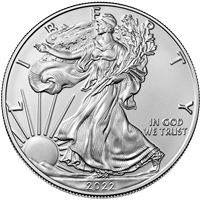 Specification
Actual Metal Weight
1 ozt
Mint Name
United States Mint
Customer Ratings & Review
5 out of 5 stars
Review This Product
Share your thoughts with other customers.
Showing 2 reviews.
Tia
Wednesday, April 27, 2022
Thanks for making this an easy 1st time buying experience
0
of
0
people found this helpful
Phil
Tuesday, January 25, 2022
Great coin from a trustworthy company! I'm very happy with my purchase.
0
of
0
people found this helpful