90% Junk Silver Coins - $1 Face Value (coins may consist of quarters, halves or dimes)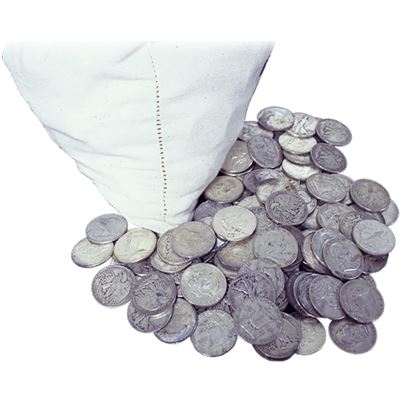 Click image for larger picture.
As low as
*Price changes every 5 seconds. The price added to cart will reflect the current spot price. Discount is calculated savings compared to credit card pricing for one unit quantity.
$26.28
| Qty | Check / Bank Wire | Credit Card |
| --- | --- | --- |
| 1+ | $26.28 | $27.20 |

Product Highlight:
90% silver coins
$1 face value per bag
Minted in 1964 or earlier
Shop With Confidence
100% satisfaction guarantee, safe shopping.
Fully Insured
All packages are fully insured from our vault to your door.
Secure IRA & Storage
Safe, private, secure storage solution for your precious metals.
Get Help Buying
Have questions about a product? Contact our trading floor.
Call (813) 482-9300
Buy 90% Junk Silver Coins - $1 Face Value (coins may consist of quarters, halves or dimes)
Gainesville Coins has no minimum purchase level for orders of any type. We are one of the few online bullion distributors who will sell you as little as $1 face value junk silver. We recognize that not everyone can buy junk silver in $100 or $1,000 face value bags (though we sell those too.) Make Gainesville Coins your go-to source to buy pre-1965 90% silver coins.
Product Details
Coins struck from 90% pure silver (.900 fine silver)
Circulated coins sometimes called "junk silver"
.715 troy ounce of silver per $1 face value
Mix of dimes, quarters, half dollars
All coins minted 1964 or earlier
Each bag contains $1 face value of silver coins
Can be purchased in multiples
Great way to get exposure to physical silver cheaply
Buy Gold and Silver Bullion Coins Online Fast, Easy, and Securely With Gainesville Coins
Gainesville Coins is your trusted source for purchasing precious metals at the lowest prices. Orders can be placed online 24/7 or by calling us Monday - Friday at (813) 482-9300 from 9am until 6pm EST.
We accept many different forms of payment including Visa, MasterCard, Discover, American Express, personal & business checks, money orders, cashier's checks, and bank wires.
All of our shipments are sent discreetly with fully insured shipping until the time of delivery.
Gainesville Coins customers enjoy no minimum orders, no cold calls and no commission sales people.
There is no need to worry about the price of gold and silver moving as your prices are locked in at the time of your order.
With over $10 billion dollars in trusted transactions since 2006, Gainesville Coins is one of the most trusted gold and silver bullion dealers worldwide.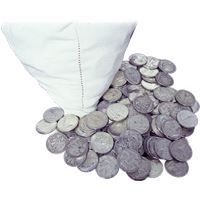 Specification
Actual Metal Weight
0.715 ozt
Mint Name
United States Mint
Additional Info
$1 Face Value: coins may consist of quarters, halves or dimes.
Customer Ratings & Review
4.6 out of 5 stars
Review This Product
Share your thoughts with other customers.
Showing 8 reviews.
Jaclyn
Wednesday, January 17, 2018
I had no idea our coins used to contain silver until I started investing. I wish I would have paid closer attention to my change!
2
of
4
people found this helpful
MarkL
Great buy, great service!
Thursday, July 7, 2016
Received mine today. All dimes, but that's what I was sort of hoping for, so it worked out perfectly! Breakdown was (out of 100 dimes, in the $10FV order I placed) 31 of 1964, 11 of 1946 (surprised me, a little!), and a fairly even representation of every year in between, except 1949 (as Maxwell Smart would have said, "Missed it by THAT much!" LOL). The folks at GC even went the extra mile, and shipped quicker than expected, to make sure I'd get my coins before I went on vacation. That's the sort of AWESOME customer service that will keep me interested in being a repeat customer!
5
of
6
people found this helpful
SBS
$40 face, all Quarters, PERFECT!!
Monday, May 11, 2015
Was very happy to see that I received 160 quarters. Only 2 were "cull" and both were Standing Liberty. 1964 was highly represented quantity wise, but the quarters went back into the 1930's. The order was received in a tamper resistant bag, but my curiosity got the best of me and I had to open it and look. VERY satisfied and will definitely order more.
5
of
6
people found this helpful
ar33921
Friday, August 1, 2014
my order of $100 came in a tamper-proof security bag with a printed batch report i thought that was perfect i will probably leave them in there for safe keeping.
8
of
9
people found this helpful
Moman
Thursday, January 23, 2014
I got $5 all quarters, as expected. If I want dimes I'll buy dimes. If I want 50 cent pieces or silver dollars I'll buy those too. Some of the oldest ones (2) had no date, but that's OK. Some of the other older ones from the 40's looked great! I will buy again. So much fun filling up a big jar with silver coins. And some people call it "junk silver".....Ha.
10
of
12
people found this helpful
DadandSon
Friday, July 19, 2013
my first order arrived yesterday. I am going to use it to help my son on his coin Collecting merit Badge. All quarters ranging from 1935 (in about Good / Good condition) through a full dozen from 1964 (6 of which look to be in About Uncirculated condition). Probably about 15 dates with a nice selection of mints overall. Should be a nice project for us. will definitely order again.
12
of
15
people found this helpful
Secret Squirrel
Tuesday, February 5, 2013
Received my order in a timely manner, and the product was excellent. It was my first order from GC and I will definitely be ordering again. I ordered $4.00 and it was all quarters. Almost half of the order looked like they were in BU condition - I was amazed! Highly recommended.
18
of
20
people found this helpful
John003
Monday, February 27, 2012
The orders are always correct but I never get any dimes only quarters. I have order near 30 dollars to date.
24
of
29
people found this helpful