1 oz American Silver Eagle (Random Year)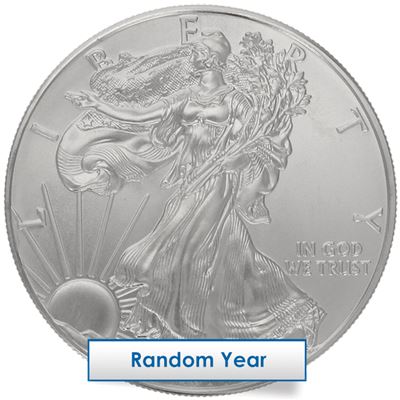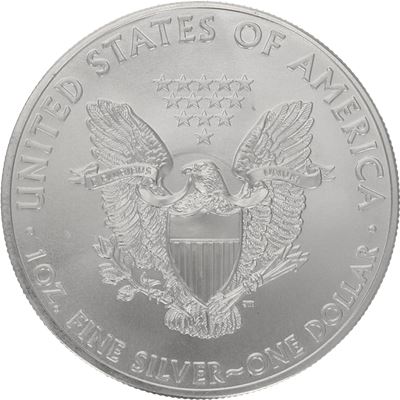 Click image for larger picture.
As low as
*Price changes every 5 seconds. The price added to cart will reflect the current spot price. Discount is calculated savings compared to credit card pricing for one unit quantity.
$30.39
As low as $5.50 over spot!
| Qty | Check / Bank Wire | Credit Card |
| --- | --- | --- |
| 1+ | $30.39 | $31.45 |

Product Highlight:
America's Official Silver Bullion Coin
Most Popular Silver Bullion Coin in the World
More Than a Half-Billion Silver Eagles Sold Since 1986
Shop With Confidence
100% satisfaction guarantee, safe shopping.
Fully Insured
All packages are fully insured from our vault to your door.
Secure IRA & Storage
Safe, private, secure storage solution for your precious metals.
Get Help Buying
Have questions about a product? Contact our trading floor.
Call (813) 482-9300
Buy 1 oz American Silver Eagle (Random Year)
Limited supply, high demand and a low premium over the spot silver price make 1oz American Silver Eagles minted prior to 2014 extremely sought-after. While the coin is released each year, inventory is quickly depleted, making previous years difficult to acquire. Gainesville Coins has finite inventory of these popular coins, so buy while supplies last!
The American Silver Eagle is a one dollar legal tender coin considered by many to be the most attractive, it is without a doubt the most widely traded silver bullion coin worldwide. It contains one troy ounce of 99.9% pure silver, minted from the finest quality blanks. As the official silver bullion coin of the United States, Silver Eagles are guaranteed for weight and purity by the U.S. government.
The obverse of the the U.S. Mint American Silver Eagle features the "Walking Liberty" design created by Adolph A. Weinman. The design was first used on the Walking Liberty Half Dollar, minted between 1916 and 1947. The reverse portrays an eagle grasping an olive branch and arrows, and 13 stars representing the original 13 colonies.
When looking to sell silver, please visit our Sell To Us page for up to the minute buy prices.
*Photos are for reference only. Dates based on availability in inventory only.
Call or order online 24/7 to purchase 1 oz American Silver Eagles from Gainesville Coins today.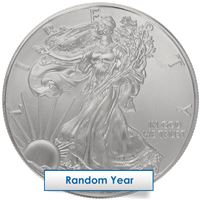 Specification
Actual Metal Weight
1 ozt
Mint Name
United States Mint
Obverse Designer
A.A. Weinman
Reverse Designer
John Mercanti
Additional Info
Orders of 20 coins are packaged in tubes.
Customer Ratings & Review
4.8 out of 5 stars
Review This Product
Share your thoughts with other customers.
Showing 13 reviews.
Sullivan
Monday, January 15, 2018
even though these are older dates the condition on these is great and the price was nice as well!
4
of
4
people found this helpful
KHR
Friday, November 3, 2017
Ordered 22 20 2014, & 2 2013, All Great Condition.
3
of
3
people found this helpful
Samson
Thursday, June 16, 2016
I purchased 40 of these on my last order and they're were all 2010 in near perfect condition. I'd definitely go this route again.
4
of
4
people found this helpful
Robert Bob
Saturday, September 26, 2015
My first time using Gainesville Coins. Very good experience ! Highly recommend them ! Coins came in a two sided plastic pocket type coin holder for two coins. The coins are random year but beautiful, sharp, no visible defects, blemishes, etc. Will continue to order from them. Love the "price alert" function as well !
5
of
5
people found this helpful
GotaCohiba
Wednesday, January 7, 2015
Just received my order in 2 days, great price, awesome eagles. I received 1 2014, 19 2013 ' s and the remainder were 2012 in perfect condition.
5
of
5
people found this helpful
John56
Thursday, November 6, 2014
The quality on these coins was much higher than previous reviews led me to expect. Just received the second order and, so far, all of the coins have been in mint perfect condition. The lower cost over spot on these coins compared to the current year coins make them a great investment.
6
of
6
people found this helpful
Manny
Wednesday, January 8, 2014
These arrived pretty quickly and were in decent shape. I got mostly older issues from the 90s. Kind of wish I'd gotten some newer ones, but that's what I get for ordering random dates. Overall I'm satisfied with my purchase.
14
of
15
people found this helpful
Austin
Tuesday, December 31, 2013
These random date silver eagles are great buy if you're looking for a lot of silver content, and don't necessarily care if the coin is in great condition. For the most part the ones I received were in decent shape, with a few imperfections here and there. I've ordered many of my coins from Gainesville and I've never been displeased with their service. If you're unfamiliar with them and on the fence about it, I would say go for it. If you don't wnt to take my word for it, just do a quick research and you will see that they are a trustworthy dealer.
16
of
16
people found this helpful
nation27
Wednesday, November 20, 2013
Received mostly new year coins but they were in absolutely great shape. Very minor dings/scrapes. Very beautiful coins and definitely worth the buy. You will not find a better deal or better quality on any other site. Great for investing in silver.
11
of
12
people found this helpful
PM
Monday, November 18, 2013
What a awesome experience with my purchase. The silver eagles are in perfect condition and the delivery was super quick. Great Job,
12
of
12
people found this helpful
Darin
Friday, November 1, 2013
If you are buying eagles as an investment, this is the best way to do it! They are cheaper per unit than a box of 500 "new" ones. Gainesville also has great service and i plan on purchasing more from them
11
of
12
people found this helpful
Matt
Wednesday, June 26, 2013
The coins arrived at my doorstep well-packaged about 5 days after I placed my order. The dates I recieved were a decent range; the oldest was from 1993, and the newest, 2012. For the price, I was very pleased with my purchase, and will buy more as they become available.
19
of
19
people found this helpful
Bullionbuyer
Wednesday, April 17, 2013
These "random date" coins were in wonderful shape, much better than I thought they would be. Great price and a great coin! Gainesville Coins delivery has been perfect every time.
22
of
24
people found this helpful