Silver Commemoratives
Showing 1 - 2 of 2 products.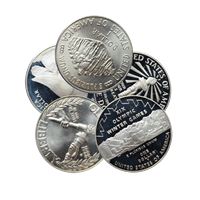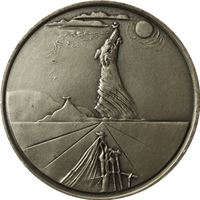 Silver Commemoratives
The U.S. Mint's commemorative coin program has been rather popular over its long and diverse history. It has featured coins that pay homage to various events, inventions, achievements, and people throughout history, often on important anniversaries thereof.
The commemorative program can be broken into two major periods, the Classic Commemoratives and the Modern Commemoratives. Numismatists and historians of American numismatics use these designations to distinguish between the two eras of U.S. commemorative coins, demarcated by the long gap between the original and the contemporary series.
Classic U.S. Commemorative Coins (1892-1954)
These coins were minted between 1892 and 1954. The first coin issued as part of the U.S. Mint's commemorative series was in anticipation of the the World's Columbian Exposition, a large-scale expo and celebration of global culture and innovation held in Chicago in 1893. The Columbian half dollar commemorating the event also marked 1892 as the 400th anniversary of when Christopher Columbus' fleet set sail for the New World from Spain. U.S. Mint Chief Engraver Charles E. Barber created the obverse, showing a right-facing profile of Columbus, while his Assistant Engraver (and eventual successor), George T. Morgan, designed the reverse. These Columbian silver half dollars were minted in 1892 and 1893, and were followed by a commemorative quarter for the same event, the isabella quarter, memorializing the Spanish queen as well as the laborious work typically expected of women at the time.
Modern U.S. Commemorative Coins (1982-present)
The Mint's second iteration of its commemorative program kicked off with a coin honoring the semiquincentennial (250th anniversary) of President George Washington's birthday in 1982. The long period of non-production (28 years) between the end of the original commemorative program and the advent of the modern version helped stimulate renewed collector interest in commemorative the second time around. Moreover, the modern commemorative coin program has tended to expand its range of subject matter to cover a broader sphere of topics and events than its predecessors.
This coin program is ongoing, with new commemorative coins released by the U.S. Mint each year. By and large, the Mint will produce two versions of each commemorative coin: a proof version with mirrored fields and frosted raised devices, and a brilliant uncirculated version with a normal finish. The proofs tend to sell in greater quantities due to their special finish and eye appeal, while the uncirculated issues usually end up with lower mintages. In some cases, commemorative gold coins (sometimes bearing a different design altogether) recognizing the same topic are included in the year's offerings.