90% Silver Coins - $100 Face Value (coins may consist of quarters, dimes, or halves)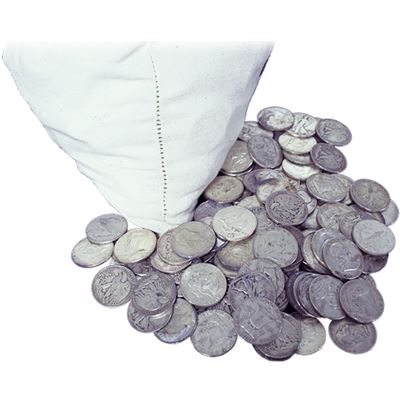 Click image for larger picture.
As low as
*Price changes every 5 seconds. The price added to cart will reflect the current spot price. Discount is calculated savings compared to credit card pricing for one unit quantity.
$2,059.92
As low as $6.00 per oz over spot!
| Qty | Check / Bank Wire | Credit Card |
| --- | --- | --- |
| 1+ | $2,059.92 | $2,132.01 |

Product Highlight:
90% Silver Coins - US Legal Tender
$100 Total Face Value
Buy In Bulk And Save!
Random Denominations and Designs
Shop With Confidence
100% satisfaction guarantee, safe shopping.
Fully Insured
All packages are fully insured from our vault to your door.
Secure IRA & Storage
Safe, private, secure storage solution for your precious metals.
Get Help Buying
Have questions about a product? Contact our trading floor.
Call (813) 482-9300
Buy 90% Silver Coins - $100 Face Value (coins may consist of quarters, dimes, or halves)
Add classic U.S. silver coins to your investment portfolio or silver stack with this Bag of 90% Silver Coins $100 Face Value (Quarters, Dimes, Halves) at Gainesville Coins. We strive to offer the lowest possible premium over spot for all of our "junk silver" coins. You can choose to order online or make your purchase in person at our luxury showroom. Gainesville Coins accepts several different payment methods including bank wire, credit card, check, and cryptocurrencies.
Stock photo is for reference only. Dates and condition are chosen randomly from available inventory.
Product Details
$100 face value worth of silver coins
Can be mix of dimes, quarters, and half dollars
All coins minted 1964 or earlier
.900 fine silver coins
Often referred to as "junk silver"
Extremely low premium silver
Great way to stack silver bullion
.715 troy ounce of silver content per $1 face value
Buy Gold and Silver Bullion Coins Online Fast, Easy, and Securely With Gainesville Coins
Gainesville Coins is your trusted source for purchasing precious metals at the lowest prices. Orders can be placed online 24/7 or by calling us Monday - Friday at (813) 482-9300 from 9am until 6pm EST.
We accept many different forms of payment including Visa, MasterCard, Discover, American Express, personal & business checks, money orders, cashier's checks, and bank wires.
All of our shipments are sent discreetly with fully insured shipping until the time of delivery.
Gainesville Coins customers enjoy no minimum orders, no cold calls and no commission sales people.
There is no need to worry about the price of gold and silver moving as your prices are locked in at the time of your order.
With over $10 billion dollars in trusted transactions since 2006, Gainesville Coins is one of the most trusted gold and silver bullion dealers worldwide.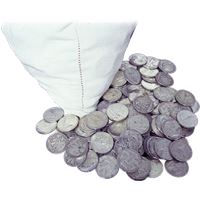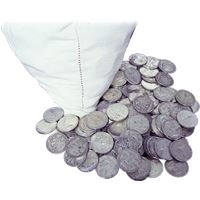 Specification
Mint Name
United States Mint
Customer Ratings & Review
4.7 out of 5 stars
Review This Product
Share your thoughts with other customers.
Showing 7 reviews.
dmt
Saturday, August 12, 2017
I ordered twice, once in July and again in August. The first time I got all dimes, a mix of Roosevelts and Mercuries (no Barbers). The Roosevelts were in mostly very good condition, some of the Mercuries were very worn but I was happy with it enough to order again. The second time I got all half dollars, consisting of 50 '64 Kennedys in very good condition, 52 1950's Franklins in mostly very good condition, 27 1960's Franklins and 2 1949 Franklins in good condition, and the rest (69) Walking Liberty coins in varying conditions, a few worn to the point that the date is unreadable. But you've got to expect a few of those. One of the Walking Libertys appears to be in near mint condition as well (as did a couple of my Mercury dimes). I'm quite satisfied.
2
of
2
people found this helpful
whynotbliss
Thursday, December 10, 2015
I ordered these to boost my 'pocket silver'. I received a bag of 'all halves' 67.50 64 Kennedy, 27.00 Franklins, 5.50 Walkers. Only one roughed up walker and one dinged Franklin, far less than expected.
3
of
3
people found this helpful
Robert from Indiana
Wednesday, April 8, 2015
I ordered two $100 Face Value coins on 3-14-15. I received 2000 silver dimes that consisted of 9 Barber, 387 Mercury and the balance were Roosevelt. The mercury dimes included 53 in the teens, 86 in the twenties, 92 in the thirties and 156 in the forties. The Roosevelt dimes were all pre 1964 except one 1996 silver proof. All dates were readable and several dimes were BU including some of the Mercuries in the 40's. I even had a 1919 in EF. I have ordered before and will order again.
4
of
4
people found this helpful
SilverSaver
Thursday, March 27, 2014
I received 1000 dimes, which I didn't mind at all. Many were older dimes including one very nice 1854 Seated Liberty O. Finding that coin in the lot was such a pleasant surprise! Thank you GC!
10
of
11
people found this helpful
Red Ranger
Monday, March 25, 2013
Mine was all dimes as well. I ordered two bags, and counted out all 2000 coins to verify. Good job, GC. Would have enjoyed some variety as well, but my money went towards the metal itself, which was delivered as promised, on time, in full, at a better price than I could find anywhere else. To make things a little more fun, I did find one dime dated 1891 in my bags, MUCH older than any of my others by at least a decade and a half. I did not even recognize that coin's design. Very cool. 5 stars
20
of
20
people found this helpful
Vicky
Wednesday, January 30, 2013
I got what was promised, but they were all dimes... I was hoping for a little mox to make it more interesting.
20
of
21
people found this helpful
Lone Ranger
Wednesday, September 19, 2012
Quick shipping , Exact amount , Few very worn . All Quarters Wraped in a plastic sheet not a cloth bag .One Canada Quarter w/ 80% silver . Would buy again on next dip
29
of
30
people found this helpful