2018 American Silver Eagle Coin - Brilliant Uncirculated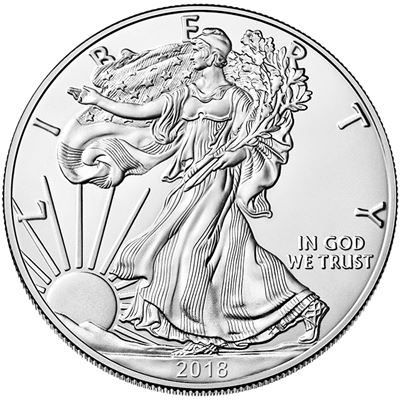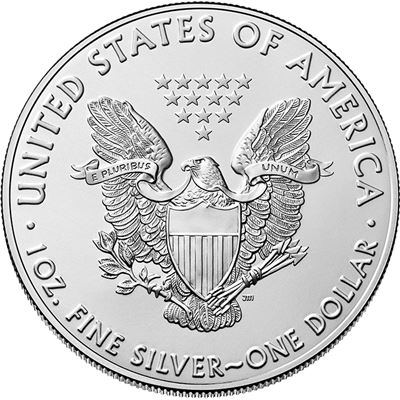 Click image for larger picture.

Shop With Confidence
Fully Insured
All packages are fully insured from our vault to your door.
Secure IRA & Storage
Safe, private, secure storage solution for your precious metals.
Get Help Buying
Have questions about a product? Contact our trading floor.
Call (813) 482-9300
Buy 2018 American Silver Eagle Coin - Brilliant Uncirculated
When you think about the most common use of silver, jewelry probably comes to mind.
However, the next-most frequently cited association is likely to be a "silver dollar." At least this is often the case in the United States.
The Modern Reincarnation of the U.S. Silver Dollar Coin
The U.S. has a long and informative history of striking silver coins of various denominations for use in everyday commerce. The silver dollar has always been the largest among them, in both size and denomination. Unfortunately, the legacy of the American silver dollar came to an end when the last 90% silver dollar coin intended for circulation was issued by the U.S. Mint in 1935.
This was the final production run for the U.S. Peace dollar, a favorite among collectors of American coins. It is noted for its beauty, striking symbolism, and fairly short life span.
The Peace dollar was preceded by the Morgan silver dollar, which is perhaps still the most frequently collected U.S. coin aside from the Lincoln cent.
Biggest on the Block
Collectors and numismatists have naturally been drawn to silver dollar coins because of their large size and prominent designs. Silver dollars, which usually measure more than 38 mm in diameter, have traditionally been the largest coin produced in the United States.
However, the only 90% silver dollars struck in the U.S. in the more than eight decades since the mint last issued Peace dollars have been commemorative coins that are not intended for circulation or regular commercial use.
This is primarily because the price of silver has increased so much over this period of more than 80 years. The amount of silver in any of these old dollar coins now far exceeds its legal tender face value of $1. The same is true of all U.S. silver coins.
Silver Eagles and the Legacy of Silver Coins in America
Each American Silver Eagle not only contains one troy ounce of pure silver content, but is also backed by the full faith and credit of the U.S. government thanks to its legal tender status.
Of course, it's worth pointing out that the coin's legal tender face value of one dollar is largely symbolic: the melt value of its silver content dwarfs its $1 denomination, as became true of earlier silver dollars periodically throughout U.S. history. Silver coins would consequently be taken from circulation, whether by the public, the banks, the state, or foreign speculators, through a process known as Gresham's Law in monetary economics.
From the emergence of the American Silver Eagle in 1986 to date, there remains an enduring historical connection between $1 American Silver Eagles and old U.S. silver coins that the status as a "silver dollar" engenders.
In some sense, the mint's current offering of bullion coins built off of the original idea behind the short-lived U.S. trade dollar. The trade dollar, which contained slightly more silver content (0.7874 troy ounce as opposed to 0.77344 troy oz) than the standard dollar coin of the time, was minted from 1873 to 1885.
The trade dollar was intended to function essentially just like its name implies: the U.S. was pursuing the general notion of a silver coin that would be more compatible with trade and commerce in overseas markets, particularly in Asia.
Little came of the trade dollar experiment. It was derailed primarily by a decline in the price of silver in the late 19th century.
The $1 Silver Eagle is by comparison quite a bit larger than its old counterparts. Each coin measures over 40 mm across. Its silver content by weight is also almost 33% greater than silver dollar coins of the past.
The same is true of its silver purity: It's much higher than U.S. coins from the 19th and 20th centuries. Rather than using the traditional fineness of 90% pure silver, Silver Eagles are struck from .999 fine silver -- meaning 99.9% pure silver.
United States Mint Introduces a Bullion Coin Program
Thanks to encouragement from the Reagan administration, Congress passed the Bullion Coin Act of 1985. This legislation authorized the U.S. Mint to begin producing silver and gold bullion coins specifically geared toward investors.
Thus, the American Silver Eagle made its debut the following year as the country's official silver bullion coin, as did its counterpart the $50 American Gold Eagle.
This same bullion coin program was expanded in 1996 to include platinum coins, which made their first appearance a year later in 1997. The United States' first-ever palladium coin emerged twenty years later.
While the modern-day Silver Eagle is also certainly used and recognized in other countries and overseas around the world, it is also extremely popular among investors in the United States.
Domestic demand makes up a large portion of the purchase orders for this regularly-issued modern silver coin. It's consistently been the world's best-selling silver coin, in total number of coins and by weight, for much of the last decade. ASE sales set annual records each successive year from 2008 through 2015 (excluding 2012).
From 2011 through 2015, yearly sales for American Silver Eagles averaged nearly 40 million coins, and topped that mark in three different years.
During its first twenty years of minting, the ASE's annual sales were in the 5 million to 10 million range.
As is true of many state-run mints around the world, current-year mintage figures for U.S. Mint bullion coins are not always released to the public promptly and must be tracked carefully from weekly and monthly reports from industry insiders. Coin production data from government mints is still a useful gauge of demand for physical silver bullion.
The mint's silver sales are often combined with Canadian Silver Maple Leaf and Mexican Libertad coin mintages to represent a large portion of silver demand in North America.
Silver Bullion Goes Global
Despite widespread competition from other silver bullion coins from around the world, the U.S. Silver Eagle is without question the most popular. Consequently, it's the most geographically widespread silver coin in the world today. This is quite an achievement: There is bustling, competitive marketplace for modern silver bullion coins that includes not just the Silver Maple and Silver Libertad, but also the Silver Panda (China); Silver Philharmonic (Austria); Silver Britannia (U.K.); the Silver Kangaroo, Silver Koala, Silver Kookaburra coin trio (Australia); and Silver Angel (Isle of Man), among other annually issued silver coins.
In fact, the only other legal tender silver bullion coins that are produced every year by the U.S. Mint are the America the Beautiful silver coins, sometimes just called ATBs.
ATB coins are legal tender quarters that are also issued (with the same face value and same design, only larger) in a beautifully rendered five-ounce silver bullion size. Each design depicts a different national monument, following the chronological order in which the sites received their official protected status. New designs are released at a pace of about four or five coins per year.
It is a similar idea to the earlier series of state quarters that preceded the ATBs but comes with the additional benefit of being available for purchase as a huge, three-inch coin that contains five troy ounces of pure silver. The bigger design truly does justice to the talent of the designers, artists, and engravers at the U.S. Mint.
They are struck from .999 fine silver, just like the Silver Eagle.
What Happened to 90% Silver U.S. Coins?
In the simplest terms, the U.S. government's stance on how much silver each dollar represented has been historically tenuous at best. For instance, the Coinage Act of 1873 stipulated that all silver coins were only legal tender up to $5, meaning that the mint would not freely exchange silver for dollars above this amount.
Prior to 1853, the policy in America was free coinage of silver: You could take any amount of silver to the mint and have it made into legal tender silver coins for only a nominal charge.
By rescinding these guarantees, the government was chipping away at silver's traditional role as money, choosing instead to rely on a single metal, gold, as the country's monetary standard. This issue continued to be an important political problem into the 1890s.
Over roughly the first half of the 20th century, silver prices again began to rise above the face value of 90% silver coins in the United States, meaning (per Gresham's Law) people would invariably hoard the coins or foreign speculators would have them melted down.
This removal of silver from circulating money is one glaring example of how the purchasing power of the U.S. dollar has plummeted over the past century. The same is true of every fiat currency in history.
Not surprisingly, the decoupling of currency from precious metals was swiftly followed by a wave of investors buying privately-minted silver, particularly after the 1960s.
There are also examples of people holding their personal fortunes in old silver coins. One of the most memorable is the Redfield Hoard, which was comprised of some 400,000 silver dollars! It was worth $7.6 million when it was discovered and sold in the 1970s.
The U.S. Mint finally stepped back into the silver market in the middle of the 1980s with the Silver Eagle. While these other options for buying silver certainly still exist, ASEs are a convenient and trusted way to hold a portion of one's wealth or investments in physical precious metals.
Design Details of the American Silver Eagle
The Silver Eagle uses Adolph A. Weinman's famous Walking Liberty design. It was originally created for the half dollar in 1916.
A.A. Weinman also designed the Mercury dime that was first minted the same year.
On the original half dollar, Weinman's "AW" monogram was placed on the reverse of the coin. For the ASE, it is moved to the hemline of Lady Liberty's dress on the obverse.
Obverse Design
Miss Liberty is depicted striding confidently toward the rising sun, the dawn of a new day for America, on the obverse. Her billowing dress, which is blown elegantly over her shoulder by a tailwind, is decorated like Old Glory. Liberty's arm beckons forward as she carries branches of oak and laurel in her other hand.
The legend "LIBERTY" curls across the top half of the rim, while the year of issue is found at the bottom rim beneath Lady Liberty's foot. The motto "IN GOD WE TRUST" is placed to the right.
Reverse Design
The reverse shows a heraldic eagle created by contemporary artist and engraver John Mercanti. It closely resembles the eagle from the Great Seal of the United States. The bottom rim bears inscriptions for the coin's weight, composition, and denomination: "1 OZ. FINE SILVER ~ ONE DOLLAR."
The eagle's breast is covered by an unsupported shield and the banner in its beak reads "E PLURIBUS UNUM." Arrows and olive branches are clutched in its talons. Thirteen stars hang in an inverted triangle overhead.
While tens of millions of Silver Eagles are sold every year due to the intrinsic value of their silver bullion content, the series is also popular with collectors. They often target different varieties of the ASE and coins that receive high grades from third-party grading companies.
There is more than one variety of American Silver Eagle to choose from. Still, the standard bullion version minted with a Brilliant Uncirculated (BU) finish is by far the best seller.
The different varieties or types that have been issued over the years include proofs for every year besides 2009 since minting began. Less frequently, there have been special reverse proof, burnished, and enhanced uncirculated versions issued. The mint may one day expand what kinds of Silver Eagles it offers in the future.
Shop our entire online inventory of Silver Eagles, other silver coins, and silver bullion! Buy 2018 American Silver Eagle - Brilliant Uncirculated 1 oz silver coins from Gainesville Coins for consistently competitive pricing.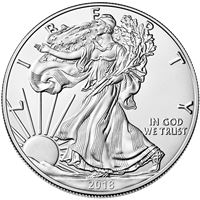 Specification
Actual Metal Weight
1 ozt
Mint Name
United States Mint
Obverse Designer
A.A. Weinman
Reverse Designer
John Mercanti
Customer Ratings & Review
5 out of 5 stars
Review This Product
Share your thoughts with other customers.
Showing 4 reviews.
Patriot
Monday, October 15, 2018
I love these coins and Gainesville Coins. You guys rock!!
0
of
0
people found this helpful
Hess
Tuesday, February 6, 2018
The staff of Gainesville Coins treated me very well with my last purchase. I had some problems getting my check mailed to them but they worked with me and I am very appreciative of this. Most of the other large bullion dealers just treat you like another customer but I feel Gainesvillle took the time to treat me right. I will always look to buy here first from now on.
0
of
0
people found this helpful
Barry R
Tuesday, January 16, 2018
pricing was still less even with shipping. just wish you would accept bitcoin!
1
of
1
people found this helpful
Mary11
Monday, January 15, 2018
best price i could find on the web
1
of
1
people found this helpful