1964 Kennedy Half Dollar Values and History

Published: August 08, 2022
Table Of Contents:
Table Of Contents:
The assassination of President John F. Kennedy on November 22, 1963, led to an outpouring of grief and shock, here and around the world. The day after his death, there was already talk of commemorating him on a circulating silver coin.
Follow this link to view a price chart for 1964 Kennedy silver half dollars
1964 Kennedy half dollar
The candidates for replacement were the Washington quarter, the Franklin half dollar, and the Peace dollar. The Peace dollar had not been minted since 1935, and millions sat unmoving in Treasury Department vaults. The President's widow, Jacqueline Kennedy, did not think it appropriate to replace George Washington with the image of her late husband, so the Franklin half dollar was chosen to be replaced.
Work on the Kennedy half dollar began less than a week after the President's death, with an eye toward starting production in January -- barely a month away. US Mint Chief Engraver Gilroy Roberts used Kennedy's Presidential Medal that he had designed for JFK's inauguration as the basis for the new coin's obverse. Assistant Engraver Frank Gasparro sculpted the reverse of the coin, based on the Seal of the President of the United States.
The designs were reviewed by Jackie Kennedy and the late President's brother Robert in mid-December, who asked for some small changes. Mrs. Kennedy thought the hair om JFK's likeness was overworked in particular.
Actually changing the Franklin half for the new Kennedy required an Act of Congress. The Treasury Secretary could change coin designs by their own authority, but only for designs that were at least 25 years old. The Franklin half had only been in production for 15 years. Congress passed the law on December 30, 1963. Dies had already been sent to the Denver Mint in anticipation of the law's passage.
1964 Kennedy Half Dollar Quick Facts
First Year of Issue
Designed in Less Than Five Weeks
Only Circulating Kennedy Half Dollar In 90% Silver
Some 1964 Halves Were Actually Struck in 1965
Mintages:

1964: 273,304,004
1964-D: 156,205,446
1964 Kennedy Half Dollar Values
With such a massive mintage, 1964 Kennedy half dollars are affordable across the board. Even though millions have been melted for their silver content, they are still quite common. That 90% silver content does lend to their prices being a bit more than 40% or copper-clad mintages, as does the fact that they are a first-year issue.
1964 Kennedy Half Dollar Values [Chart]
| Issue | VF25 | XF45 | AU55 | MS61 | MS63 | MS65 |
| --- | --- | --- | --- | --- | --- | --- |
| 1964 | $16 | $16 | $16 | $18 | $22 | $40 |
| 1964-D | $16 | $16 | $16 | $18 | $22 | $45 |
How Did They Make So Many 1964 Kennedy Halves?
More than 429 million 1964 Kennedy half dollars were struck, between the Philadelphia and Denver Mints. This is more than the total sixteen-year mintage of Franklin half dollars. How did the Mint pull this off?
The answer lies in Congress's response to the coin shortage crisis of the early 1960s. Due to rising silver prices, people were hoarding every dime, quarter, and half dollar that they could get their hands on. This was causing the economy to nearly grind to a halt.
The solution was to change the composition of silver coins to a copper-nickel cladding over a copper core. (The 1965 Kennedy half dollar would switch from a solid 90% silver alloy to a mostly silver cladding over a mostly copper core for an effective 40% silver content.)
The Mint continued to make 90% silver coins while production of clad coinage was gearing up. To prevent a collectible variety, silver coins struck in 1965 kept the 1964 date. This means that 1964 and 1964-D Kennedy silver half dollars were actually struck for almost two years.
Major 1964-D Kennedy Half Dollar Varieties
The Denver Mint had a rough start to Kennedy half dollar production in 1964, resulting in many different types of error coins. (The Denver Mint would go on to be the source of most of the Kennedy half dollar error coins.) Nine different varieties of the 1964-D Kennedy half dollar (including the regular 1964-D) are recognized by the major coin grading services. These varieties include one repunched mintmark, and four different Doubled Die Obverses. There are also two unusual Tripled Die Obverses and a rare Quadrupled Die Obverse.
Several of these varieties are indistinguishable from normal circulated 1964-D Kennedy halves in worn condition, resulting in no data for them in grades lower than About Uncirculated.
Major 1964-D Kennedy Half Dollar Varieties [Chart]
| Variety | XF45 | MS63 |
| --- | --- | --- |
| 1964-D DDO FS-104 | n/a | $225 |
| 1964-D/D FS-502 | n/a | $115 |
| 1964-D QDO | n/a | $85 |
| 1964-D DDO FS-106 | n/a | $85 |
| 1964-D/D | $19 | $80 |
| 1964-D DDO | n/a | $60 |
| 1964-D TDO | $18 | $55 |
1964 Proof Kennedy Half Dollar Values
Nearly 4 million proof Kennedy half dollars were struck in 1964. Since these were far more likely to be held by numismatists, Mint State 1964 proof Kennedy halves are still readily available.
One popular variety is the Accented Hair 1964 proof Kennedy half dollar. An unknown number of proof coins were struck using the original design dies in early January 1964. Kennedy's widow thought the hair was over-emphasized, and a modified design was used for circulation and later proof strikes.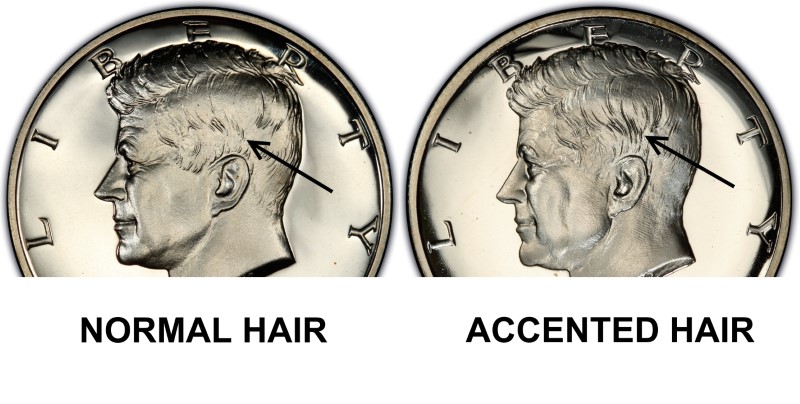 Image courtesy of PCGS
1964 Kennedy Proof Half Dollar Values [Chart]
| Issue | VF25 | XF45 | AU55 | MS61 | MS63 | MS65 |
| --- | --- | --- | --- | --- | --- | --- |
| 1964 | n/a | n/a | $10 | $12 | $15 | $25 |
| 1964 Accented Hair | n/a | $10 | $14 | $32 | $55 | $90 |
| 1964 SMS | n/a | n/a | n/a | n/a | n/a | $21,500 |
The Mystery of the 1964 SMS Kennedy Half Dollar
The rarest 1964 Kennedy half dollar is the "SMS" Kennedy. No one knows for sure where they came from or how they were made. They have a very sharp strike and a satin finish. There are die polishing lines on the fields, but no contact marks at all, indicating that they were carefully made one at a time.
Unlike early proof 1964 Kennedy halves, the SMS coins do not use the original Accented Hair dies, but do use an early version of the reverse die. NGC has only certified six of these mystery 1964 SMS Kennedy half dollars. PCGS counts twelve. The auction record for the 1964 SMS Kennedy half is $156,000 for a specimen grading SP68 in 2019.
Curiously, other 1964 coin denominations with the same finish are known, leading to speculation that they all were part of an experimental numismatic coin set struck by the Philadelphia Mint in 1964. A complete 1964 SMS coin set has yet to appear in public, suggesting all of them have been broken up and the coins sold individually.
The information on this page does not constitute an offer to buy or sell the coin(s) referred to. Statistics are for Mint State coins only. Proof and prooflike examples of this issue may have greater or lesser "finest known" and different record auction prices.
---
Read more about coin values and pricing from the expert authors at Gainesville Coins:
Standing Liberty Quarters Worth Money
What Is the Value of a 1943 Copper Penny?
1921 Silver Dollars: Values and Mintages
Silver Eagle Values - Complete Pricing Guide
Rare Coins Worth Money: The Most Valuable Rare Coins

Steven Cochran
Precious Metals Market Analyst
|
BS University of South Florida (2002)
A published writer, Steven's coverage of precious metals goes beyond the daily news to explain how ancillary factors affect the market.
Steven specializes in market analysis with an emphasis on stocks, corporate bonds, and government debt.
Latest Offers, Straight To Your Inbox
Don't be the last to know about the latest deals and new product arrivals. Join us today for FREE!