Best Gold Coins To Buy: Top 10 List

Published: July 20, 2021
Table Of Contents:
Table Of Contents:
In the vast gold bullion marketplace, determining which gold coins are the best as an investment may seem daunting. This is particularly true with so many different types of gold coins available. But we've narrowed down ten of the best gold coins for investors to buy. The coins listed here aren't ranked in any particular order. It includes both United States and world gold coins from the past century. They have historically proven to be among the most popular gold coins with investors. Each coin offers a favorable performance track record over the course of decades.
#1 – American Gold Eagle, One Ounce $50
1 oz American Gold Eagle obverse design.
First issued in 1986, the American Gold Eagle series has been perennially popular with investors. Two main reasons are their high purity of the gold content and relatively low prices over spot. Four different sizes are offered in the American Gold Eagle series. This includes half-ounce, quarter-ounce, and tenth-ounce fractional gold coins. Still, 1-ounce gold coin mentioned here provides the best value for investors gram for gram.  The 1-ounce American Gold Eagle contains one troy ounce of .9167-fine gold and is denominated with a face value of $50. So, like all gold coins offered in this United States Mint bullion series, it is official legal tender. Though, of course, one would be considered foolhardy to spend this valuable gold coin at its nominal face value. At the very least, it's one of the bullion gold coins most commonly included in investment portfolios. Due to its outstanding popularity in the world of finance, is highly liquid and thus offers one of the best returns on one's investment. 
Shop for American Gold Eagles
#2 – American Gold Eagle, Tenth-Ounce $5
1/10 oz American Gold Eagle coin
As we saw, the 1 oz American Gold Eagle may offer one of the best values for precious metals investors in terms of the gram-for-gram cost of buying gold. Yet one of the best entry-level United States gold investments coins is the smallest American Gold Eagle by size. Containing only one-tenth ounce of gold, this is the most affordable American Gold Eagle. It's perfect for gold investors who may want to start building their precious metals portfolio on a smaller budget.  The coin is about the same physical size as a United States dime. The tenth-ounce gold eagle contains one-tenth ounce of .9167-fine gold by weight. It has proven widely popular with both investors and collectors. Because all American Gold Eagle coins are so familiar to investors worldwide, they are highly liquid and one of the best stores of gold. 
#3 – Canadian Maple Leaf, 1-Ounce
Canadian Gold Maple Leaf reverse design.
Let's move beyond the realm of the United States. Gold bullion coinage is a wide world of beautiful and sought-after gold coins from nations spanning the globe. Among them is Canada, where the Royal Canadian Mint (RCM) has issued its popular Canadian Maple Leaf since 1979. This long-running gold coin program has spawned an exciting array of gold coinage in various sizes and denominations. Still, one of the best performers in terms of marketplace viability and liquidity is the 1-ounce Canadian Gold Maple Leaf. The coin carries a legal tender value of $50.  The 1-ounce Gold Maples are traded at premiums close to spot and are commonly found in bullion portfolios. It is one of the few gold coins in the world that is made from .9999 fine gold. This means that Gold Maple Leaf coins are 99.99% pure gold. The technical achievement of "four nines" fine gold is a testament to the refining prowess of the RCM, which is also known for its [gold bars](/category/489/gold-bars). While it's a thoroughly Canadian coin, many investors outside of Canada buy Gold Maple Leafs. There are several good reasons. They are well known, guaranteed by the Canadian government, and offer a handsome design of the eponymous Canadian maple leaf—the national symbol of Canada. Also, diversifying one's bullion portfolio with international gold bullion coins has benefits. It can help broaden the appeal of their physical metals holdings and increase its overall liquidity. 
Shop for Canadian Gold Maple Leafs
#4 – British Sovereigns
British Gold Sovereign reverse design.
There are few gold coins as famous as the British Sovereign. First struck by the Royal Mint (U.K.) in 1817, this gold coin has a face value of one pound sterling. It was originally issued as a circulating coin, though in later years, its dominant uses have been for trade and bullion purposes. The obverse of this iconic gold coin features the reigning monarch of the day, Queen Elizabeth II. The reverse depicts a classic design by Benedetto Pistrucci featuring Saint George and the dragon. In terms of size, they are just a smidge larger than the United States nickel. More recently, the mint has produced gold Sovereign coins patently for bullion investors right alongside the modern Gold Britannia coin. Unsurprisingly, the British Sovereign has been turning up in many precious metals portfolios. However, this classic British gold coin has also long reigned as a favorite collectible coin. It appeals to numismatists looking to build date sets and type sets of these gold coins. Many British Sovereigns, even vintage ones, trade at prices just above melt value. This makes them an affordable gold coin for many investors. 
Shop for British Gold Sovereigns
#5 – South African Gold Krugerrand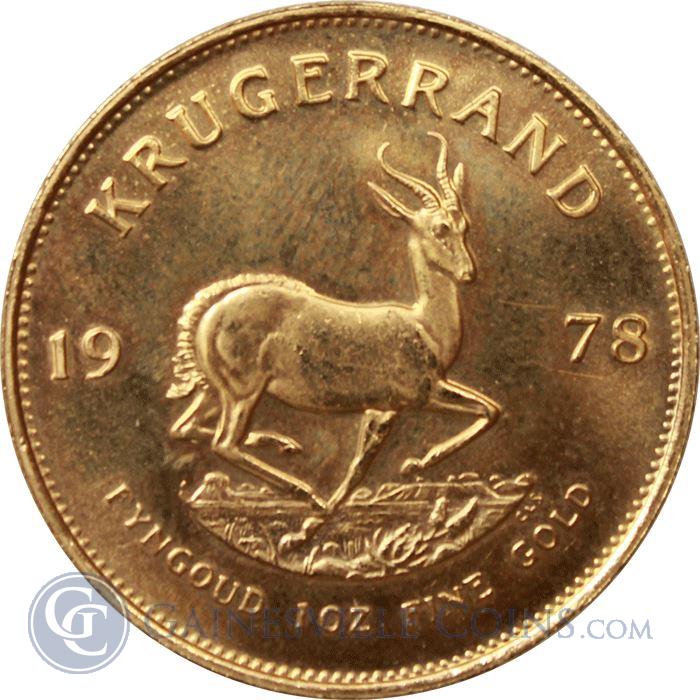 Gold Krugerrand reverse design.
First introduced in 1967, the South African Krugerrand became the first gold bullion coin of the modern era. It quickly became the most widely traded gold coin globally. By 1980, it accounted for the majority of gold coinage traded on the international market. Such good fortunes soon folded for this 1-ounce gold coin. Increasing concerns about South Africa's system of racial segregation known as apartheid led to embargoes against trade the African nation. This grievously affected the South African Krugerrand's popularity.  The South African Mint's Rand Refinery still produces the Krugerrand. But its marketplace share has fallen to a fraction of what it was at its height in the early 1980s. This is mainly due to the emergence of many other popular gold bullion coin programs launched during the intervening years. Even still, the outstanding value of the South African Krugerrand persists. This iconic gold bullion coin makes a phenomenal addition to precious metals portfolios. 
Shop for South African Gold Krugerrands
#6 – 1-Ounce Chinese Gold Panda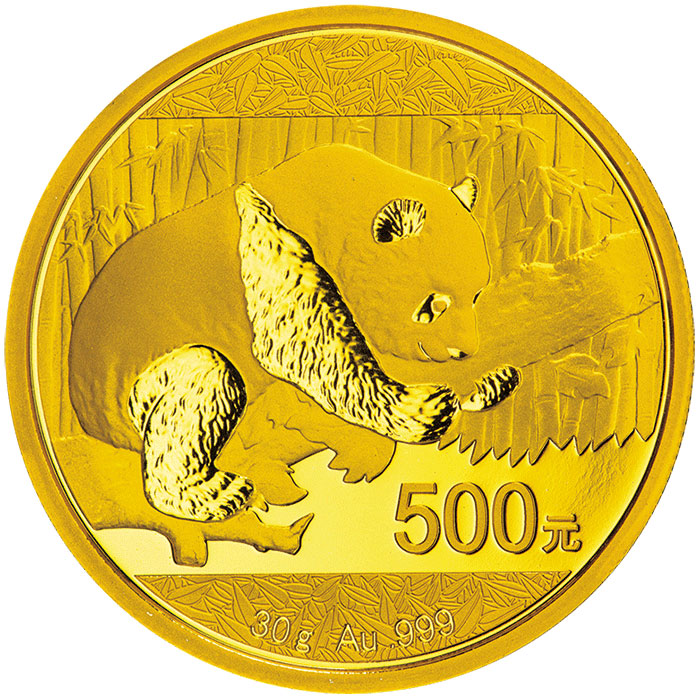 2016 Gold Panda reverse design.
Chinese Panda gold coins first hit the market in 1982. At the time, the South African Krugerrand was still the dominant gold bullion coin on the marketplace. Only a couple of other up-and-coming alternatives existed. These Chinese gold bullion coins quickly gained popularity. The bullion marketplace that was hungry for more diverse options to the otherwise slim pickings available. Today, it has become one of the most popular precious metals options around. While China has long offered its Gold Panda in various sizes, one of the best in terms of cost and liquidity (i.e. ease to sell) is the 30-gram China Gold Panda. The .999-fine China Gold Panda is widely available on the marketplace. It is particularly sought after by investors who want to diversify their portfolios both for the sake of design and appeal to international traders. Unlike most bullion coins (aside from certain offerings from Australia's Perth Mint), the Gold Panda offers new designs each year. This creates ample collecting opportunities. Adding 30-gram China Gold Pandas to your collection can not only help improve its liquidity. It can also enhance the visual aesthetics of your physical holdings. The China Gold Panda is one of the most cost-effective vehicles for buying gold. It usually carries only nominal premiums above melt. Like the American Eagle coin series, the Panda is also sold in a silver version.
Shop for Chinese Gold Pandas
#7 – French Rooster Gold Coin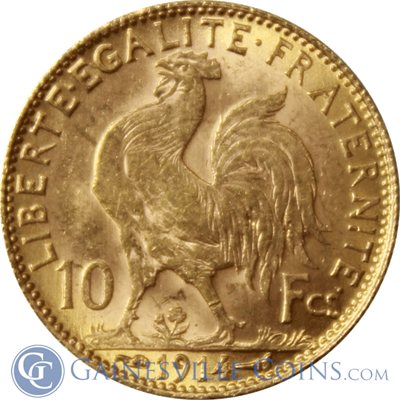 French Gold Rooster reverse design.
Before the era of modern gold, bullion coinage was in use across Europe. Enter the French 20 Franc Roosters, a series of gold coins struck from 1899 through 1914. The obverse of the coin bears the portrait of Marianne, France's goddess of freedom and liberty. The reverse carries the visage of the eponymous Gallic Rooster, the nation's unofficial national symbol. That's how this gold coin acquired its name.  20 franc gold coins are roughly the same physical size as a United States nickel. Each coin contains 0.1867 ounces of gold (the same as a British Sovereign). The French Rooster has become one of the most widely traded classic world gold coins, along with the Sovereign. While the France 20 Franc is a vintage gold coin, most dates aren't rare. These classic French Roosters can be bought for relatively small premiums over the [current gold spot price](/charts/gold-spot-price). 
Shop for French Gold Roosters
#8 – Austrian Philharmonic Gold Coin
Austrian Gold Philharmonic obverse design.
Gold Philharmonic coins are easily the most popular gold coins traded in continental Europe. They are issued by the Austrian Mint (Münze Österreich) in a variety of sizes ranging from 1/10 oz to 1 oz. The reach of the Austrian Philharmonic gold coins (sometimes called Vienna Gold Philharmonics) quickly expanded across the global gold market after its debut in 1989. These are the only coins on our list with a denomination in euros. The design of the coin, like its name, pays homage to the historic thriving of musical arts in Austria's capital city, Vienna. An array of orchestral instruments are depicted on the obverse of the coin. The reverse shows the grand pipe organ at the famous music hall where the Vienna Philharmonic Orchestra often performs. The same design has graced a silver version of the "Philly" as well since 2008.
Shop for Austrian Gold Philharmonics
#9 – American Gold Buffalo
American Gold Buffalo coin.
The American Buffalo gold coin series began fairly recently, in 2006. Still, the Gold Buffalo has already made a strong impact on the market. It was the first gold coin issued by the United States with .9999 fine gold. This fact alone immediately made the Gold Buffalo coin one of the best gold coins to buy as an investment right off the bat. The coin's standard 1 oz size and legal tender status make it especially appealing as an addition to a [precious metals IRA](/ira). The coin has an iconic design based on the original Buffalo nickel. This has generated an enthusiastic following of collectors for this series. For one particular year, in 2008, the U.S. Mint produced the Gold Buffalo in several different sizes. This remains the only time that fractional Buffalo gold coins have been available. As a result they are still cherished by coin collectors. The mint once distributed Gold Buffaloes in "mint sheets" of multiple coins. However, that practice has been replaced by bulk packaging in plastic tubes of 20 coins each.
Shop for American Gold Buffalos
#10 – United States Saint-Gaudens Double Eagle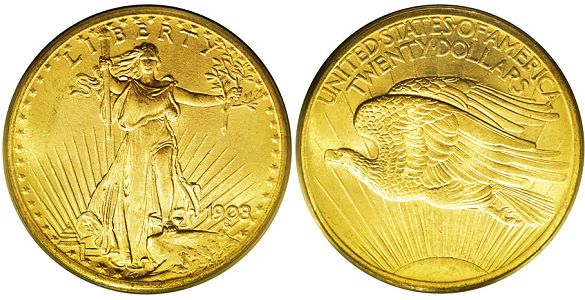 Saint-Gaudens double eagle gold coin.
While listed last here, the Saint-Gaudens Double Eagle gold coin often ranks atop the list of many investors and collectors. This classic gold coin contains nearly an ounce of gold (0.9675 ounces, to be exact). It carries a magnificent obverse design of Miss Liberty carrying a torch. She stands before a rising sun casting light upon the Capitol Building in Washington, D.C. The reverse shows an American eagle soaring above a rising sun disc.  This highly collectible classic [pre-1933 U.S. gold coin](/category/421/pre-1933-us-gold) has long been dubbed the most beautiful ever struck. It was designed by the renowned American artist Augustus Saint-Gaudens. His name has been attached to the coin for generations. Some dates are quite rare, and all are considered scarce in grades of Mint State-65 and better. But circulated and common-date examples can be had for relatively small premiums above their melt value. These factors make them an essential addition to winning gold bullion portfolios. 
Shop for Saint-Gaudens Gold Double Eagles
This list of the top 10 best gold coins to buy right now can help you decide what to buy when you begin investing in physical gold. If you're ready to get started, a selection of our most popular gold coins are listed for sale below.
---------- **More articles about investing in gold from the experts at Gainesville Coins:** [Investing in Gold: What You Need to Know](/blog/gold-investment-guide) [How to Buy Gold Coins: Essential Advice to Get Started](/blog/how-to-buy-gold-coins) [What NOT to Do When Buying Gold](/blog/what-not-to-do-when-buying-gold) [What Is the Cheapest Way to Buy Gold (Without Getting Bamboozled)?](/blog/cheapest-way-to-buy-gold) [The Best Types of Gold to Buy: A Straightforward Explanation](/blog/best-gold-to-buy)
Latest Offers, Straight To Your Inbox
Don't be the last to know about the latest deals and new product arrivals. Join us today for FREE!